I'm multi-ethnic, based in Newburgh, Indiana, and have three children. I have a wide range of interests, including traveling, hiking, nature, gardening, cooking, interior decorating, vintage fashion, photography, movies, various styles of music, and learning new things.
I'm a photographer and a professional blogger. I first delved into the marketing and advertising field in 2002 by starting out as a Marketing Director for a different company. I eventually ventured out on my own by launching my own website (Fashion Fling) in 2004, dabbling in affiliate marketing. I now have three blogs: To the Motherhood, The Beauty Counter (EST 2005), and Fashion Fling.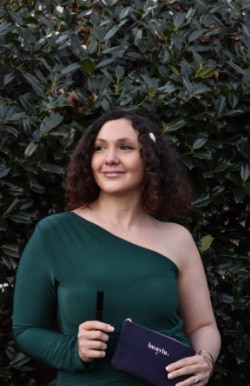 My team has partnered with endless companies over the past years, from fashion and beauty labels to travel companies and top-notch technology corporations. Companies are given a refreshing perspective with engaging digital storytelling. To the Motherhood has created innovative and compelling content for many brands since its inception in 2006 (we rebranded in 2007 and will be rebranding in the near future), including Princess Cruises, various tourism companies, eBay, Fujifilm, Dyson, Frigidaire, and Schlage, to name a few.
HilLesha O'Nan, the founder of To the Motherhood, was also an Official Blogger for Cannes Fashion Festival, a social good fellowship for the United Nations Foundation + Blogust, an insider for Paul Mitchell, and an ambassador for Pixi Beauty, Aveeno, and MadeBlinds.
Our team covers topics on lifestyle + family-focused content, fashion + beauty, health + wellness, family travel, home decor, quick yet delicious vegetarian recipes, and much more!
You can connect via Instagram, TikTok, and Facebook. HilLesha can be contacted at Hillesha@gmail.com. Invitations to affiliate programs are kindly declined at this time. When sending products for dedicated features, products must be full-size and be aligned with our standard rates. Otherwise, you're not guaranteed a feature.
Sampling of Past Work
Blog Campaigns
West Virginia Tourism | Charleston | Morgantown | Wheeling
Ettika
Sam Ash | Buffet Crampon
Sam Ash | Jean Baptiste
Visit Bloomington
Fujifilm
Oliver Winery
Sweet Earth
Oak Furniture Land
SAS Shoes
Cirque du Soleil's TORUK: The First Flight
World Vision
Karma & Luck
Allswell
Philips Hue
Social Media Campaigns
Victrola
Azuñia Tequila
Dr. Teals
The Soufull Project
Cindy Karen Clothing
Shabby Chic Clothing
Prescription Vineyards
Murad
Guardian Technologies
Rootcha
Germ Guardian
Magazine Features
Photography Featured in July/August 2015 Issue of Herzstück, Page 80