Charleston, West Virginia has the heart of a small town yet the soul of a big city. One of the most remarkable things about Charleston is that it has amazing views of some of the most beautiful scenery you could ever lay your eyes on!
This post is in partnership with West Virginia Tourism. Airfare, meals, activities, accommodations were provided. Visit my Instagram to follow along for more adventures when I was visiting West Virginia. All opinions and photographs are my own.
I was immediately smitten with Charleston, West Virginia! Charleston has the heart of a small town yet the soul of a big city. One of the most remarkable things about Charleston is that it has amazing views of some of the most beautiful scenery you could ever lay your eyes on! Charleston has plenty to do and see, starting with the West Virginia Capitol Complex.
Planning a visit to the state capitol? I've heard that it's well worth a visit. Not only you'll be in an awe of the gorgeous architecture, but it's deeply rich in history. It involves the three-part capital houses. The gold-domed capitol building was designed and overseen by architect Cass Gilbert. Included is the residence of the Governor, the Executive Mansion of West Virginia, which was designed by architect Charleston Walter F. Martens. The architecture is a harmonious combination of Colonial Revival and Italian Renaissance architecture.
While the Capitol Building and Governor's Mansion are among the city's most popular landmarks, this city has plenty to offer. Love going to museums? There is so much to see and learn at museums like the West Virginia State Museum & Culture Center, Clay Center for the Arts & Sciences, and South Charleston Museum. How about performance art? You're bound to enjoy the Charleston Ballet,Charleston Light Opera Guild, West Virginia Symphony Orchestra, or Kanawha Players Theatre. That is just a mere sampling of what this vibrant city has to offer. With so many opportunities to experience, you'll want to call this place home!
The Ultimate Almost Heaven Travel Guide
Charleston, West Virginia: Where to Shop, Play, Eat, and Stay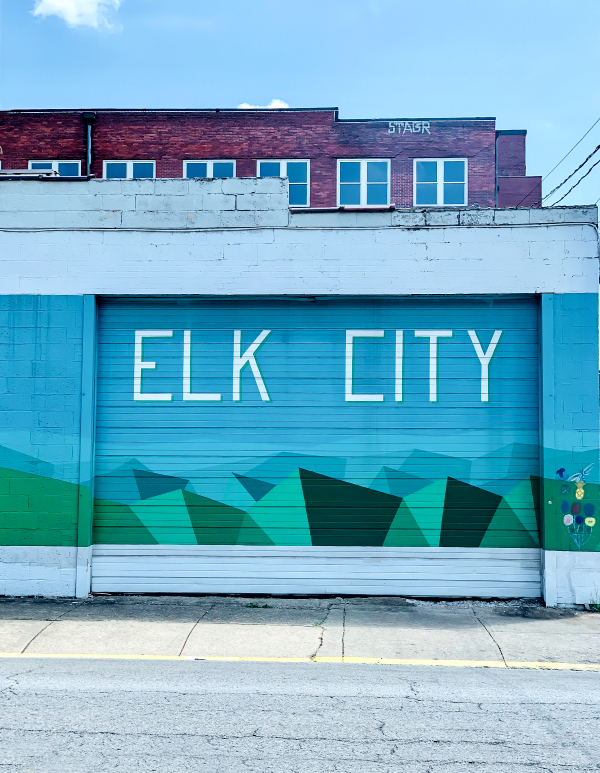 Where to Shop
Taylor Books
One thing I love as much traveling is reading! Visiting independent bookstores is always a must-stop for me and Taylor Books didn't disappoint the least. Taylor Books is an independent bookshop that also has a coffee shop, café, and art gallery. The cafe offers homemade scones and muffins, coffee, tea, soups, sandwiches, salads, craft beer, and wine. This bookstore is located downtown on Capitol Street.
Across the street is Ellen's Homemade Ice Cream, which is known for its vast selection of ice cream and gelato flavors. The perfect treat when reading your new book or magazine purchase from Taylor Books!
The boyhood home of Booker T. Washington, one of the most influential African-American intellectuals of the late nineteenth century, is 10 minutes east of downtown on US 60. Malden is dedicated to preserving his history. Booker T. Washington's history is preserved with a replica of his cabin, a Booker T. Washington Park, the schoolhouse where he learned to read, and a home site that once belonged to his sister (Amanda Johnson). The replica of Washington's cabin and the schoolhouse he attended is built behind the African Zion Baptist Church. This is where he taught Sunday school and eventually married his first wife (Fannie Smith). There remain the original pulpit and pews.
Kin Ship Goods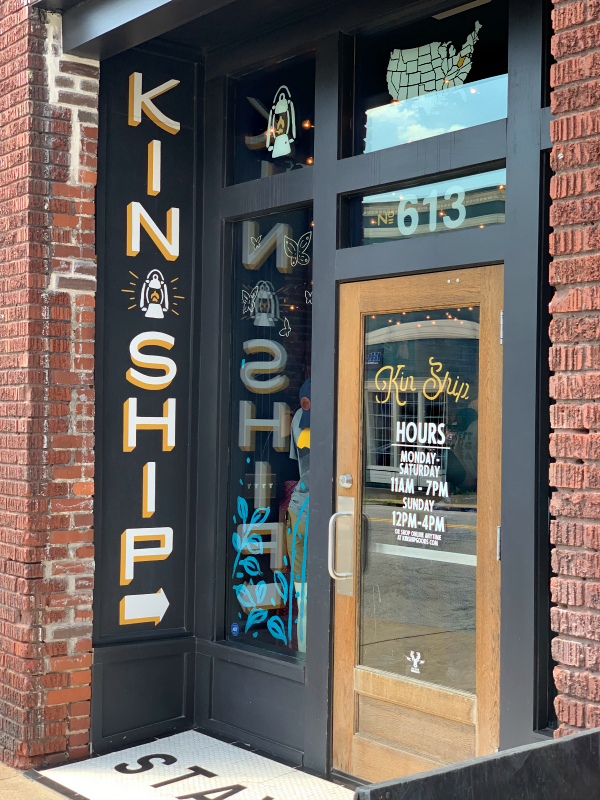 There are so many shopping opportunities in Charleston, whether you're looking for top brands or one-of-a-kind boutiques. Are you looking for the perfect West Virginia keepsake? There are several locally-owned stores, including Oddbird Gifts and Kin Ship Goods , that sell home goods and clothing + accessories, gifts, and handcrafted items. I've been a fan of Kin Ship Goods for a while, so it was a real treat to finally visit their brick and mortar store while visiting Charleston.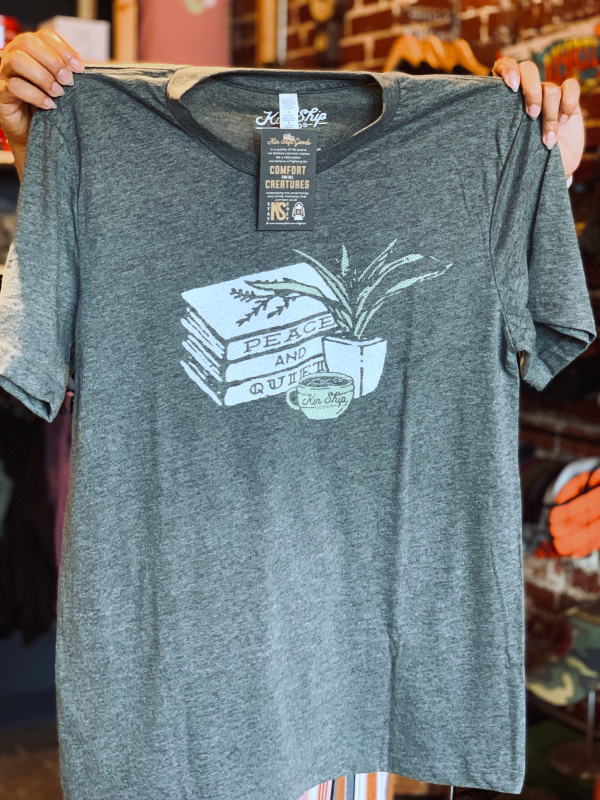 Located in the heart of the Elk City district, this unique store has an eclectic mix of apparel, accessories, books, mugs, hats, totes, jewelry, and many WV-themed items. Some of my favorite purchases included What Would Dolly Do? by Lauren Marino and the Peace & Quiet tee. During their online Labor Day sale, I purchased their Forever Worried Club tee. So cute!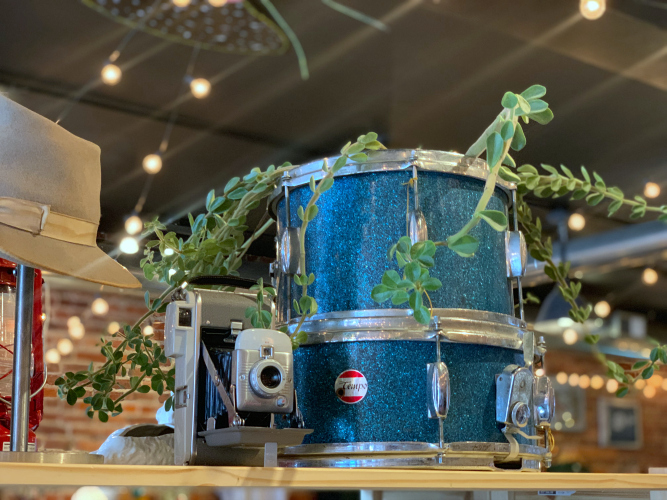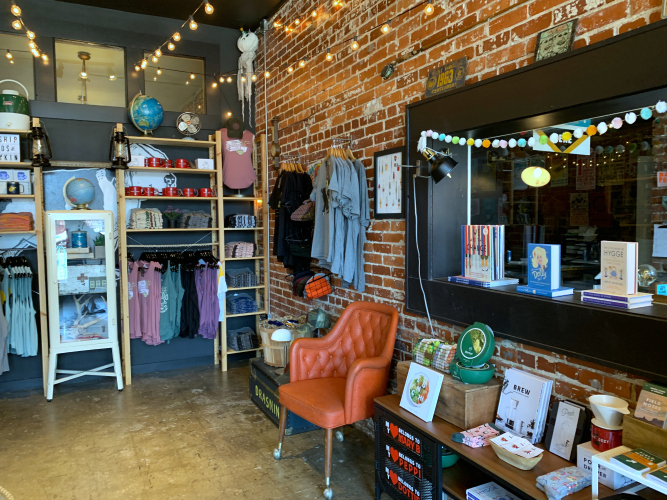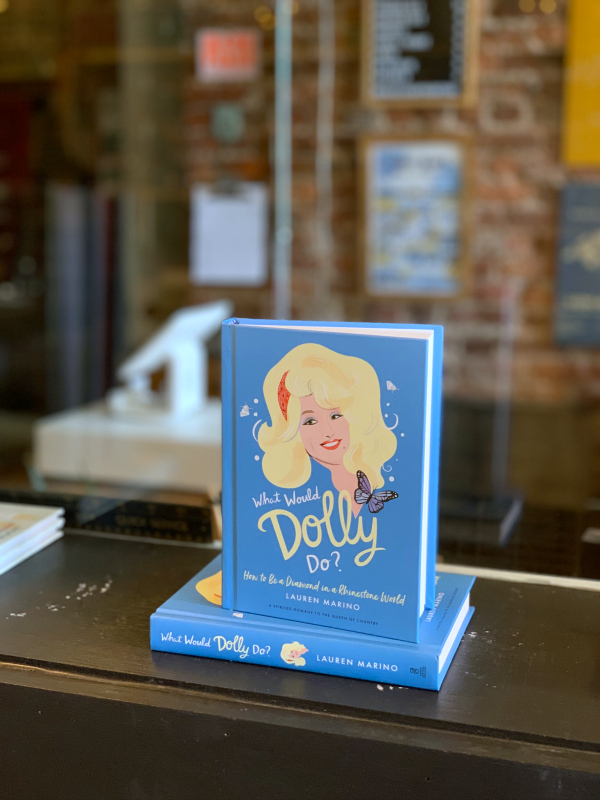 Where to Play
Clay Center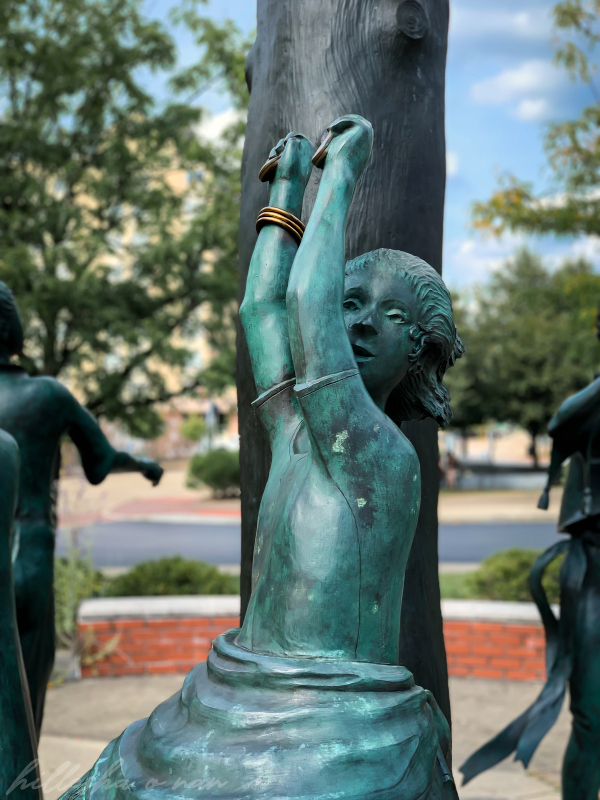 Traveling with kids? You're guaranteed to have a fun-filled afternoon at the Clay Center for the Arts and Sciences of West Virginia! Exhibit after exhibit is strewn throughout this 2-story center, including an Avampato Discovery Museum. This interactive museum is dedicated to inspiring people of all ages with a lifelong love for learning as well as an appreciation of the world and our place in it.
Learn about the science of sound in The Maier Foundation Music Studio, splash around in WaterWork, and get your body moving in Healthy Me! My Town reminded me of the time I visited the Discovery Center of Springfield in Springfield, Missouri with my kids a few years ago. In My Town, the kids have the jobs, get to spend imaginary money, and participate in fun activities every day! Will your child be a veterinarian today? A cashier? How about a mechanic or even a mayor? The possibilities are endless in this hands-on imaginary town of fun!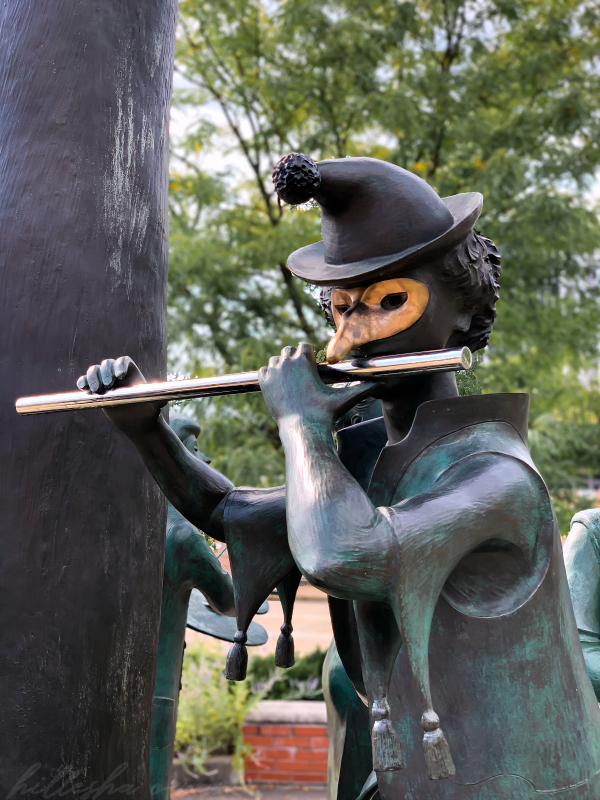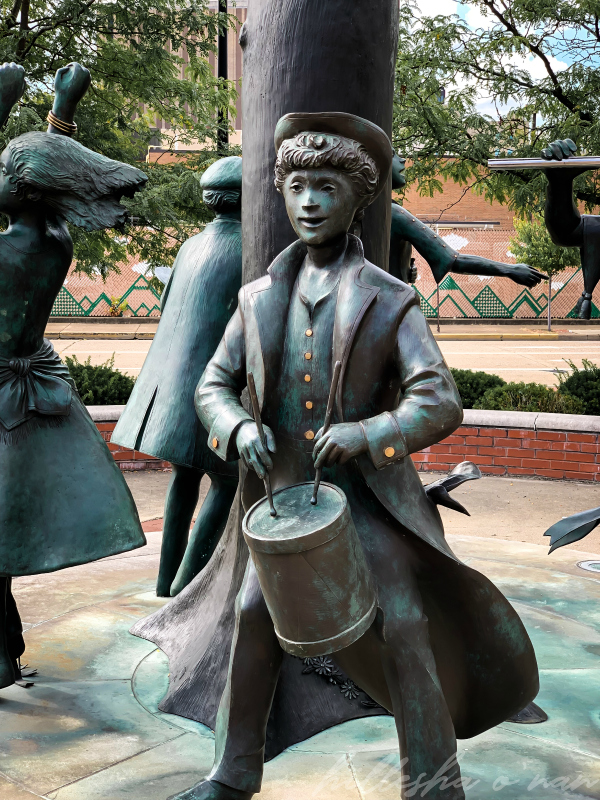 Outside of the Clay Center is an array of these beautiful, whimsical, life-size statues! This bronze sculpture, "Festival Delle Arti" by Harry Marinsky, was placed in 2005. Closer to the building, you'll also see Albert Paley's 64-foot "Hallelujah" sculpture.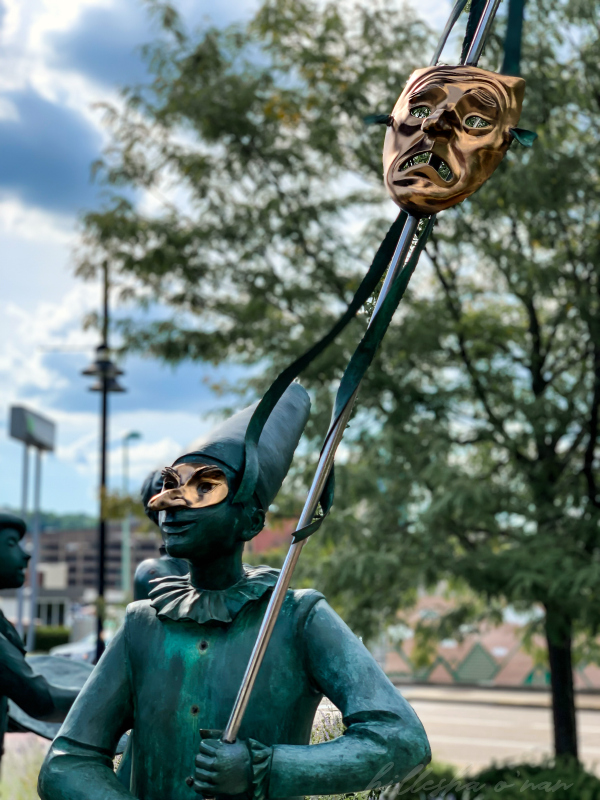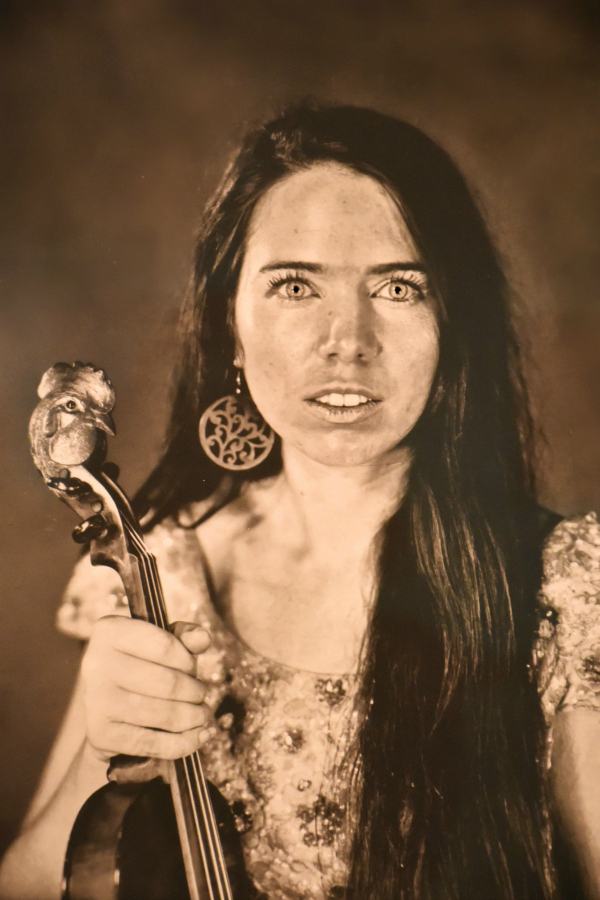 As someone with an inextinguishable love for music, I was delighted to come across the We Are the Music Makers exhibit. We Are the Music Makers helps guests delve deeper into the cultural history of traditional southern music. Photographer Tim Duffy has created a distinctive vision for 35 years that immortalizes southern musical heroes and the world they reside in through portrait photography. This compelling collection of images was made with the wet-plate collodion process, and platinum/palladium printing.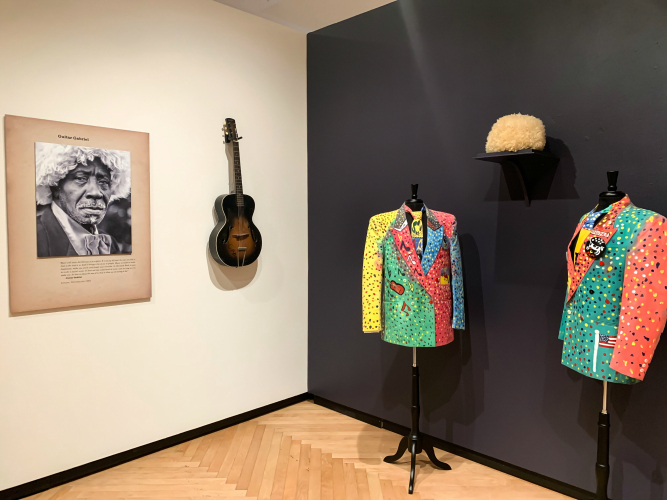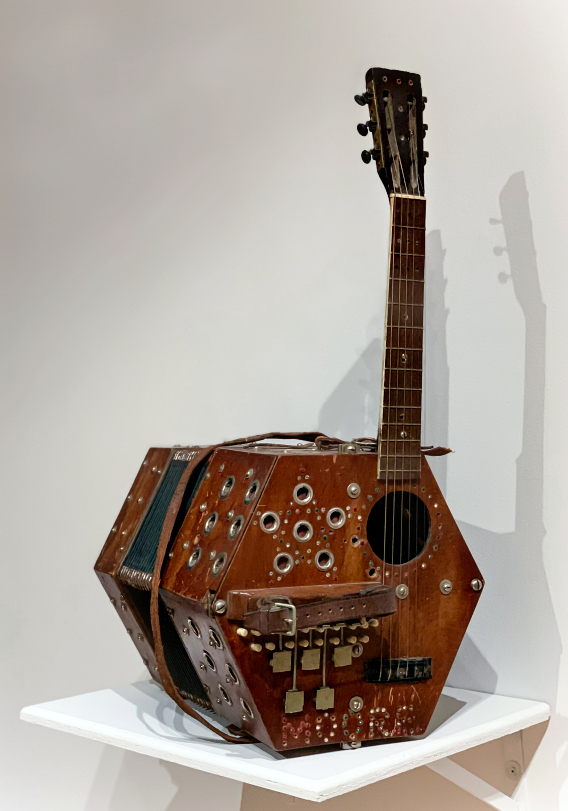 We are the Music Makers feature photo and audio documentation of Southern Roots musicians active in the past 20 years, all photographed and recorded by Duffy in his quest to preserve Southern traditional music by partnering with the artists who make it. The multi-media materials highlight questions of how poverty, geography, and age have limited the exposure of these artists, causing the widespread idea that the musical traditions they perform have "died out."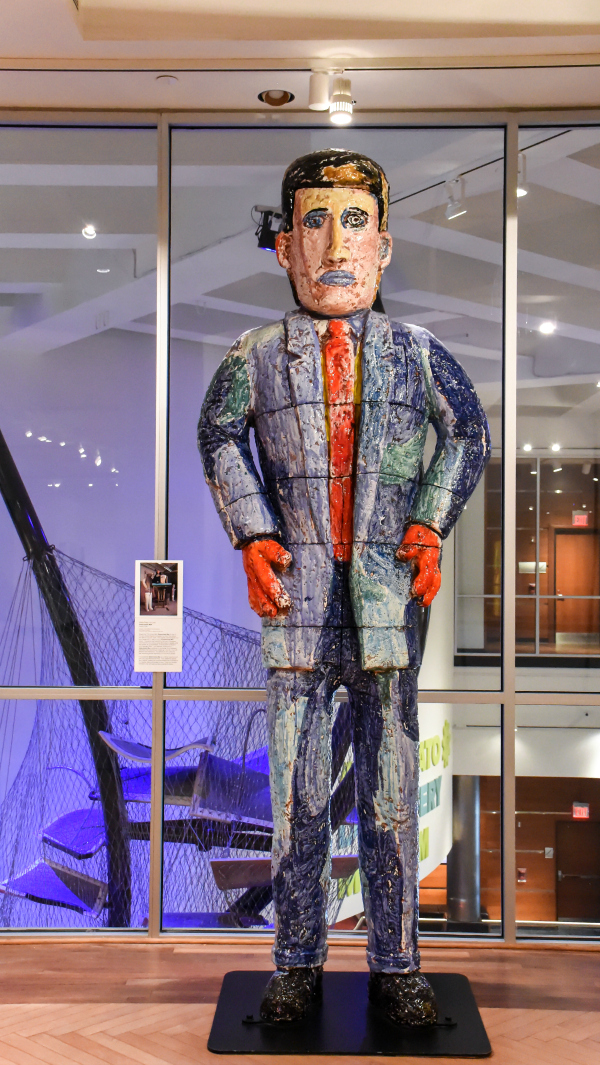 Viola Frey is a legendary Bay Area artist that is best known for her monumental sculptures, including this larger than life ceramic sculpture that graces the Clay Center.
Live on the Levee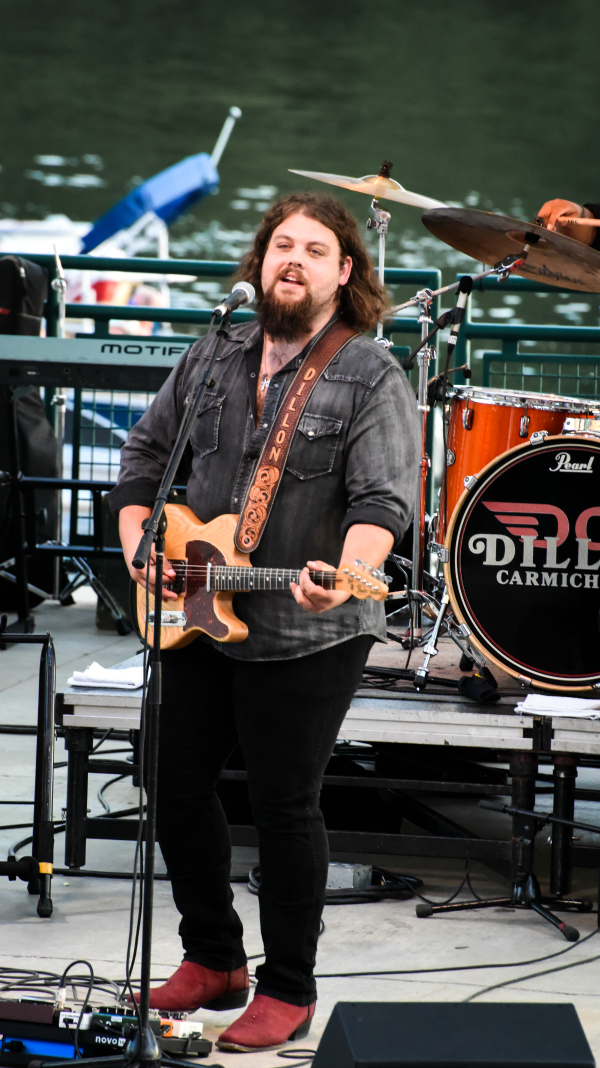 Live on the Levee is a free family-friendly event that takes place at Haddad Riverfront Park, which is situated just outside the Four Points by Sheraton hotel in Charleston. This free for all live concert is held every Friday evening from Memorial Day weekend through Labor Day weekend. Opening acts start playing at 6:30 PM and headliners take the stage at 7:30 PM. Food vendors begin setting up at 5:00 PM. We got to see Dillon Carmichael, a young and gifted country singer that has an old-school country sound.
Where to Eat
Capitol Market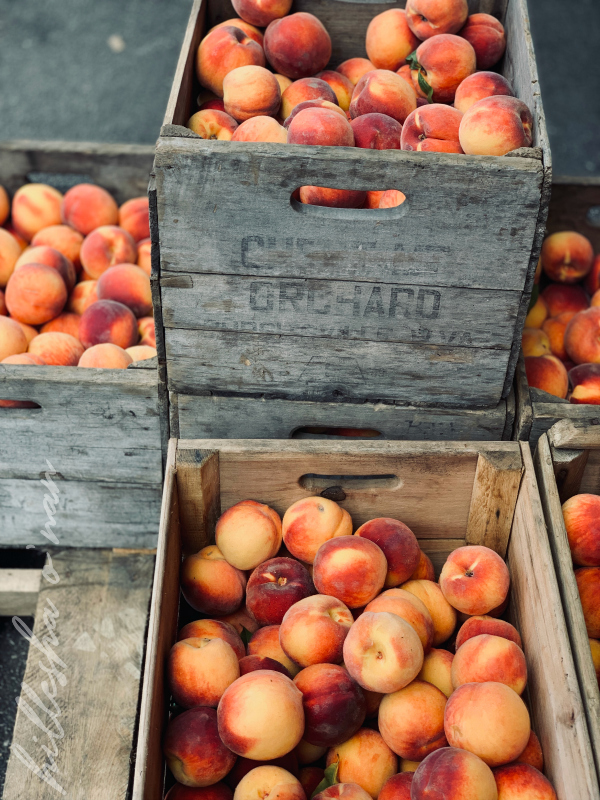 See why the year-round Capitol Market of Charleston is a vibrant part of the capital city of West Virginia! This indoor-outdoor market is tucked in a train station of the turn of the century, providing an interesting combination of farm goodness and specialty stores. You'll find everything from seasonal goods to enjoy now to WV-made souvenirs to take home.
Pies and Pints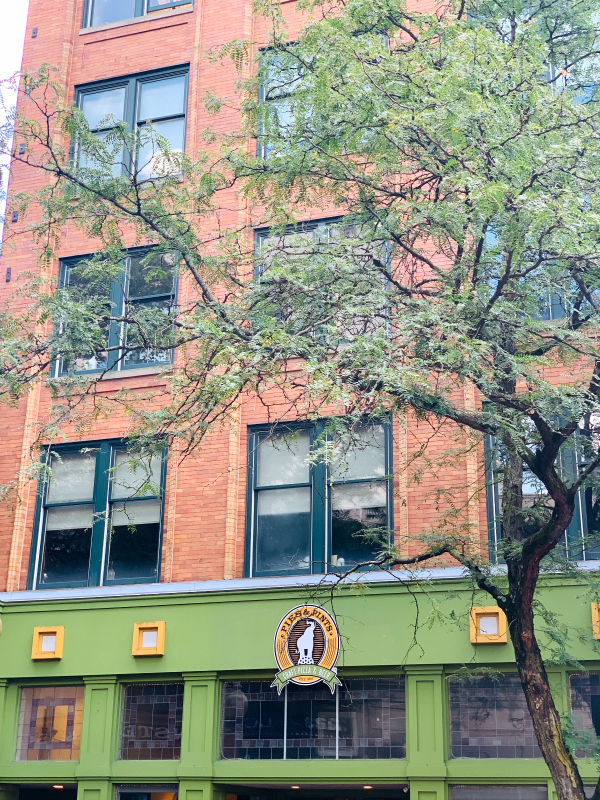 Pies & Pints serves one-of-a-kind pizzas and craft beer in the heart of the city's downtown shopping district. This notable restaurant has a wonderful combination of delicious food and beer that's perfect after a long day of work or exploring the city. I had the Garden Grinder, which has an array of tantalizing flavors all on one sandwich: spinach, roasted mushrooms, artichoke hearts, Mama Lil's Sweet Hot Peppers, fresh mozzarella, and aioli. Whether you're exploring the city by foot, bike, or car, this restaurant is effortlessly easy to find. It's located on Capitol Street next to Taylor Books.
Ellen's Homemade Ice Cream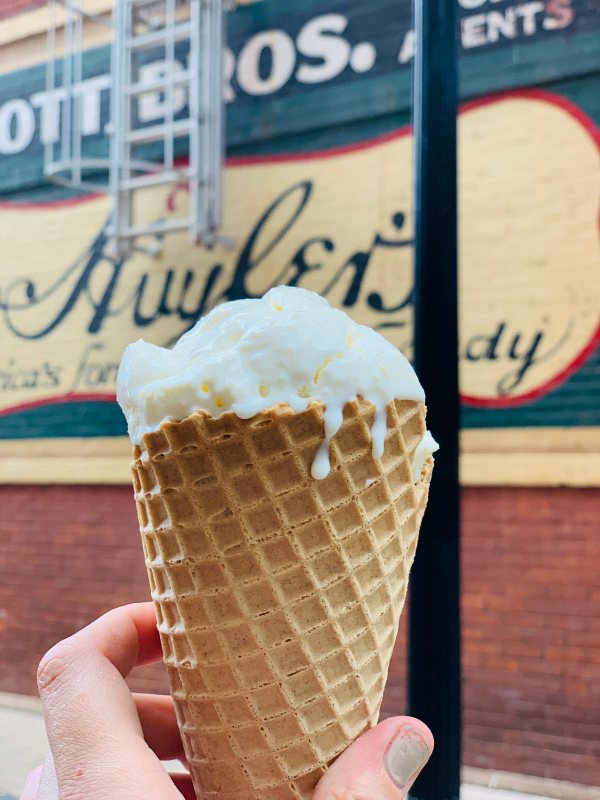 If you have a craving for ice cream, Ellen's Homemade Ice Cream is a must stop! I couldn't resist a double scoop of coconut ice cream on a cinnamon waffle cone. Since its inception in 1997, Ellen's Homemade Ice Cream offers everything from gelatos and ice creams to sorbets and sherbets.
That's not all! You'll find tea, coffee, and espresso in addition to lunch options, including wraps, homemade soups, a variety of different salads, and much more. Many of the menu options are also vegan and vegetarian-friendly!
Black Sheep Burrito and Brews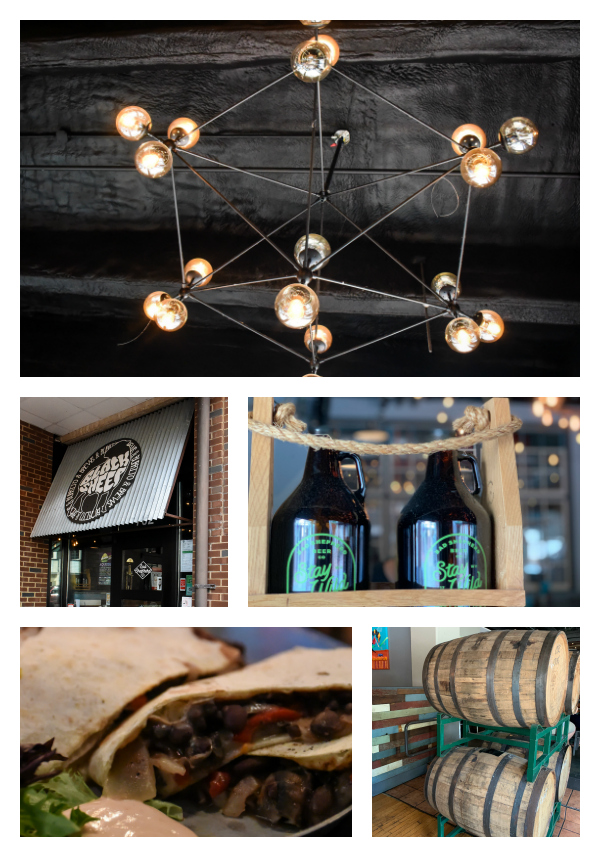 If you're looking for a unique place to eat and unwind, Black Sheep Burrito & Brews is the place to separate from the flock and identify yourself however you want. The world is your oyster! Delve into deep conversations with friends and family over a selection of a unique variety of burritos and craft beer in a relaxed environment. I was elated as my mouth exploded with the most delicious flavors when I took the first bite of my portobello quesadilla with sautéed peppers and onions!
Mea Cuppa Coffeebar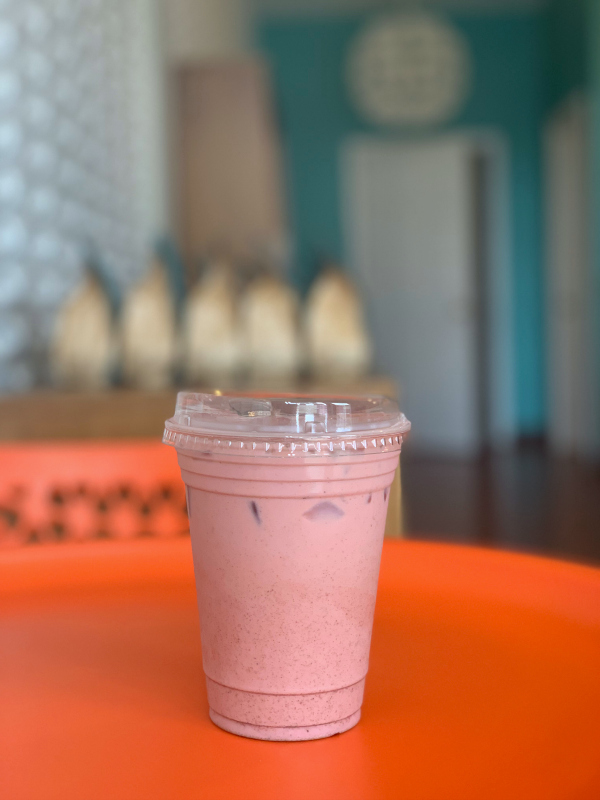 Mea Cuppa Coffeebar is located in the artsy Elk City district in Charleston, offering everything from baked goods to locally roasted coffee and tea with influences from around the world. This coffee bar will make any vintage lover swoon with its modern vintage look. Its decor and furniture almost reminded me of Sweet Betty's Bakery in Evansville, giving me a feeling of nostalgia. I ordered the ruby cocoa superfood latte and it was simply delicious!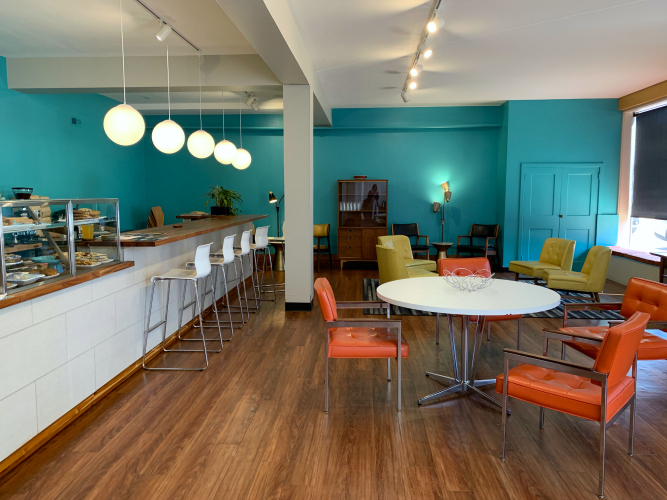 Mea Cuppa's staff are pleased to find you the perfect coffee in a friendly, accessible way. Their baristas can suggest coffees, brewing methods, and beverages that will compliment your tastes, whether you're new to gourmet coffee or an experienced connoisseur. No confusing jargon or "coffee snobbery" will be discovered here. Instead, their job is to make the coffee experience enjoyable for everyone!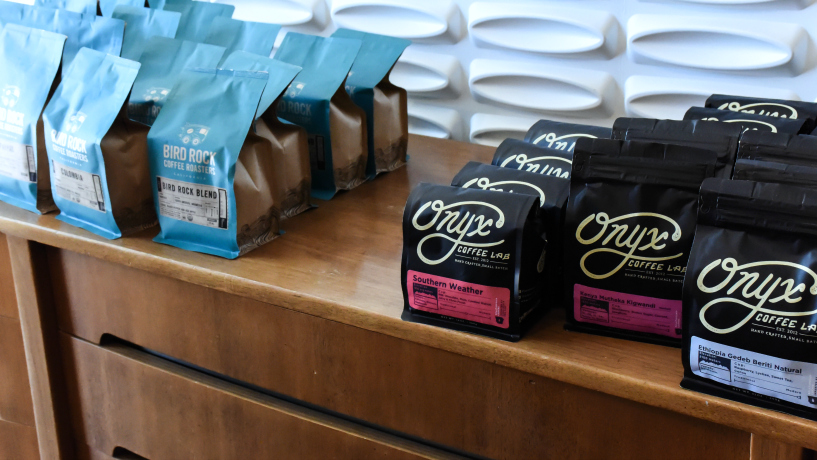 Where to Stay
Four Points by Sheraton
Four Points by Sheraton places you in the center of downtown overlooking the Kanawha River. Their hotel offers comfortable rooms with enlightening views, as well as delicious dining on-site and a host of event space.
You will be within a short walking distance of a variety of local attractions. Some of these attractions include the Charleston Civic Center, University of Charleston, and Charleston Town Center Mall. Four Points by Sheraton will give a complimentary shuttle to and from the transport hub at any time of day or night with Yeager Airport less than 5 miles away. Watch your favorite TV show on a flat-panel TV in your room. If you want to dine in the convenience of your accommodation, do not hesitate to order room service. Their four venues cover an area of 9,043 square feet, perfect for any size of company meetings and wedding receptions.
Are you ready to visit Charleston? Order a free travel guide or save a tree by looking at the digital version on their site.