My weekend getaway was in partnership with Visit Bloomington. Visit my Instagram to follow along for more adventures when I was visiting the area. All opinions and photographs are my own.
One of my favorite places in Indiana, hands-down, is Bloomington. Its unbridled energy, charm, and absence of pretension draws me in. Bloomington, Indiana, known as B-town to the locals, is also one of the friendliest, diversified, and unified cities, making it a very approachable place to visit. One local said it best, "Bloomington has the soul of a big city yet the heart of a small town." I have fallen in love with this bustling college town even more after my recent visit, especially realizing that there's more to it than I ever imagined! I was pleasantly surprised to see that it is just as lively and energetic in the summer as it is during the cooler seasons.
The Weekend Travel Guide to Bloomington, Indiana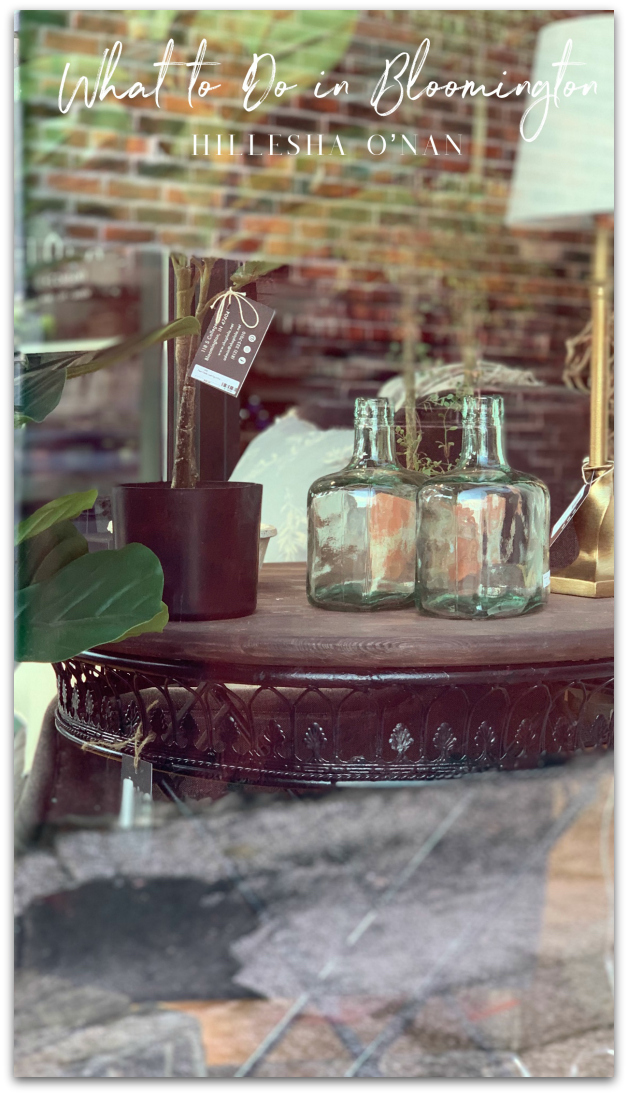 Where to Eat + Drink
Oliver Winery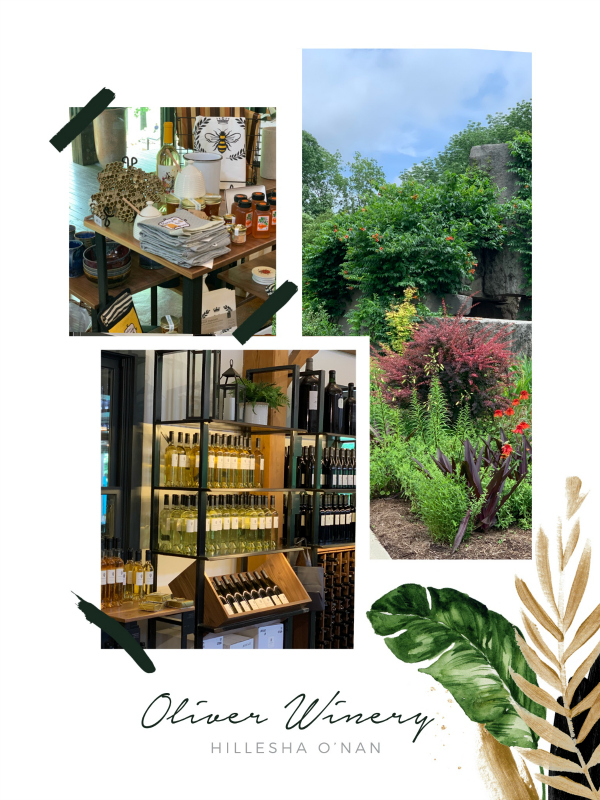 Oliver Winery is Indiana's oldest and largest winery that is located in Bloomington, Indiana. Oliver Winery sources the best ingredients (blackberries, apples, classic vinifera grapes, and orange-blossom honey) to make the difference between average wines and your favorites. Since its inception in 1972, Oliver Winery has become known for approachable and satisfying wines that capture the flavor of high-quality fruit. Today, Bill Oliver, CEO and founding family member, continues to lead the company he built as the only 100% employee-owned winery in the nation.
Oliver Winery produces close to 400,000 cases of wine annually as one of the largest wineries in the U.S. Each year, Oliver Winery provides an approachable wine experience to thousands of visitors.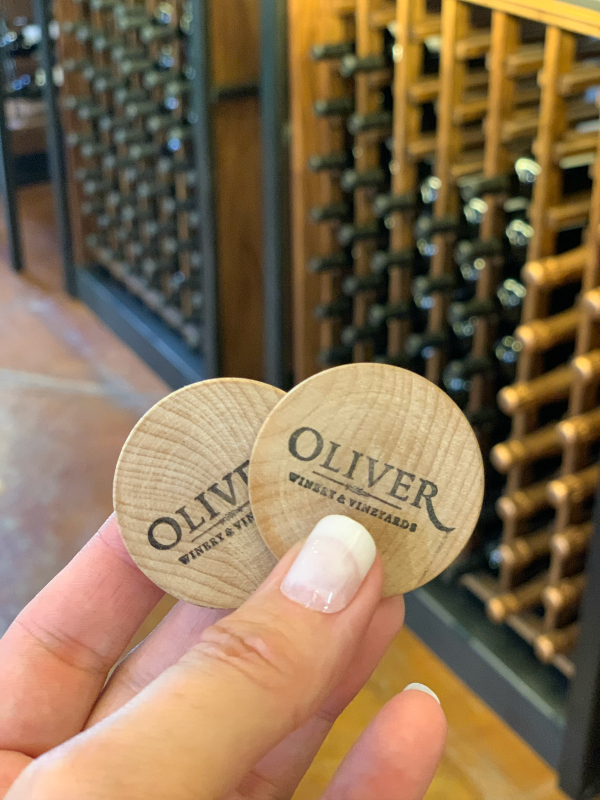 I was first introduced to Oliver Winery last summer when I tried their cherry cobbler wine. It was so sweet and refreshing! During our recent trip to Bloomington, my husband and I tried their sangria and Blueberry Moscato at the Taste of Bloomington food festival. We were quite impressed with the taste and quality of these wines! Visiting Oliver Winery following day was an even more impressive experience for us. In 2017, Travel + Leisure rated their winery as one of the top 25 wineries in the United States. With the best-in-class service and beautiful grounds, we could see why!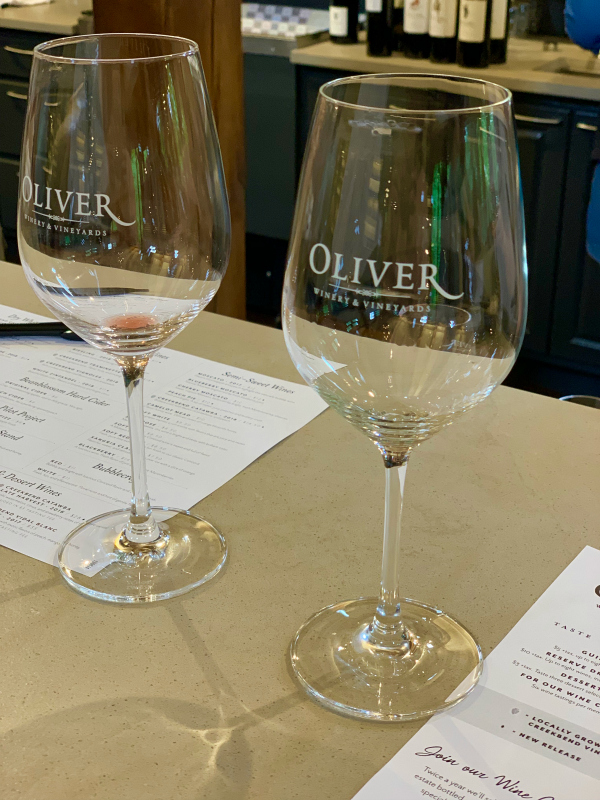 The wine tasting was an educational and tasty experience. During our wine tasting, our wine server took time to explain each of the different varieties. Some of my favorites included the Pilot Project Ginger Apple Fizz, Soft Red Lime, and Creekbend Catawba. Want a taste? Oliver Winery offers 3 different tastings: Guided Tasting ($5/up to 8 wines), Reserve Dry Reds Tasting ($10/up to 8 wines), and Dessert Tasting ($3/up to 3 dessert selections from the Creekbend Collection).
There is also a wide selection of gifts to purchase in their gift shop, from wine accessories and wine glasses to wine and variety cheeses. One of my favorites was a honeycomb trivet. So beautiful! Our first visit to Oliver Winery left a lasting impression. It's the perfect place to visit during the summertime and make memories that will last a lifetime!
Switchyard Brewing Company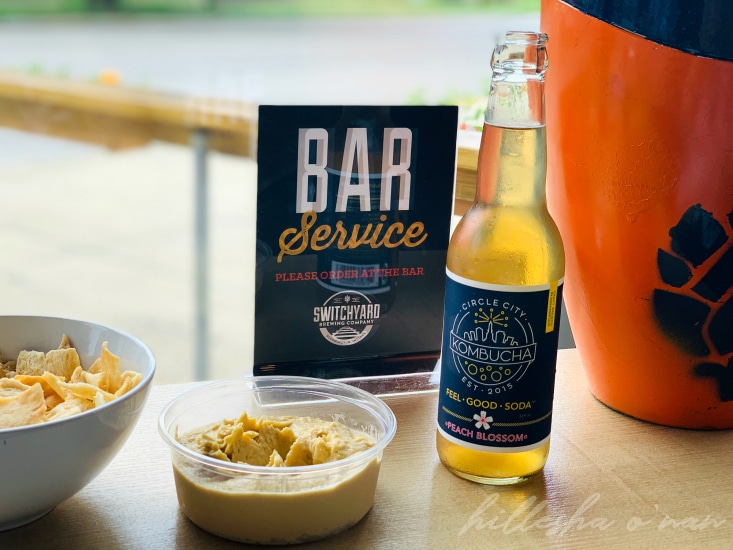 Whether you want to try a flight of handcrafted, flavorful beers or locally brewed kombucha, Switchyard Brewing Company is an ideal spot to relax and unwind. It was one of my first stops during my recent visit. Since I had a long day ahead of me, I kept it simple and light with pita chips, hummus, and Circle Kombucha (Peach Blossom). Switchyard Brewing Company is a local, family-friendly, all ages craft brewery located in downtown Bloomington – just north of the Courthouse Square.
The Tap Brewery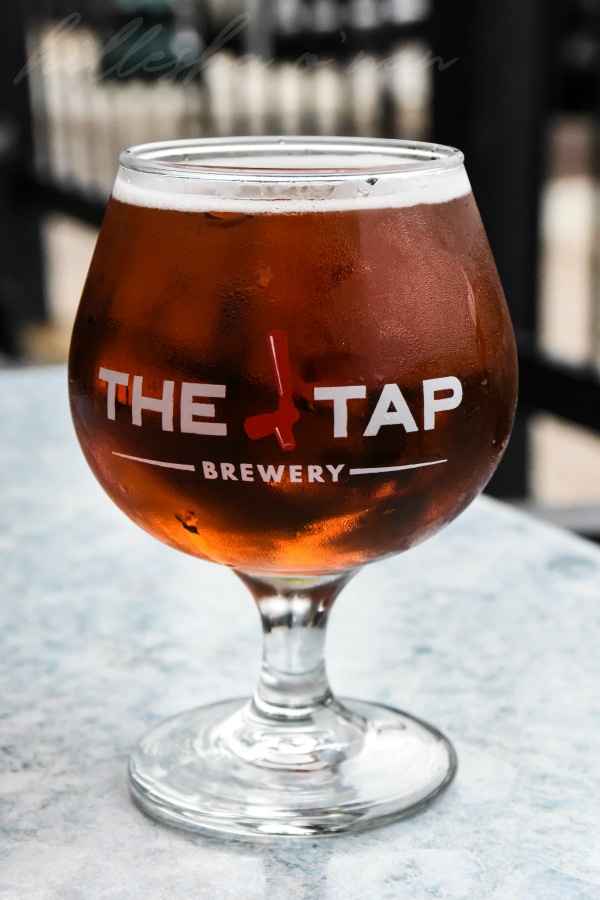 The Tap is clearly a college favorite! This brewery and craft beer bar boasts one of Indiana's largest selections of small-batch craft beer. You will discover 90 hand-picked beers on the tap each day. Every day, their draft menu changes.
Tap's beer list spans a broad variety of styles, ranging from original Tap brews to rare regional favorites and imports brought to Bloomington from around the globe. They have standard and seasonal flavors as well as ciders and Saisons and strong ales. In addition, they have over 400 bottled beers to choose from besides their craft beers on tap, featuring a broad range of styles from breweries around the globe.
Want to try something new? Try one of their blended drafts or beer shots for a remix of flavor. Are you a coffee lover? I recommend 3 Floyds Brewing Co. Wigsplitter or Founders Brewing Co. Breakfast Stout. I was also quite impressed with the Kentucky Bourbon Barrel Ale!
Scholars Keep – CLOSED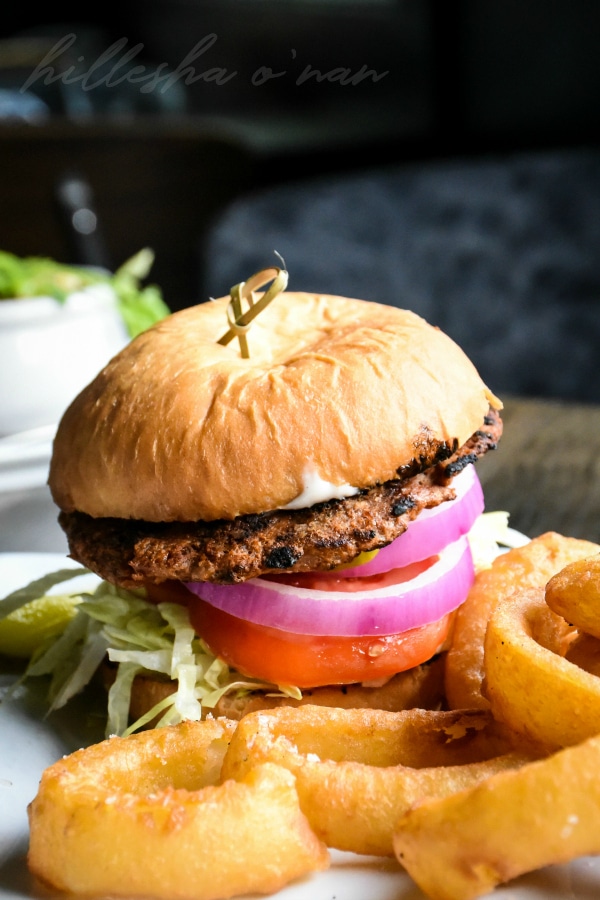 Finding a good veggie burger was nearly impossible to find when I first started eating them in the early 2000s. Thankfully, veggie burgers are practically everywhere now! If you're ever in the Bloomington area and looking for a fantastic veggie burger, be sure to drop in at Scholar's Keep! Their veggie burger consists of a vegan patty, tomato, vegan mayo, shaved iceberg, and red onion.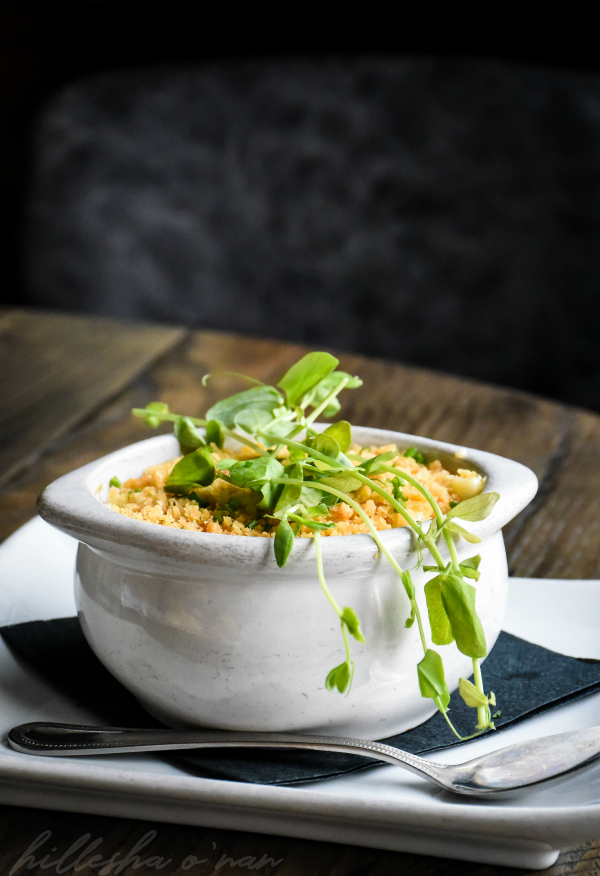 Meanwhile, my husband loved their Truffle Mac & Cheese! Unfortunately, Scholar's Keep recently announced that they'll be closing soon.
Needmore Coffee Roasters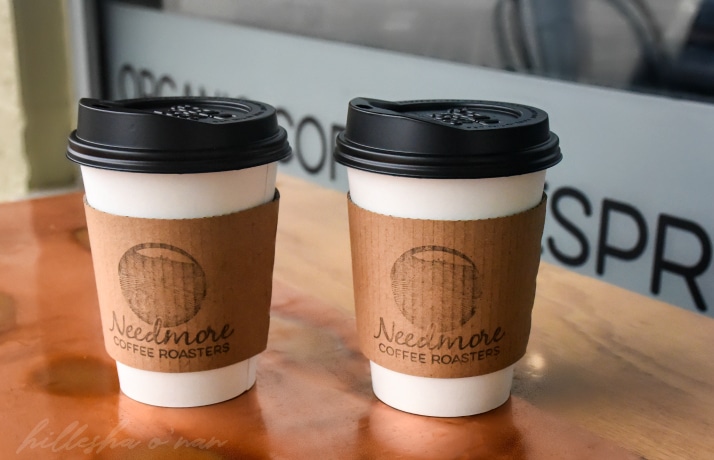 Need a pep in your step? Look no further than Needmore Coffee Roasters for certified organic coffee that's fair or direct trade. This woman-owned, small-batch roastery dedicates their time giving back to the community and the environment. They donate used coffee grounds to local gardening groups and farmers to keep things growing. Needmore Coffee Roasters also helps fund the Comedor Children's™ Lunch Program in Posoltega, Nicaragua, which is organized and run by Bloomington & Posoltega Sister Cities, and give in-kind donations to local non-profits. You can feel good about what you drink, because of the taste and helping support the greater good! Up for trying something different? I highly recommend the Lavender Latte!
Crazy Horse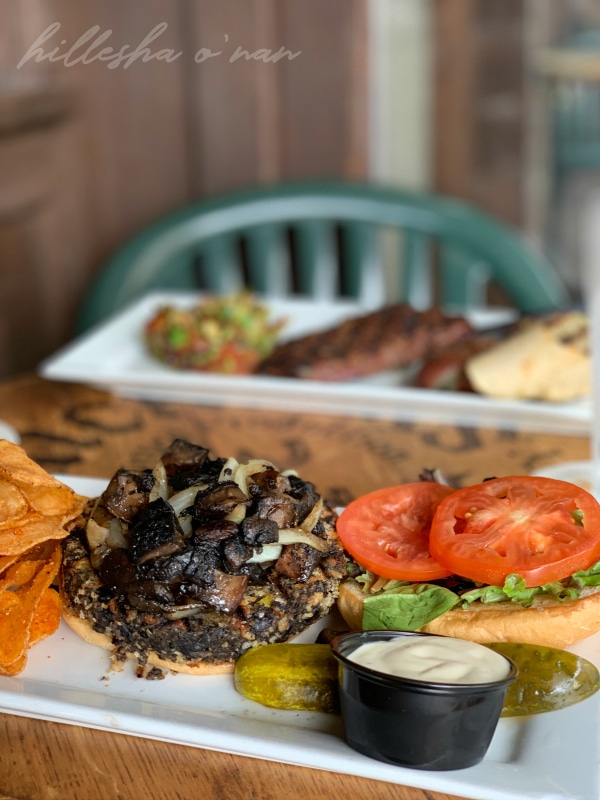 Known as one of the favorite watering holes in Bloomington, Crazy Horse has an amazing range of spirits and micro-brews. The menu is extensive, featuring a wide variety of handmade appetizers, salads, sandwiches, and dinners. I had a veggie burger that was customized with some of my favorite toppings, including grilled mushrooms, onions, and garlic aioli. It was delicious in every sense of the word! My husband opted for the Kirkwood Sirloin and said it was one of the most delectable sirloins that he ever had.
Where to Hike
Leonard Springs Nature Park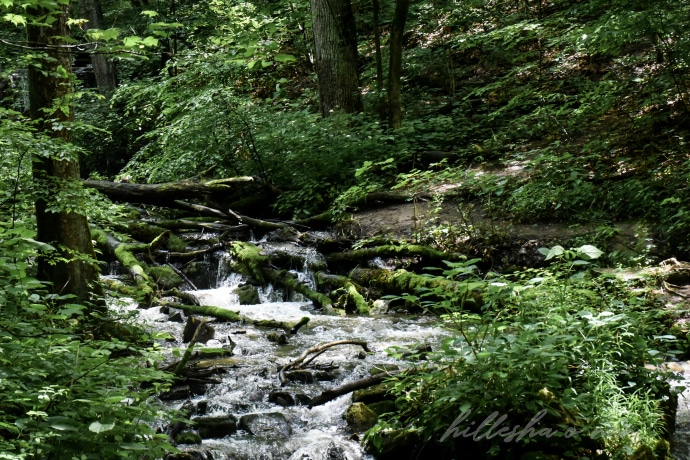 I have visited Bloomington several times over the years since it's one of my favorite places. However, I never visited any of their parks until recently. They have several parks to choose from and I opted to go to Leonard Springs Nature Park for this short excursion. I wasn't disappointed in the least. With caves, a variety of flora and fauna, a cascading waterfall, and steep forested slopes, it's truly beautiful and scenic!
Where Book Lovers Go
Caveat Emptor
Caveat Emptor is one of all-time favorite bookstores. Therefore, it is always a treat to stop in whenever I'm in Bloomington. Caveat Emptor has been in business since 1971 and it's the go-to place for hard-to-find books and used books that are interesting. One of the most interesting things about this local book store is that you can also shop at their bookstore online. Browse their selection here.
The Book Corner
I also love visiting The Book Corner whenever I'm in the area. It's small and cute yet carries quite an impressive selection of magazines, books, and gifts! In business for more than 60 years, The Book Corner carries New York Times bestsellers, one of the largest selections of Penguin classics you'll ever see, limited editions, popular favorites, and a wide variety of titles any well-read book lover would be proud to own.
Where to Stay
SpringHill Suites by Marriott puts you in the heart of downtown Bloomington. It's just two blocks from the square and a short walking distance from Indiana University. Kirkwood Avenue's shops, bars, and restaurants are a 10-minute walk away, and Bluebird Nightclub, one of the top concert venues in the area, is right around the corner. The hotel is spacious, quiet, and cozy with friendly staff. Come back at night for a cocktail or beer at their full-service bar. After a well-rested night, wake up to their complementary and delicious breakfast!
Where is Bloomington Located?
• 1 hour & 15 minutes from Indianapolis, IN
• 2 hours from Louisville, KY
• 2 hours & 45 minutes from Cincinnati, OH
• 3 hours & 30 minutes from Lexington, KY
• 3 hours & 45 minutes from Columbus, OH
• 3 hours & 45 minutes from St. Louis, MO
• 4 hours from Chicago, IL
• 4 hours & 30 minutes from Nashville, TN
• 5 hours & 30 minutes from Detroit, MI