This post is in partnership with NuWave.
Some people are affected by seasonal allergies, but I suffer from allergies throughout the year. Some fragrances. Ah-choo! Dust. Ah-choo! Household cleaning products. Ah-choo! Pollen. Ah-ah-choo! There are even some days that I'm unsure just what is setting my allergies off.
The NuWave OxyPure Smart Air Purifier is beneficial for someone who suffers from allergies as I do! Allergy sufferers like myself are provided with more than just a simple, yet effective remedy. Relief is what is provided the most. This air purifier from NuWave is ideal for those who have allergies or want fresh, clean air.
NuWave OxyPure Smart Air Purifier
---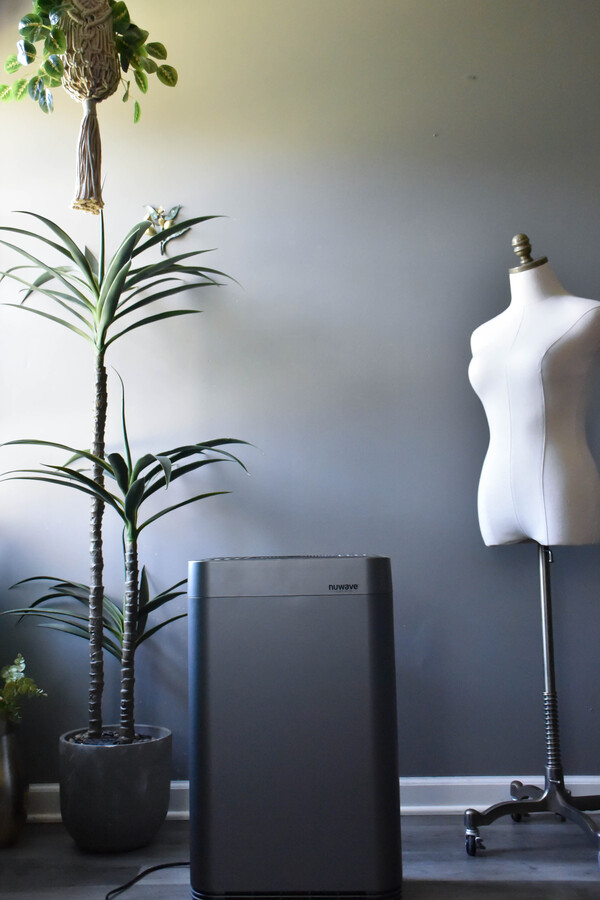 With a touch of a button, it captures 99.99% of airborne particle pollutants as small as 0.09 microns!   It also eliminates toxic ozone in the home to less than 1 ppb, offering an ozone-free space. Choose from 6 speeds depending on your needs, including a low speed that runs ultra-quiet that is great for light sleepers. It's hard not to love an air purifier that purifies and monitors the air quality with just a few taps on your smartphone!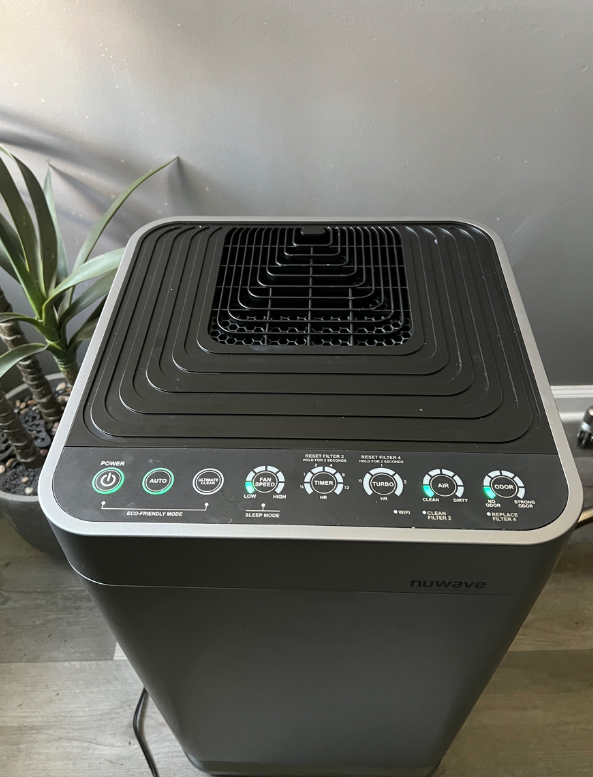 Setting up the NuWave OxyPure Smart Air Purifier was an unbelievably quick and easy task since there wasn't much to it. The instructions were clear and simple. All it took was removing the plastic from the filters (Stainless Steel Pre-Filter, Bio-Guard Filter, and Ozone Emissions Removal Filter), placing them back into the slots, plugging in the air purifier, and starting it. No tools. No gadgets. Just filters!
The OxyPure Smart Air Purifier from NuWave also features a timer set for up to 12 hours. The filters that come with it are not only washable, but have a lifespan of up to 20 years. The combination HEPA/Carbon Filter has a lifespan of up to 12 months. My allergies have been minimal since I've been regularly using this air purifier.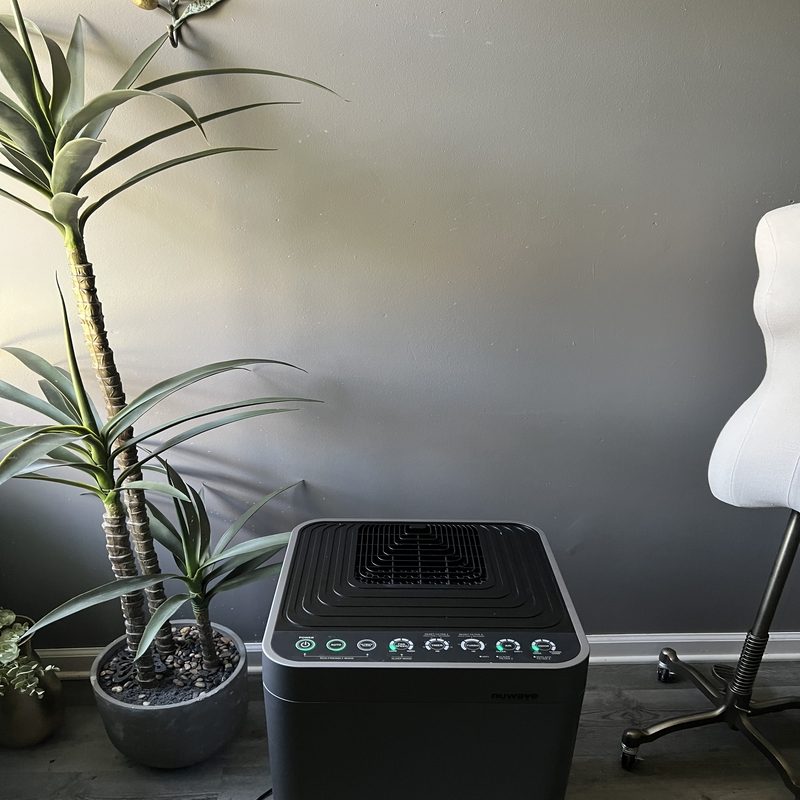 Sleeping peacefully throughout the night hasn't been easier! This air purifier has a lulling white noise that helps lull me into a blissful slumber. Not only do I keep it in my bedroom at night, but I can easily move it from room to room since it is lightweight and portable, thanks to the built-in wheels! Having an air purifier is truly one of the best investments. It will give you peace of mind knowing that you and your family are being safeguarded from allergens and bacteria that are lurking in your home!
Noteworthy Features
---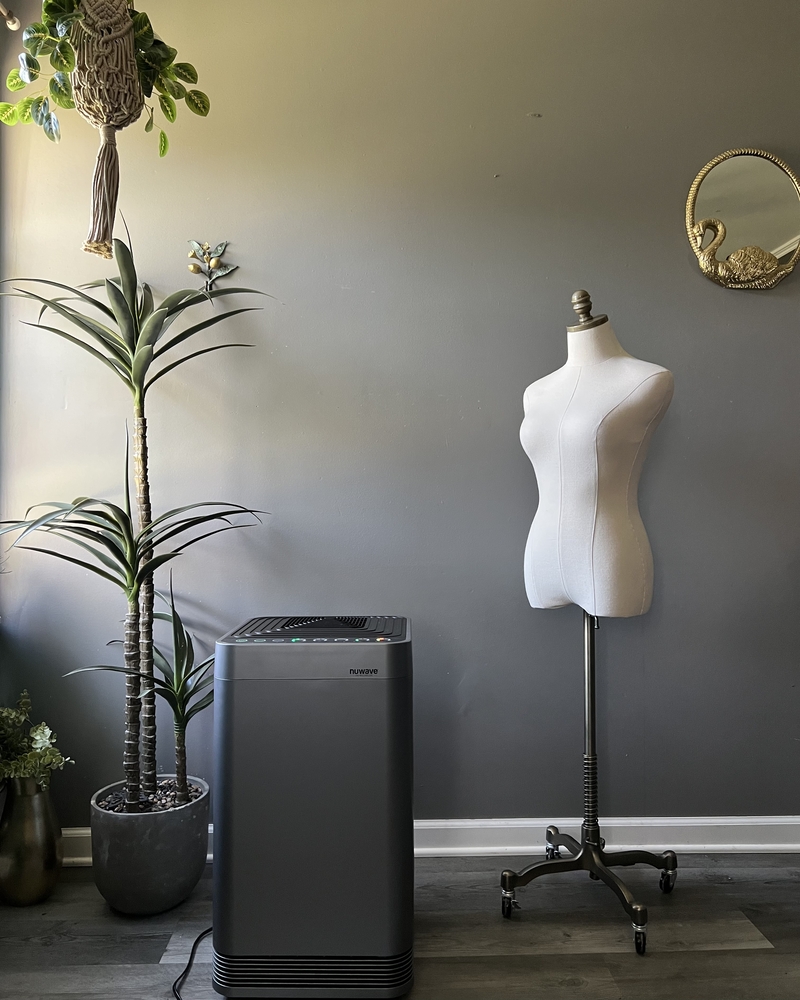 ► The NuWave Oxypure Smart Air Purifier removes airborne lead, mold, dust, dust mites, smoke, pollen, pet dander, allergens, gasses, volatile organic compounds, and of course, bacteria, and viruses.
---
► In a recent test performed by the University of Minnesota, it was proven that the OxyPure Smart Air Purifier removed 98.24% porcine respiratory coronavirus surrogate from the air on the first pass and is calculated to capture 99.999% in a 1,200 square feet room in less than six hours.
---
► Three of the OxyPure Smart Air Purifier filters have lifespans of up to 20 years, while the other filter lasts up to 1 year, minimizing waste and filter costs.
---
► The NuWave OxyPure Smart Air Purifier is designed to clean the air in rooms as large as 2,671 square feet with maximum cleaning power using the 360-degree air intake in combination with its 5-filter system. Whether you place the NuWave OxyPure in the bedroom, living room, kitchen, or even some basements, you can rest easy knowing that the entire room will have safe, clean air. And if you want to clean the air in a different room, the built-in wheels and handles make moving the OxyPure Smart Air Purifier effortlessly easy!
---
► NuWave's OxyPure Smart Air Purifier can operated at any location! Remotely monitor and control the air quality in your home from anywhere with a WiFi-enable smart device. You can use NuWave's app to check the air quality, set times, and check filter life.
---
Connect with NuWave
---