Nature's Notebook was born of a spiritual connection to the ocean and its beaches. Drawn to the soft sandy edges of the sea, artist Courtney Noelle has always felt inclined to inscribe words or names, thoughts or dreams into the ever-changing landscape of the beach. Something about its tumultuous fate, an uncertainty that parallels our own lives, makes sea sand the perfect tablet for expression.

And what better way to capture that expression, the memory and the magic of the beach forever, than in a photograph.

Courtney Noelle began sharing these captured moments with friends and loved ones through gifts and cards. Soon, people were talking about these special snapshots, encouraging Courtney Noelle to make these gifts available to anyone. Touched, and eager to share this passion with the world, Courtney Noelle began Nature's Notebook, an online collection of photographs and cards using the seas' tranquility to express love and emotion.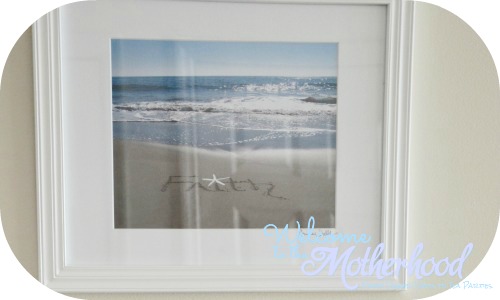 I was sent a lovely customized picture for my daughter (HilLesha) for her 28th birthday by the talented Courtney Noelle. I chose the Bible Verse Cloud, inscribed with Faith, size: 11×14, in color, and in a white frame. Courtney added a starfish, which went well with her beach theme decor she uses in her living and dining room. I was thrilled with the beautiful picture, and so was my daughter! She is now basking in all the comments on the picture from family and friends.
The photographs make a perfect thoughtful, wonderful and personalized gift for someone you love, or just a gift to treat yourself. They are ideal for Mother's Day, Graduations, Weddings, Anniversaries, Birthdays, or any occasion, They can be one of a kind unique gifts to treasure everyday.
You have your selection to choose special personalized prints with messages, or/and with favorite quotes, which I love.
Be sure to go to Nature's Notebook for that gift idea! Courtney is a very pleasant and easy person to work with you. She is always willing to help with any questions or concerns.
Disclosure: The item(s) in this review was provided to the reviewer for keeps and the purpose of writing a review. This in no way affects the quality of the review provided. No monetary exchange occurred in exchange for the writing of the review. The views expressed in this review are strictly that of the reviewer. All reviews provided here are the work of the reviewer and remain completely unbiased.