Poppy Tree Frames boasts 18 different frame styles that are available in 42 colors and 49 prints. Each frame is a mixture of superb detailing and beautiful craftsmanship. They can also create any size you want. If you need a size that is not an option on the menu, you're more than welcome to email them what you need, and they'll send you the price. They do not charge a special price for custom sizes. Your price will be proportional to their other sizes.
The Circle Frame ($34) is a simplistic, yet bold frame that beautifully blends in with my décor. It is thick, sturdy, and beautiful. It looks even more beautiful nestled underneath my framed Nature's Notebook "Faith" Written In Sand Wall Art. Since I couldn't find a picture to accommodate its size without cutting it down, I found a picture to fit my beach theme, laminated it, and framed it. It features an Isak Dinesen (also known as Karen Blixen) quotation from Reader's Digest (April 1964): "The cure for anything is salt water – tears, sweat, or the sea."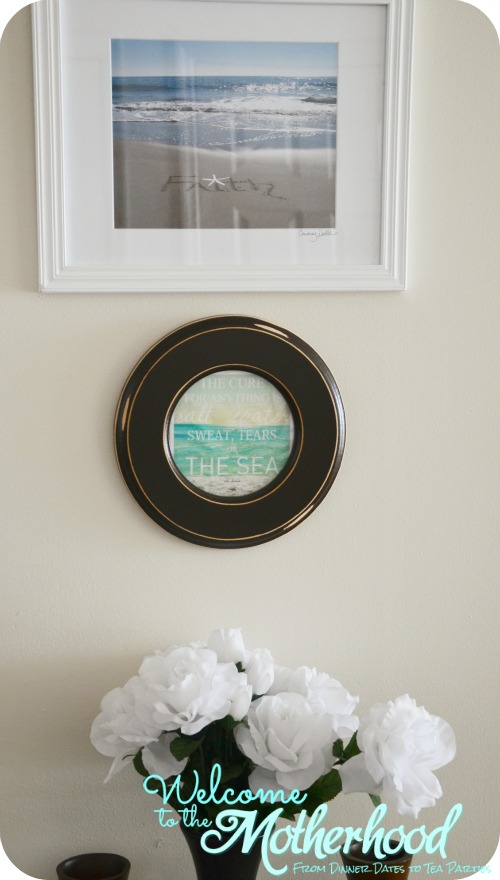 Disclosure: The item(s) in this review was provided to the reviewer for keeps and the purpose of writing a review. This in no way affects the quality of the review provided. No monetary exchange occurred in exchange for the writing of the review. The views expressed in this review are strictly that of the reviewer. All reviews provided here are the work of the reviewer and remain completely unbiased.