Organic India strives on living in the embodiment of love and consciousness in action. They work with thousands of small family farmers in India to cultivate tens of thousands of acres of sustainable, organic farmland. Made with loving care, their products promote health and wellness. Each product is one link in a chain of love, respect, and connectedness between Mother Nature, their farmers, company, and you. Choosing Organic India indicates that you're actively participating in their mission to create a sustainable global environment, provide training, and a life of dignity to their local farmers while bringing health, true happiness, and wellness to yourself.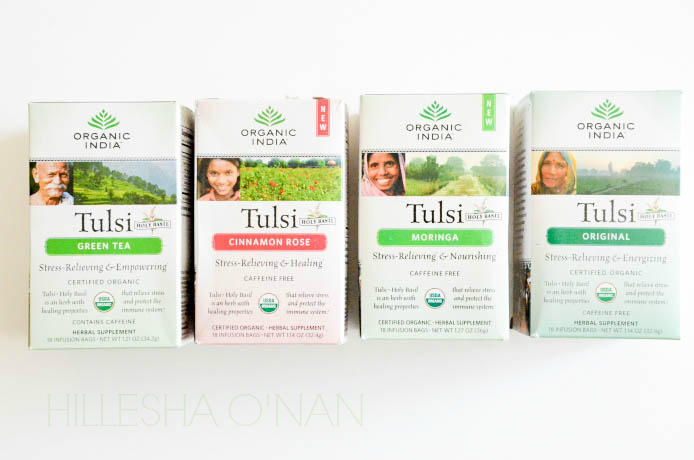 Organic India's Original Tulsi Tea has been one of my go-to teas for the past few years. This tea is pleasant in taste and gives me a sense of calm, unlike any other tea. Not only is it soothing, relaxing, and stress-relieving, but it is caffeine-free, gluten-free, and abundant with antioxidants. Tulsi (Holy Basil) also has a wealth of other benefits. That's why Tulsi has been touted as the "The Queen of Herbs" in India for centuries. I recently tried Organic India's other flavors: Green Tea, Moringa (Caffeine-Free), and Cinnamon Rose (Caffeine-Free). All have their stress-relieving benefits, but the Cinnamon Rose quickly became my favorite! It has a unique and bold, yet delightful flavor that I find refreshing. Organic India doesn't only offer tea, but also offer a vast selection of organic herbal supplements that I have come to love within the past year.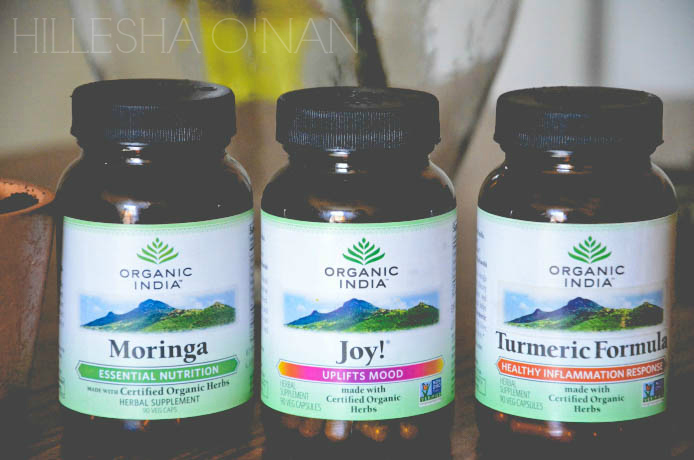 Turmeric is widely known all over the globe for its wealth of benefits. One of the most popular known benefits is that turmeric helps the body ward off cancer formation and growth. It also helps lower cholesterol, improves skin health, whether one is battling the signs of aging or reducing redness; soothing upset stomachs, and decreases inflammation. The downside is that turmeric isn't for everyone since it has a distinctive flavor. I have grown accustomed to its flavor and I regularly use it in different foods because of its wondrous benefits.
I have tried Organic India's Turmeric Formula in the past and was pleasantly surprised how I was able to beat the sinus infection within a few days, whereas my sinus infections normally last for over a week. Organic India's Turmeric Formula comes in easy to swallow capsules that are suitable for those who don't incorporate turmeric into their daily diet or simply don't like the distinct taste! As someone who has been plagued with recurring sinus infections since a child, they've become noticeably less and less since turmeric became an integral part of my diet. This is why I try to steer clear from allopathic treatments (i.e. conventional medicine) much as I can, because I find that natural methods have a tendency to work in my favor.
I also received the Joy! Formula and Moringa Capsules. The Joy! Formula is another one that quickly became a favorite of mine. Although it's not a cure-all, I've found that it's one of the few products out there that naturally alleviate some symptoms from ADHD. I veered away from conventional medication for it when I was a teenager and have defied all odds stacked up against me with natural remedies and dietary changes. Before my tonsillectomy last month, I also found that this product helped my hypersomnia due to sleep apnea by giving me boundless energy without the crash effect or jitters.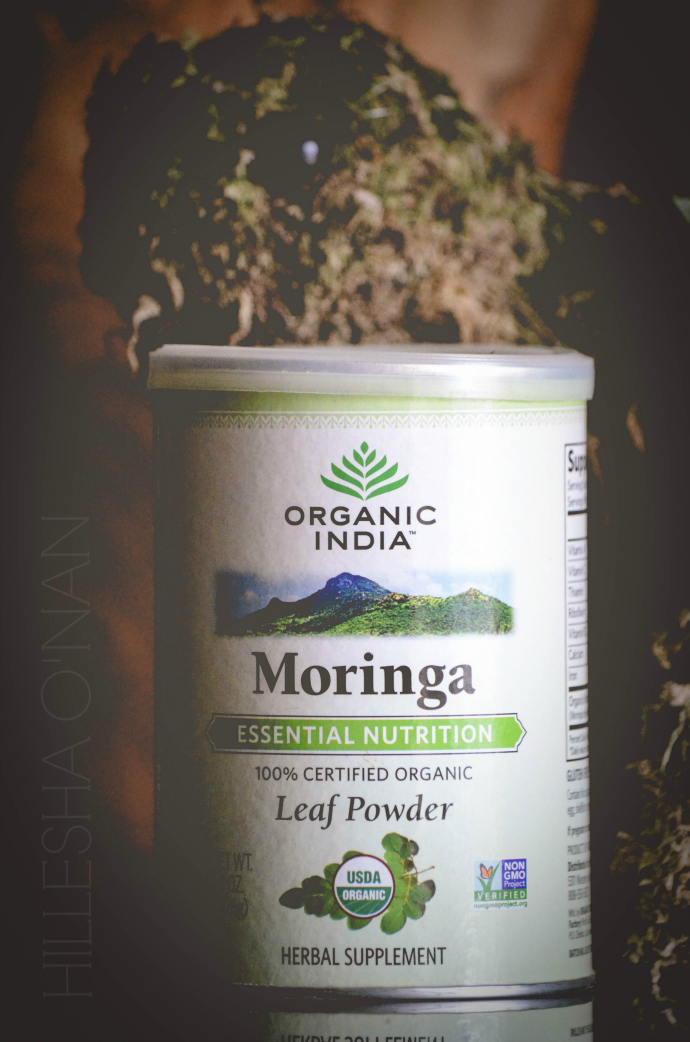 Moringa is a nutritionally complex whole food that is naturally abundant in vitamins, minerals, and amino acids. Dried Moringa leaves concentrate nutrition so even a small dosage can dramatically benefit your diet. It has 7x the vitamin C of oranges, 4x the calcium of milk, 4x the vitamin A of carrots, 2x the protein of milk, 3x the potassium of bananas, and 400x the vitamin B12 of steak! Moringa contains all 18 amino acids – the building blocks of protein and energy in the body. High in B vitamins, Moringa is also an ideal supplement for stress management. Organic India's certified organic Moringa products are derived from the powdered leaves of the Moringa oleifera tree. This wondrous tree is native to India and has a rich history of traditional use.
Organic India offers Moringa in three different products: Moringa Capsules, Moringa Tea, and Moringa Leaf Powder. Personally, I love them all! Like the Joy! Formula, the Moringa products are beneficial with mental focus. Each one also puts a little pep in my step!
This post is in partnership with Organic India.