Toilet training your toddler is a significant developmental milestone. Mastering it isn't always an easy feat since each and every child is different. My son was nearly 4 years old before he fully mastered potty training, while my 2 year old daughter showed an indication over the summer that she was close to being ready once she started bringing me a new diaper to change her. She still isn't quite there, but I have an inkling that she'll have potty training down pat in a few months. I've learned that this isn't uncommon in her case. Some children can master it within a few months, whereas others can take months before they fully get the hang of it. It is all in matter of time and patience.
That is why I love Pampers Easy Ups. They help ease the potty training transition since they look feel like underwear. Plus, the motif design featuring Dora the Explorer makes it even more appealing to the wearer! They're also well absorbent (holds 25% more compared to other "top notch" training pants) – fewer leaks! With that being said, the superior leak protection is a must for the inevitable during the night.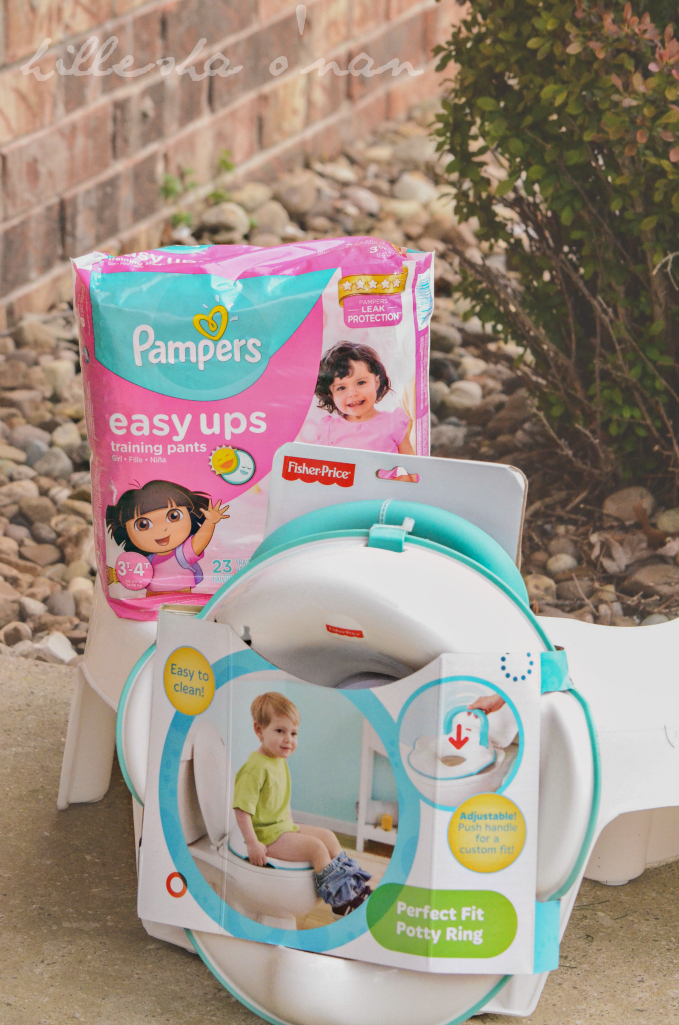 Potty Training Tips
– Look for obvious signs, such as your child pulling diaper off when they have a dirty or wet diaper (my daughter despises the least bit of wetness), bathroom lingo (sometimes my daughter will say poo or pee, but most of the time she says "diapey"), or when their bowel movements are predictable as day and night.
– Consistency is key, as being lax may only confuse the child, prolonging the process of potty training. Even if you're going on a vacation, for an example, and will be gone for a few days or a few weeks even – bring a portable potty.
– Keep in mind that some children want privacy much as we do. If your child is unable to concentrate on what they're doing, looking away may help.
– Adorable as the Minnie Mouse potty chair may be, a simple, plain yet functional potty chairmay be the most ideal since it isn't distracting. Potty chairs shouldn't be viewed as toys, but as what they truly are: portable toilets. 😀
– Always take the initiative and encourage your child to use the bathroom before going somewhere.
– Keep track of how much fluids you give your child throughout the day.
– Be patient. The last thing you'll want to to do is rush things, as this will only overwhelm your child. Remember that this is a big step for them, and that this may be work in progress for awhile.
Twitter Party
Please join @Pampers on April 21st from 9-10PM EST as they host a Twitter Party with Dr. Laura Jana, pediatrician, award-winning parenting book author and potty training expert who co-authored to Its You and Me Against the Pee and the Poop, Too! RSVP here: http://vite.io/doubledutydivas
Giveaway
One winner will receive pack of Pampers Easy Ups, Little Looster step stool, a potty ring, a copy of "It's You and Me against the Pee… and Poop, Too!", and a $50 AMEX gift card.
This review and giveaway was made possible by Double Duty Divas and Pampers. I was compensated for my participation in this campaign, but all opinions are 100% mine.
Do you have any potty training tips to share?