Jessie Girl Jewelry offers unique personalized hand-stamped jewelry that is made of sterling silver. Their pieces are customized with things that you hold dear, such as dates, initials, special phrases, and names. Jennifer, the owner, creates her jewelry designs out of her studio in Hopatcong, New Jersey. Although Jessie Girl Jewelry was only launched in 2013, it has already received the coveted finalist standing in Martha Stewart's 2013 American Made contest.
"Jessie Girl is all about what means the most to us," remarked Jennifer. "I make personalized jewelry that celebrates family, friendship and the human spirit. I am a mom-owned business and I do this as a way to stay home and care for my family, which is a blessing to me."
This past Mother's Day, Jessie Girl Jewelry collaborated with The Artisan Group with their annual "Mother's Day in Hollywood" gift bags. Some of Tinseltown's most famous maternal stars included Halle Berry, Alicia Silverstone, Tammin Sursok, Mila Kunis, Scarlett Johansson, Ginnifer Goodwin, Drew Barrymore, and Kristin Cavallari. Each celebrity received the I Wished For You Sterling Silver Hand Stamped Necklace in this year's celebrity gift bag.
In addition to gifting Hollywood Moms for Mother's Day 2014, Jessie Girl presented its hand stamped STRONG and ENOUGH necklaces in The Artisan Group Press Bags at the MTV Movie Awards, Jennifer recently sent her "Brave Wings" necklace to actress/singer Selena Gomez as part of a The Artisan Group collaborative gift bag in November 2013.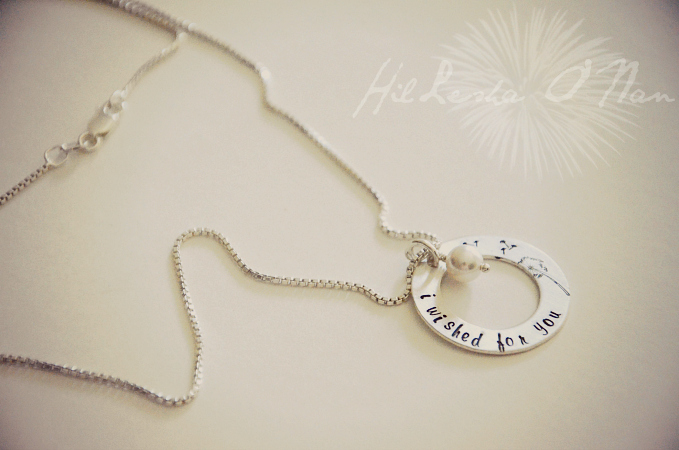 I have always loved personalized jewelry, as it shows what is important to me, whether it is a phrase that I like or words of affirmation, date, or the names of my children. I also love the uniqueness that handcrafted jewelry normally entails. The I Wished For You Sterling Silver Hand Stamped Necklace ($36) that I received is made of sterling silver, engraved with the phrase "I Wished For You", and features a Swarovski 6mm pearl.
The Swarovski 6mm pearl lends a touch of elegance to this already beautiful necklace. However, it can also be customized with a birthstone of your choice, as well as chain style and length. The necklace is very lightweight, yet sturdy enough to wear everyday. It can also practically be worn with any outfit!
You can connect with Jessie Girl Jewelry via Facebook, Twitter, and Pinterest.