In Vogue's May 2013 issue, they touted Moringa as the IT ingredient. Moringa is also hailed as "the greatest cosmetic oil ever discovered" by leading experts. However, Moringa is definitely not the new girl in town. Dating back to 1400 BC, Moringa seed oil was cosmetically used for anti-aging and anti-inflammatory properties. It also has a wealth of anti-oxidants (1,700 anti-oxidants, to be exact!), nutrients, vitamins, and nutraceuticals. Best of all, it is pure, simple, and natural.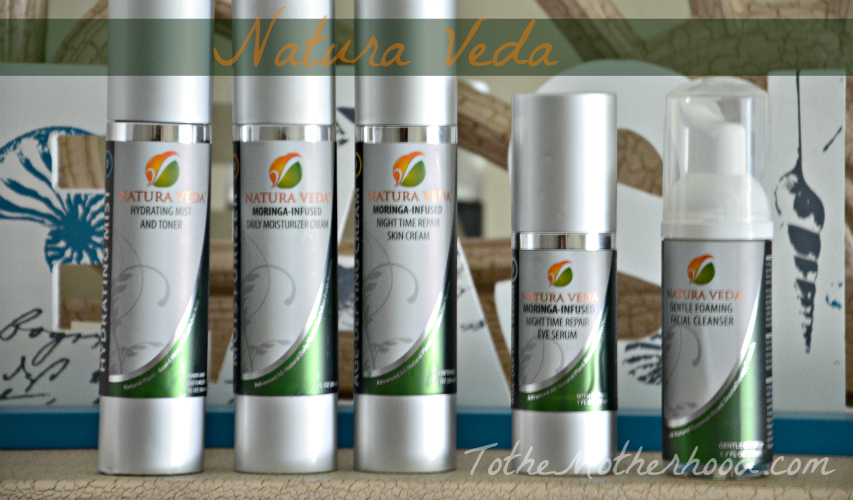 Natura Veda's proprietary Moringa-infused formula is rapidly absorbed into the skin, delivering powerful vitamins, nutrients and botanicals. Combined with a host of skin-loving, natural ingredients, Natura Veda is formulated especially to help you feel hydrated, rejuvenated and refreshed. And, you'll feel good knowing Natura Veda is helping you achieve younger looking, more resilient skin, naturally.
Moringa is the star ingredient in the Natura Veda skin care line. Here are the beneficial properties of Moringa:
– 90+ Phyto-nutrients
– 47 active antioxidants
– 36 anti-inflammatories
– 30% vegetable protein
– All 8 essential amino acids
– 4x The calcium of milk
– 7x The Vitamin C of oranges
– 3x The iron found in almonds
– 3x The potassium of bananas
I'm über selective of what I apply on my skin. I have combination skin and I have a tendency to break out easily. Over the years, I have also become more and more aware of what I apply on my skin will go directly into the bloodstream. According this article, the average woman's body can absorb 5lb of make-up chemicals a year. This can result in a myriad of illnesses and diseases. Although it goes without saying, it's important to take care of our skin. It's part of our insurance for a clean bill of health.
I didn't see overnight results, but my love for the Natura Veda Age-Defying 5 Step Skin Care System ($124.95) was instantaneous. The products made my skin look and feel smooth, soft, and gave it a radiant glow at day 1. I don't always have the best of luck with cleansers, but their cleanser was gentle, yet powerful enough to remove make-up without irritating my skin in the process. It was also the first product that was quickly used up. It's usually tricky for me to find a moisturizer that will not cause a breakout, but I'm happy to report that the Moringa-Infused Daily Moisturizing Cream and Age-Defying Moringa-Infused Night Time Repair Cream didn't break me out in the least. I was hoping that the Age-Defying Moringa-Infused Night Time Repair Eye Serum would miraculously make my dark circles pull a disappearing act. It did not, to my disappointment. However, it reduces the puffiness I have been experiencing with my allergies. As for the Hydrating Mist & Toner, I love to spritz it on anytime of the day, especially if I am out and about, for firm and supple skin.
Disclosure: The product(s) in this review was provided to the reviewer for keeps and the purpose of writing a review. This in no way affects the quality of the review provided. No monetary exchange occurred in exchange for the writing of the review. The views expressed in this review are strictly that of the reviewer. All reviews provided here are the work of the reviewer and remain completely unbiased.