This Banana Nut Smoothie is filled with goodness, along with 22 Days Nutrition plant-based powder, for a healthy yet delectable treat!
This post is in partnership with 22 Days Nutrition.
There is one tiresome question that many vegetarians and vegans alike that are asked, it is "Where do you get your protein?"
If an omnivore was asked the same thing, some would quickly say that they get their protein from meat, eggs, or dairy.
Contrary to popular belief, meat, eggs, and dairy aren't the only sources of protein.
You'd have to be calorie deficient in order to be protein deficient since protein is practically in everything! Vegetarians and vegans naturally obtain their protein from many sources. Vegetables, especially green vegetables, such as spinach, French green beans, peas, and kale. Milk alternatives, including almond, cashew, flaxseed, hemp, coconut, or soy milk. Hemp. Seitan. Chia seeds. Tofu. Brown rice. Tempeh. Beans, including kidney, garbanzo, pinto, or black beans. Sprouted-grain bread. Quinoa. Nut butter. You name it!
With all of that being said, how do you think herbivorous animals, such as the buffalo, panda, gorilla, hippopotamus, or elephant get their protein? From the earth! They're not suffering from a protein deficiency, nor are they lacking in stature, build, or strength.
There's another common myth that needs to be debunked and it regards protein powders. Protein powders are not just for bodybuilders nor will they instantly turn people into the Incredible Hulk! Once again, just a myth. It's true that they're beneficial for muscle formation and preservation, but they're also beneficial for weight management, digestion, energy, hormonal balance, strengthening the immune system, sustaining mental clarity, and staving off cravings.
Boost Your Mornings with 22 Days Nutrition
---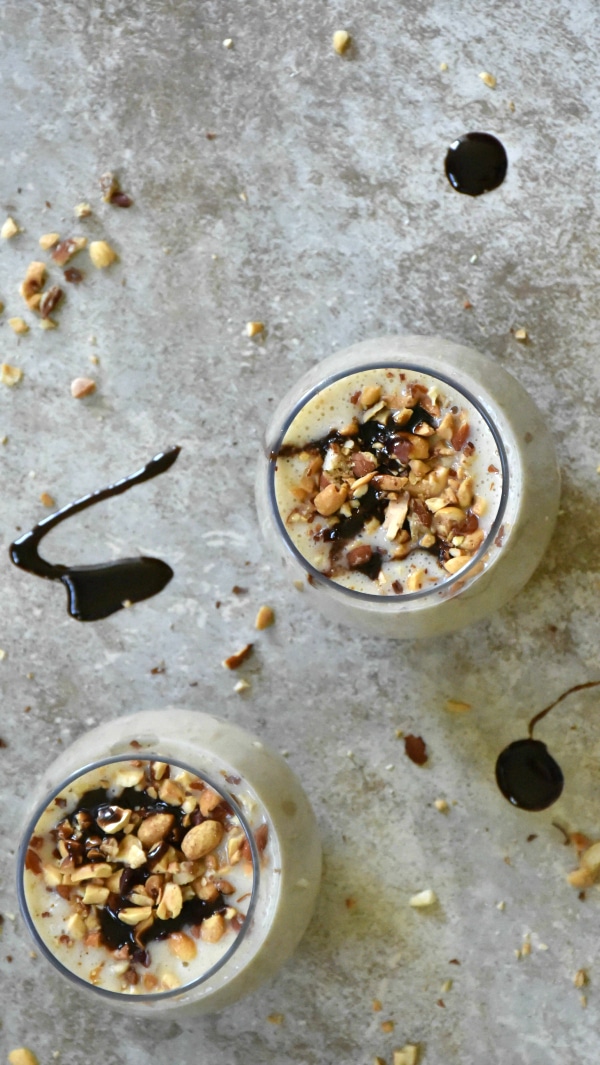 22 Days Nutrition is one of my favorites when it comes to plant-based protein powders! Their protein powders are free of artificial colors, flavors, and sweeteners. They're also free of gluten, soy, and preservatives. I've tried their vanilla protein powder and it's really delicious. Some mornings I enjoy it with flaxseed or coconut milk without additional ingredients. Other mornings I love to implement it my smoothies, including the Banana Nut Smoothie. As for the tub featured in one of the pictures in this post? Old news! 22 Days recently tossed the tub in lieu of their new pouches. Their new pouches are made with 88% less material than the traditional protein tubs.
Banana Nut Smoothie
---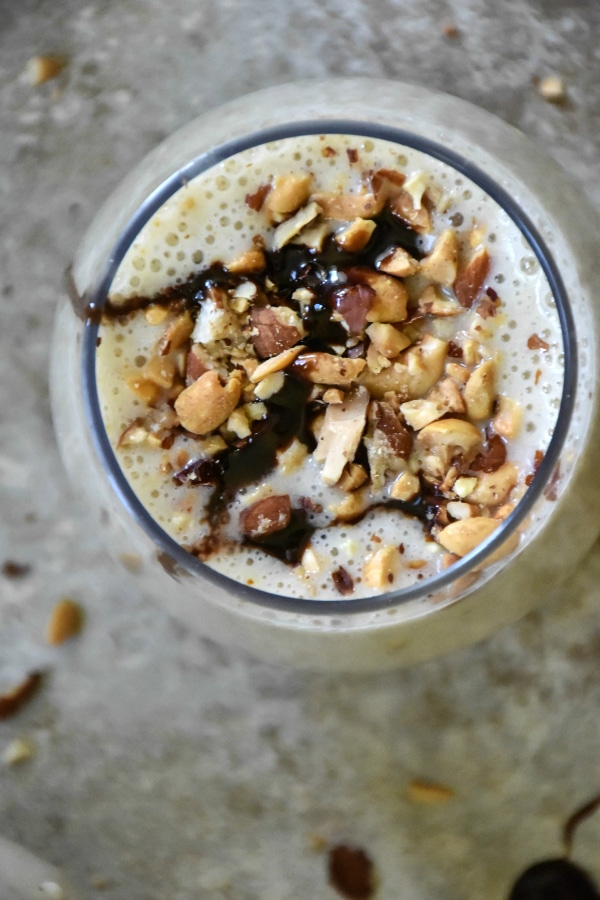 Ingredients
+ 1 Frozen Banana
+ 1 Cup of Plant-Based Milk
+ 1 Handful of Peanuts and/or Almonds
+ Chocolate Syrup (optional)
+ 1 Scoop of 22 Days Nutrition Vanilla Protein Powder
Directions
+ Add plant-milk and frozen banana to a blender and blend until smooth. Top off with peanuts and/or almonds. Drizzle with your favorite chocolate syrup.
+ Enjoy!
Smoothies like this Banana Nut Smoothie gives me the natural fuel that I need to begin my day or post-workout.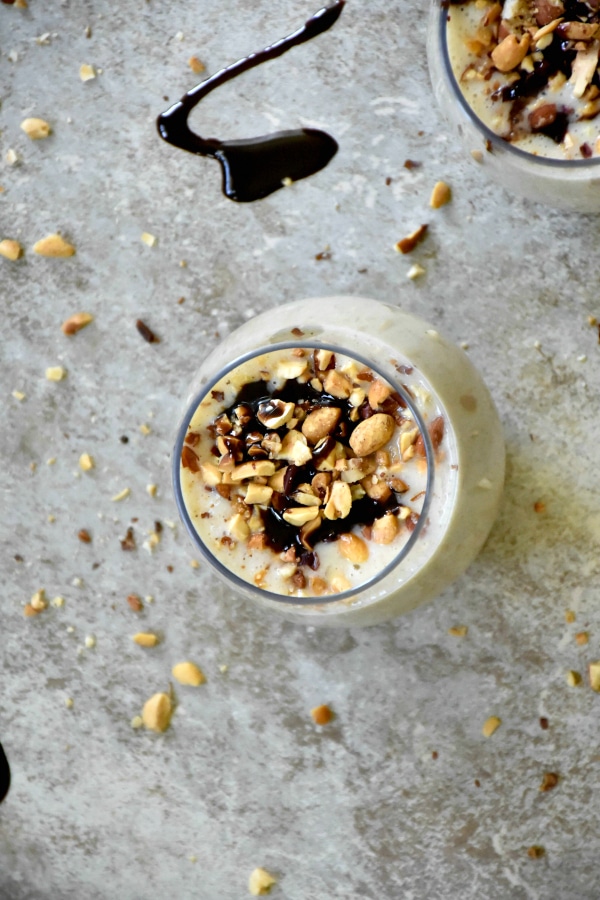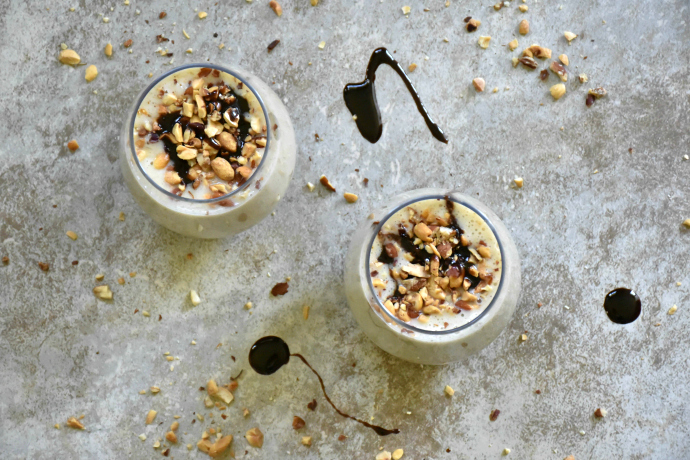 Do you remember when Beyoncé performed at Coachella in 2018? To prepare for her physically demanding performance, Beyoncé adhered to the plant-based plan from 22 Days Nutrition. 22 Days Nutrition was developed by her fitness trainer, Marco Borges. Beyonce followed his plan for 44 days to reach her goals.
According to Marco, adhering to a plant-based diet means "eliminating all the overly processed foods that don't do us any good anyways. When you're eating plant-based, you will definitely have more energy. You will definitely sleep better. You're definitely gonna have improved complexions. Your mood is gonna change completely."
Beyoncé and Marco launched the 22 Days Nutrition Meal Planner. This meal plan offers personalized meal recipes to members. Connect with 22 Days via Facebook, Twitter, and Instagram.