Products and information was submitted by VTech for inclusion for the Holiday Gift Guide.
One brand of educational toys that I love and always will is no other than VTech. VTech is a brand that my mom heavily relied on when I was a child. She loved that they provided endless hours of entertainment for me, yet their functionality was versatile to bring educational value. I also love this concept for my own children, because it teaches them that learning can be fun and exciting.
My 2 year old daughter received four VTech educational toys that are suitable for toddlers, such as herself. These educational, yet entertaining toys would make perfect gifts for the holiday season. That's why one To the Motherhood reader will also be receiving a toy package of their own!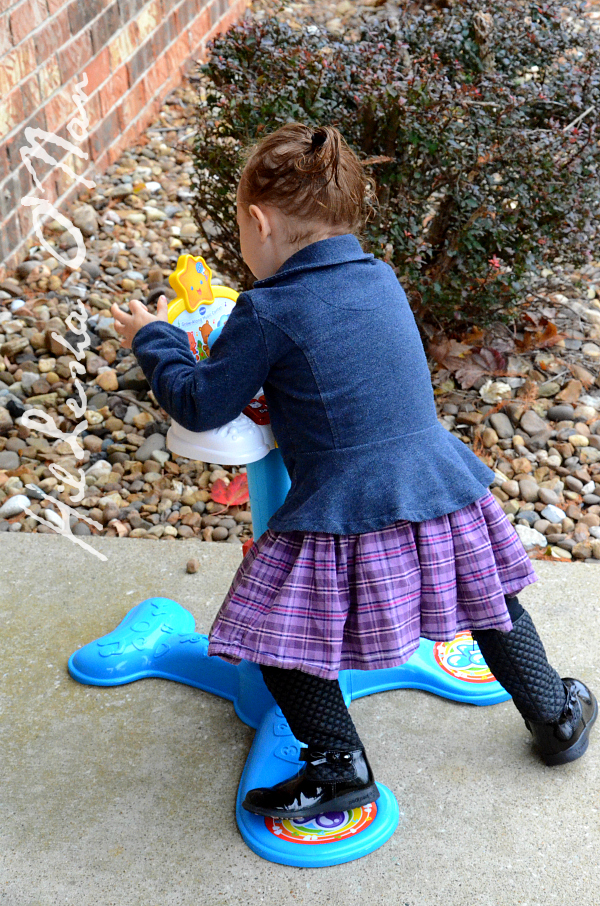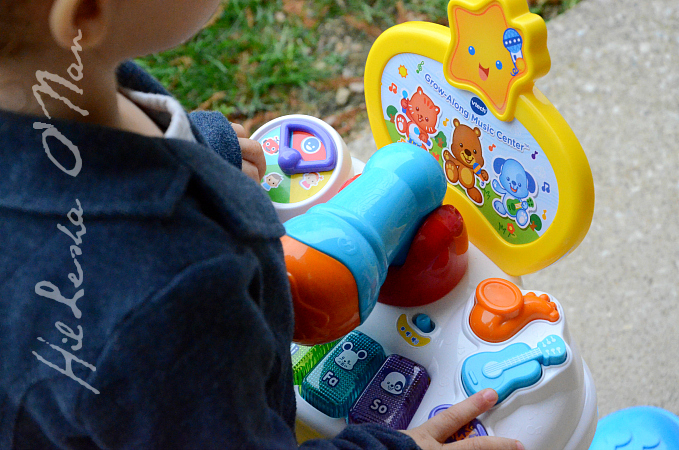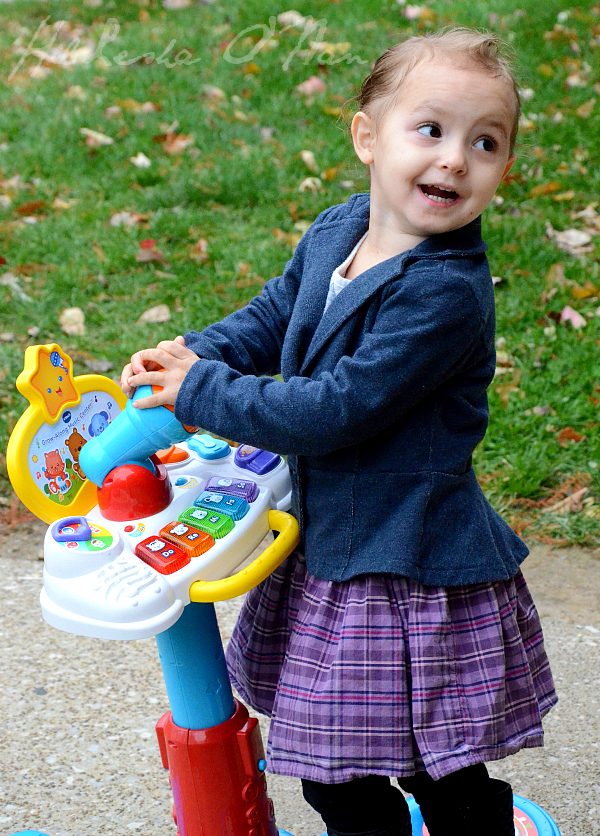 Suitable for Ages 12-36 months
My daughter shares my love for music and developed an appreciation for it at an early age. Hardly a day goes by when she isn't dancing and singing. She constantly sings Let It Go. She is quite a character, as she proceeds to clap once her song is finished, and begins to sing it, again! This usually goes on for a good 15 minutes.
I knew that she would love the Grow-Along Music Center. She loves to carry around the Grow-Along Music Center wherever she goes, whether it is indoors or outdoors, and loves to sing into the microphone. The Grow-Along Music Center also features three instrumental buttons that play guitar, drum, and saxophone sounds; five animal piano keys that introduces children to instruments, colors and animals. Children can choose between Learn & Play mode and Sing-Along mode. As it doesn't get anymore entertaining, a microphone, five colorful lights correspond to children's voices, wacky voice-changing, and amplifying effects!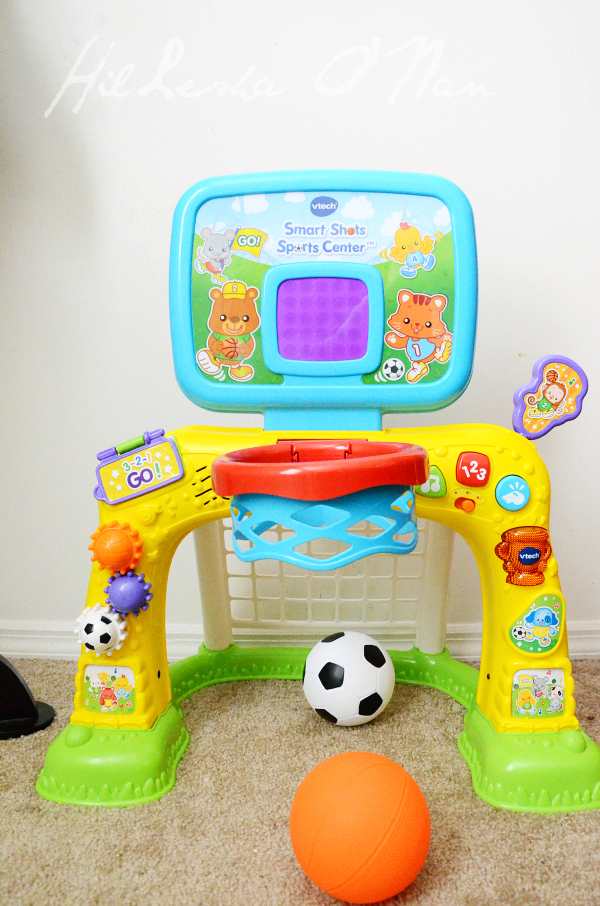 Suitable for Ages 12-36 months
When my daughter isn't singing or dancing, she likes to play with the best of them with the Smart Shots Sports Center. The Smart Shots Sports Center includes a soccer goal and basketball goal for a 2-1 experience. It makes fun sounds whenever the soccer ball is kicked into the net or the basketball is tossed into the hoop. The magic sensor counts up to 10 for each basket that is scored. There are also three buttons that introduces numbers, shapes, opposites, and sing-along songs!
Suitable for Ages 6-36 months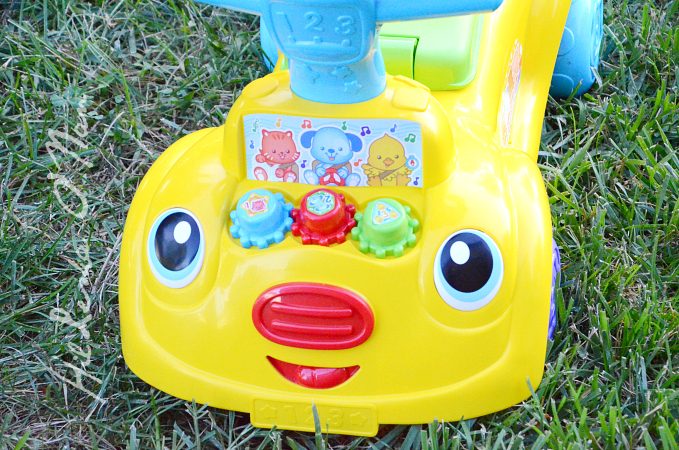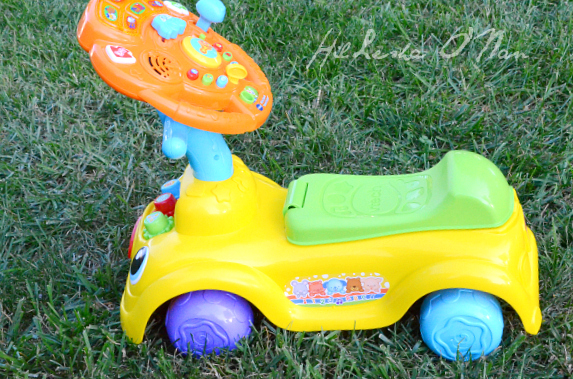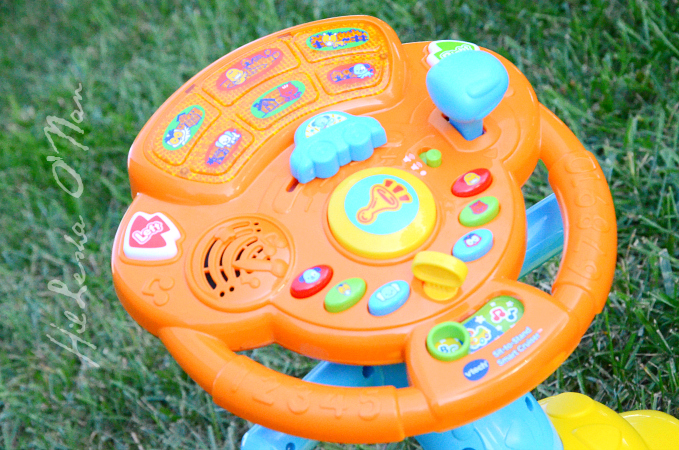 Much as my daughter thoroughly enjoys riding in her big girl car, with her brother as the protective driver, it may be another two years before she'll learn how to drive the VW Beetle Convertible on her own with finesse. In the meantime there's one vehicle that she can "drive" on her own, the Sit-to-Stand Smart Cruiser. The Sit-to-Stand Smart Cruiser has an interactive steering wheel that is detachable and doubles as a toy, featuring learning and music modes with more than 80 songs, sounds and phrases that introduce animals, opposites and first words. My little driver approves!
Lastly, my daughter also received a Chomp & Count Dino that teaches children numbers, colors, and food. Depending on the mode that it is set in (food or numbers), the dinosaur will state what it is when one of the eight brightly-colored play pieces are placed in his mouth. Children can also press the question button and answer the dino's questions to show what they've learned. The dino can also be pushed or pulled by a string for even more fun melodies.
To the Motherhood Giveaway
One winner will receive VTech® Sit-to-Stand Smart Cruiser™ (a $39.99 value), VTech® Grow-Along Music Center™ (a $29.99 value), VTech® Smart Shots Sports Center™ (a $39.99 value), and VTech® Chomp & Count Dino™ (a $19.99 value).