This post is financially supported by Cooking Planit.
I love to cook for my family! Much as I'd love to be a little more adventurous in the kitchen or plan meals ahead of time, I normally don't have the time for meal planning or seeking out new recipes. I usually rely on all-time favorite standby recipes, which I'll admit that can get old after awhile. Thankfully, I was recently introduced to a recipe app called Cooking Planit that helps me venture outside the norm and plan meals for the whole week.
Cooking Planit boasts hundreds of healthy and delicious recipes that can be prepared and cooked in a timely manner, making it ideal for the time-conscious such as myself. It has a digital grocery list that you can use to add the ingredients that you will need for a particular recipe. It also has a cookbook where you can save your favorite recipes. The browsing feature deters endless browsing, as you can search for recipes by ingredients, type of dish, occasion (i.e. brunch, romantic, quick & easy, kid friendly, etc.), and restrictions (i.e. meatless, dairy-free, gluten-free, egg-free, soy-free, etc.).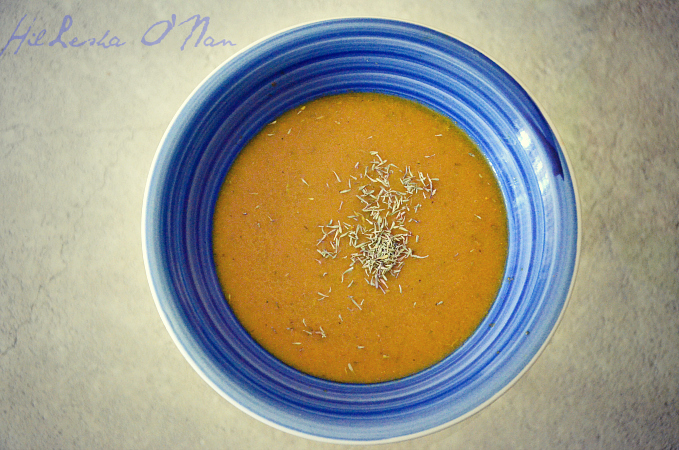 Totally vegan, but bursting with fresh, sweet carrot flavor, this soup is healthful and tasty. Enjoy it for dinner or for a nutritious lunch solution throughout the week.
Ingredients
• Carrots — 2 Pounds
• Fresh Ginger — 3 Tablespoons
• Fresh Lime Juice — 2 Tablespoons
• Garlic — 1 Clove
• Onion — 1⁄4 Cup
• Black Pepper
• Dried Thyme Leaves — 1⁄4 Teaspoon
• Kosher Salt
• Extra Virgin Olive Oil — 3 Tablespoons
• Water — 6 Cups
Equipment
• Food Processor
• Oven
• Stove Top
• Chef's Knife
• Cutting Board
• Grater
• Measuring Cups
• Measuring Spoons
• Peeler
• Pot, Large (4-6 QT)
• Sheet Pan
Directions
– Peel carrots and cut into 1/2 inch thick slices. Spread out on sheet pan(s) in a single layer.
– Cut an onion into 1/4 inch dice to measure the indicated amount.
– Smash the garlic under the side of your chef's knife to remove the peel. Mince the garlic.
– Cut one end off a piece of ginger. Stand the piece upright on the flat edge. Use a knife to slice down the sides of the ginger, removing the skin. Mince the ginger, or grate on a small-tooth grater to measure the indicated amount.
– Preheat oven to 425 degrees.
– Drizzle the carrots with olive oil. Season with salt and pepper. Toss to coat evenly, then arrange in a single layer on the sheet pan. Use 2 pans if necessary to prevent crowding.
– Place carrots in the preheated oven and roast until caramelized, about 40-50 minutes. After 20 minutes, toss the carrots and rotate the pan to ensure even cooking.
– After the carrots are out of the oven, heat a large pot over medium heat. Add olive oil and warm.
– Once oil is warm, add the onions and dried thyme. Crush the thyme between your fingertips as you add it to the pot. Saute until onions are softened and slightly translucent. Do not brown.
– Once onions are translucent, add the minced ginger and garlic. Saute to release the fragrance of the ginger, about 1-2 minutes. Stir in the roasted carrots and season with salt and pepper.
– Add the water to the saucepan of carrots. Scrape any bits off the bottom, increase heat and proceed with the next step as the water comes to a boil.
– Once water is boiling, cook carrots until they are very tender, about 15-20 minutes. Liquid will also reduce slightly.
– Prepare a food processor with the blade attachment.
– Once carrots are tender, carefully transfer the carrots and liquid to a food processor. Work in batches to puree until very smooth. Use caution when blending hot liquids.
– Pour blended soup back into the large pot and place over medium heat. Squeeze in the lime juice and season with salt and pepper to taste. Once warmed through, remove from heat. Soup can also keep warm over low heat as you finish the rest of the meal.
– Transfer carrot ginger soup to soup bowls. Serve warm!