This is a sponsored post written by me on behalf of Orajel Kids.

The past year has shown me how quickly children do grow. My son turned 8 years old a couple months ago and will be heading to the 3rd grade, while my daughter will be turning 2 years old in a couple of months! My children haven't grown so quickly as to not take a moment to capture and cherish those fleeting milestones over the years. The first coo. Smile. Giggle. Rolling over. Tooth. Crawling. Sitting up. Word. Step. All of these "magical" moments that parents look forward to, cherish, and celebrate.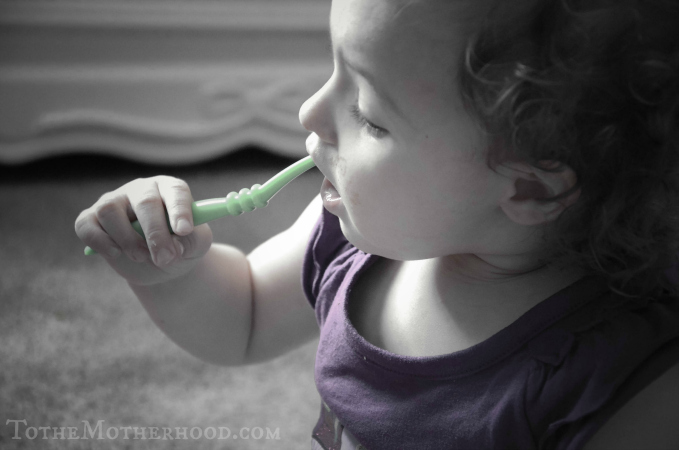 My high-spirited toddler hasn't quite mastered potty training, mostly refuses to wear any hair accessories, and shrieks in horror if a hairbrush is anywhere near her head. However, she takes great interest and pride in brushing her teeth regularly. Anytime I'm near the sink, whether I'm brushing my teeth or styling my hair; my daughter insists on having the faucet turned on (if it isn't already on), and then pointing to the medicine cabinet, indicating that she wants her "toothpaste" and toothbrush. No bribing required! My son, on the other hand, didn't want anyone near his teeth at that age!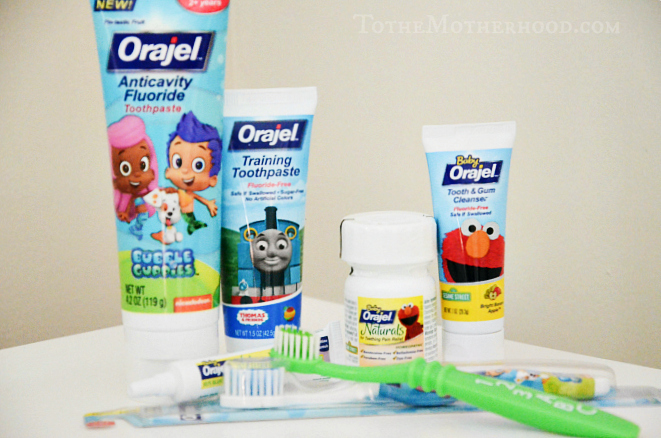 Orajel generously sent a bevvy of their oral care products that are age appropriate for my daughter. This includes their Anti-cavity Fluoride Toothpaste (Fin-tastic Fruit), Training Toothpaste, Tooth & Gum Cleanser (Bright Banana Apple), a couple of toothbrushes, and Baby Orajel Naturals that comes in two different forms: gel and tablet form. I love that Orajel covers all of those developmental oral care milestones (teething, training, and brushing).
I'm not a stranger to Orajel's Fluoride-Free Training Toothpaste since I have been buying it for my daughter for awhile. In addition to it being fluoride-free, it is sugar-free, yet has a flavor (Tooty Fruity) that most toddlers will love; doesn't contain artificial colors, and is safe if swallowed. Even though my daughter's 2nd birthday will be here before long, I'm saving the Anti-cavity Fluoride Toothpaste for then since it's more suitable for ages 2 and up. Also, the teething products couldn't have come in more of a perfect time. As of lately, she has been a crabby patty and has been gnawing at everything in sight. Although not a total cure-all, the teething products help soothe her sore gums. She has also been less fussy and has been able to sleep better throughout the night.
Celebrate Those "Smilestones"
From your baby's first word to their first day at school, Orajel wants to see those "smilestones" with their photo contest on Facebook. The grand prize winner will receive a trip for a family of four to Beaches Resorts. The contest will conclude on June 18th at noon PST. The voting process will take place between June 30th – July 1st.
On May 28th, they'll be hosting an Orajel #Smilestones Twitter Party at 10:30 – 11:30 PST. Prizes will be valued at $100-$200. Use hashtags #Orajel & #Smilestones during the duration of the party.
What are some milestones that make you smile?
This is a sponsored post written by me on behalf of Orajel Kids.