Label-Land.com offers a great selection of bag tags, iron on custom labels, stickers and more. You can add a personalized touch to your children's backpacks and your bags and luggage with these customized bag tags. You can include up to four lines of text and choose from a variety of cheerful designs. The bag tags can be fastened to any bag, shape or size. They are made of sturdy metal tag and ball chain and 100% waterproof. I chose the sports design for my son for his backpack.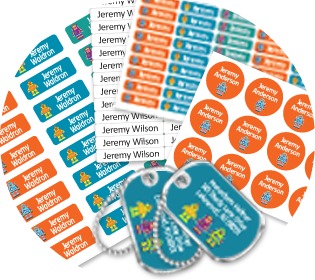 Their iron-on custom labels are of high quality. The name labels can be attached to every fabric type, staying in place for as long as you need them, even through numerous washing cycles. You can also sew the labels on your clothing. You will be able to put your clothing into the washing machine without having to worry about the labels falling off. Their labels will stay on even when washed in industrial washing and drying machines, as well.
Label-Land's clothing name labels can be customized with either one or two lines text. Most often the information included is the name and phone number, but you may also choose to include more specific information such as class id or bunk name.
You will find endless uses for the iron on labels. You can use these name labels for clothes, outerwear, accessories, laundry bags, briefcases and more. They can be used around the house, as well as in daycare, school, camp and nursing homes. By using iron labels for school and camp, your child's belongings will be recognized easily, and you will have fewer items lost. I will use them on my little man's coats and gloves since he often lost his gloves at school. Many nursing home residents family also buy iron on labels for the personal belongings of their love one to make them identifiable. I used them on the clothing of my uncle when he was in the nursing home. It was easier for the staff to identify his belongings.
Label-Land also provided us with customized permanent sticker sheets. They come in an assortment of sizes that can be customized with your personal information. They are water resistant and can adhere to different surfaces. I'll use the ones that were sent to me on the folders, pencils, supply box, crayon box, glue, scissors, and more for my son for school. It'll be for easy identification for his school supplies.
All Label-Land products are made in the USA. They offer super fast processing and Free Shipping.
Prize(s): One winner will receive a sheet of iron labels.
The contest will conclude on July 15th.
Disclosure: The item(s) in this review was provided to the reviewer for keeps and the purpose of writing a review. This in no way affects the quality of the review provided. No monetary exchange occurred in exchange for the writing of the review. The views expressed in this review are strictly that of the reviewer. All reviews provided here are the work of the reviewer and remain completely unbiased.