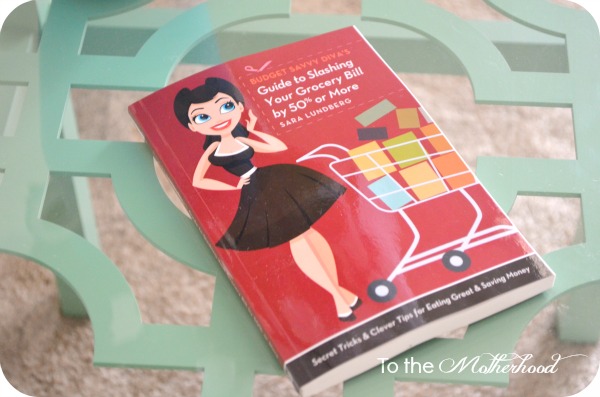 Budget Savvy Diva's Guide to Slashing Your Grocery Bill by 50% or More: Secret Tricks and Clever Tips for Eating Great and Saving Money proves that it's possible to battle the steady rising cost of groceries without sacrificing your favorite brands and products. This books covers on a variety of topics, such as Eating Healthy on a Budget, Coupons 101, Creating a Stockpile, Budget Savvy Recipes, Leftovers, and much more!
Raised by a mostly single parent, I learned the value of a dollar early. Even as a child, I love to scour the clearance racks, going to yard or garage sales, and using coupons on my favorite products. There is hardly any greater thrill than finding a great bargain! So when I received this book, I immediately jumped to Chapter 5, Coupons 101. Some advice I already knew, but this is the perfect book for savvy shoppers and those who want to learn the ropes. For those who are new to budgeting: Once you find coupons and learn your stores' policy, you can easily get the best deal possible by doubling coupons, taking advantage of "buy one, get one free" deals, using discount cards, and/or requesting for rain checks.
I learned a lot from this chapter, including the history of coupons. Did you know that it was Coca Cola that offered the first coupon 1888? They used this tactic to lure potential customers. They ran this promotion until 1913, and by then 1 in 9 Americans had claimed a free beverage, resulting 8.5 million drinks! Shortly after that, companies such as Post Cereal took notice. Coupons didn't become majorly popular until the Depression, a time when companies were in dire need to attract customers.
As someone who is taking their eating habits more seriously, I also enjoyed reading Chapter 4, Eating on a Healthy Budget. I mostly eat natural and organic food, yet most know that the price of healthy food can be costly! Also, coupons for natural and organic food are not always easily attainable, so I always feel like I've hit the jackpot when I find a coupon for a brand I really like, such as Quorn or Amy's.
Once you read Budget Savvy Diva's Guide to Slashing Your Grocery Bill by 50% or More: Secret Tricks and Clever Tips for Eating Great and Saving Money, you will feel like a pro at your next shopping trip.
"My grandfather, who was raised during the Depression, instilled in me the importance of a dollar. He taught me to think about each purchase I make, because what you need and what you want may be two different things. As I grew, I figured out how to save money while still living a full life – especially in the kitchen," Sara says. "Saving money on groceries is easy if you know the right tips and tricks – and I share what those are in this book!"
Connect with Budget Savvy Diva:
Twitter | Facebook| Blog | Pinterest
About the Author: Sara Lundberg's passion for saving money extends from early childhood. Her popular web-site, http://www.budgetsavvydiva.com, has caught the attention of more than 1 million readers each month thanks to its 24/7 updates on coupon fraud, deals, and bargains. Her easy, low-cost recipes are another reason why people visit Budget Savvy Diva on a daily basis. Sara lives in Portland, Oregon.
Disclosure: The item(s) in this review was provided to the reviewer for keeps and the purpose of writing a review. This in no way effects the quality of the review provided. No monetary exchange occurred in exchange for the writing of the review. The views expressed in this review are strictly that of the reviewer. All reviews provided here are the work of the reviewer and remain completely unbiased.