On July 24th, my seemingly boring day turned stressful when I logged into my email and saw a PayPal receipt of $106.99 USD that was made to the iTunes and App Store. It was an unauthorized transaction that someone made on my behalf via the Over app that's owned by GoDaddy. This came as a major surprise since I haven't had a subscription with the Over app that was authorized on my end since May 8th, which was a monthly membership that expired on June 8th. The last time I authorized a yearly membership was between February 2019 – February 2020. I did anything that anyone should do in this case of an unauthorized purchase:
○ cancel the subscription
○ change passwords even though my passwords weren't run-of-the-mill passwords, but I did anyways in case there has been a security breach
○ taking the necessary action of filing a dispute via PayPal. On that same day, PayPal disregarded the dispute within hours without a reasonable explanation. I also contacted Apple, Over, and my bank that same day to let them know about the situation. Apple told me to contact PayPal, but it was the 26th when I saw on Apple's site that they at least terminated the subscription + refunded me yet there was no impending refund showing up in my PayPal. It still isn't showing up. Scroll down for further details.
No one wants to take any action or responsibility in releasing a refund. PayPal told me that there's nothing they can do and to contact the Over app (the merchant) and Apple tells me to contact PayPal, which of course PayPal said that they're not going to refund my money. Apparently, PayPal was confused by the previous Over app subscriptions. The Over app said there's nothing they can do and to contact the Apple store. Here's a screenshot of the emails from David at Over. Notice all of the cutesy emojis? Apparently, everything is puppy dogs and sunflowers in David's world. Talk about being facetious and slightly condescending!
It shows in my Apple account that the unauthorized subscription was terminated and that they sent a refund on the 25th yet it's still not showing up in my PayPal account for some reason.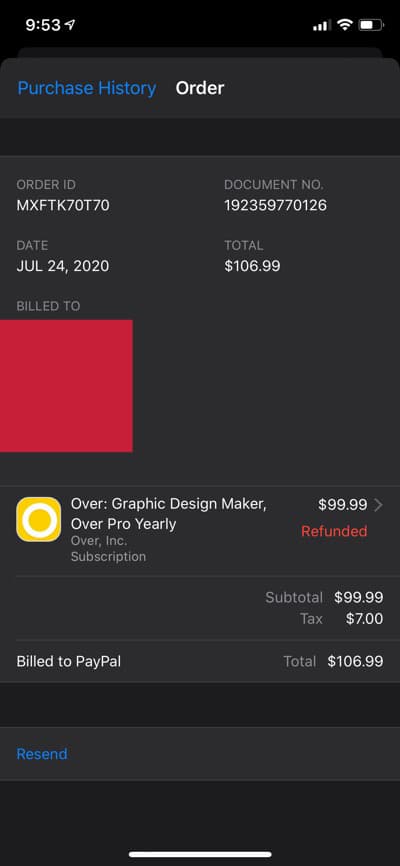 Therefore, PayPal still proceeded to charge me on the 27th (as you can see in the screenshot). My bank is well aware of the situation and so far, they're the only ones that are protecting me as a customer. I have been with PayPal for a long time and I can't help but be baffled by their lack of action to protect their members. All that's needed is for these companies (PayPal, Apple, and Over) to be on the same page without placing the responsibility on one another. Just release the refund!
My PayPal account is my business account and has been for years. They're basically holding any future business hostage – doing this is threatening my livelihood. As of July 28th, they have placed my account in the negative and took away two eBay-related payments to apply to the negative charge. I have contacted the merchant (Over) a few times about this yet they continue to say that there's nothing that they can do about this. While Over may not have the power to initiate/release a refund, at least this is what they say, I believe that the best thing they can do is at least contact Apple and/or PayPal about releasing the refund. Today, I made two calls to Apple as well as had an online chat with a representative to confirm a refund. They're confused as I am why the refund hasn't been released and how + why PayPal is not doing anything to remedy anything. One representative said that it seems like PayPal is may be blocking the refund. This is certainly a weird and frustrating situation!
I can't help but be disappointed by this experience since I have enjoyed using their app in the past. Their lax attitude (and lack of customer service) about the situation is very off-putting. I'm not sure this plays a factor, but I have recently learned that GoDaddy acquired the Over app in January, and GoDaddy, alone, has a less than stellar reputation. There also could have been a glitch in their system that is exposing sensitive information. Either way, I don't feel comfortable using their service (or PayPal for that matter) in the future. I'm just hoping to see some progress come out of this situation sometime soon and I will add an update to this post once I do.
---
Update 7/29/20
I am happy to report that this was resolved and they finally reversed the unauthorized charges. I probably would have written this off and gone on with my day if this was a small charge, but I wasn't going to write this off since $106.99 isn't a nominal charge. Especially since this was beginning to affect business payments that I was receiving. I thought I'd give a fair warning to all, especially for those who may use the Over app for Instagram + IG stories. I wouldn't want anyone to go through a situation like this since this baffling experience has caused so much headache and frustration! This is in addition to several emails with plenty of screenshots, online chats, and phone calls without really seeing any major progress until now.