Knack Pack backpack, offers professionals both a fantastic everyday carry option as well as a fantastic travel option all in one lightweight bag.
This is a post in partnership with Knack and may contain affiliate links, in which I will make a commission if you purchase via the links. Photography and opinions are my own.
The conception behind Knack Pack backpack came from a simple observation. Wherever they looked, people were carrying multiple bags: a work bag and a gym bag; a backpack and laptop case; and a roller-bag and carry-on. Each of them at Knack experienced the hassle of being burdened with multiple bags, and thought to ourselves, "I need more hands!" The epiphany was that they didn't need more hands. What they needed was plain and simple. They just needed a better way to carry all of their stuff.
From this insight was born the vision of One Bag Life. Knack teamed up and brought the best of what they had learned from their collective experience at Tumi, North Face, Coach, Samsonite, and eBags to design the one bag that's clever enough to replace two.
They call it the Knack Pack backpack, and they're hoping that it will make it a bit easier to help you get out your front door more often so you can discover new places, meet new people, and enjoy all that's around you. They have garnered the approval from various publications, including GQ, Forbes, and Men's Journal.
---
Live the One Bag Life with the Knack Pack Backpack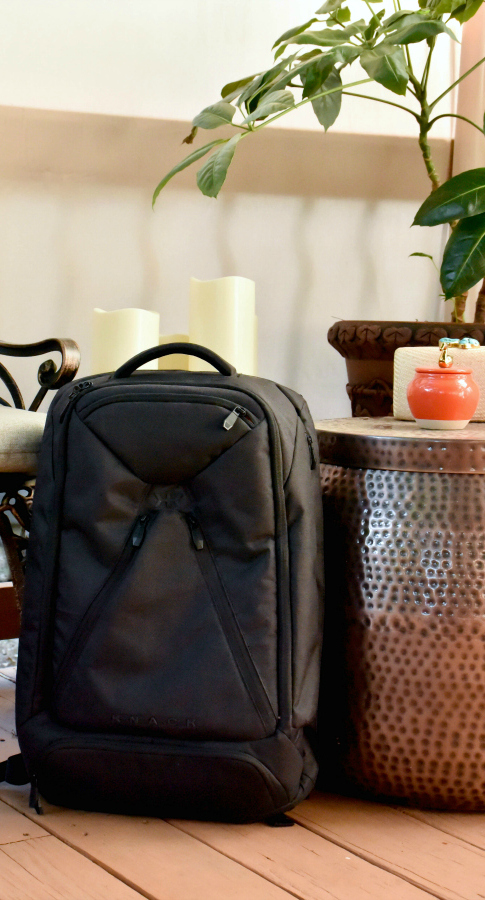 The Large Expandable Knack Pack ($235) is a casual backpack that isn't utilitarian in style in the least! Its neutral color gives it versatility that allows endless styling options. This daily companion is perfect for everyday occasions, whether you're hitting the road for an impromptu getaway or enjoying an afternoon bike ride. It's up for any task!
With an impending move, I don't have any traveling plans for this summer. However, this backpack still easily fits my busy day-to-day lifestyle as a mom of 3. I wanted a backpack that could be ideal for all sorts of different scenarios. This versatile backpack perfectly fits the bill! When my 2-year-old had surgery (adenoidectomy, tonsillectomy, and a myringotomy) earlier this month, this backpack couldn't have come at a better time. I was able to pack everything we needed for his overnight hospital stay.
I like that it's lightweight without skimping on durability. This large backpack is as just as functional and durable as it is spacious and comfortable. It can easily accommodate the daily essentials and a few days of clothing when traveling – minus the bulk. An array of key features set this backpack apart from the rest!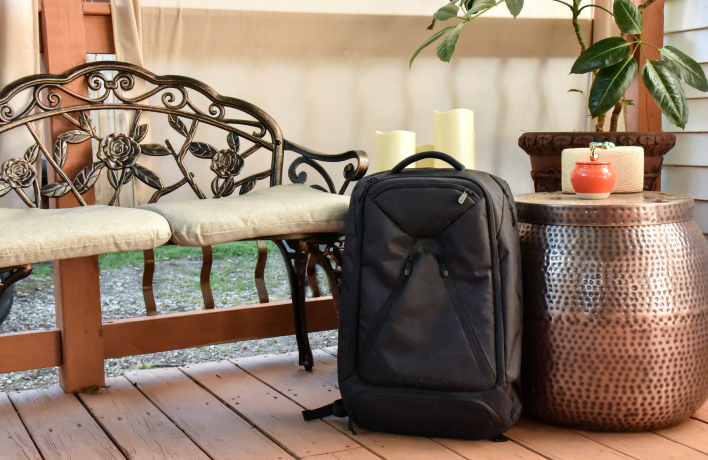 Use the Knack Pack's padded side computer pocket to always keep your laptop with you. The pocket fits 17" laptops (measured diagonally) and its false bottom helps keep your computer safely off the floor whenever you put your bag down.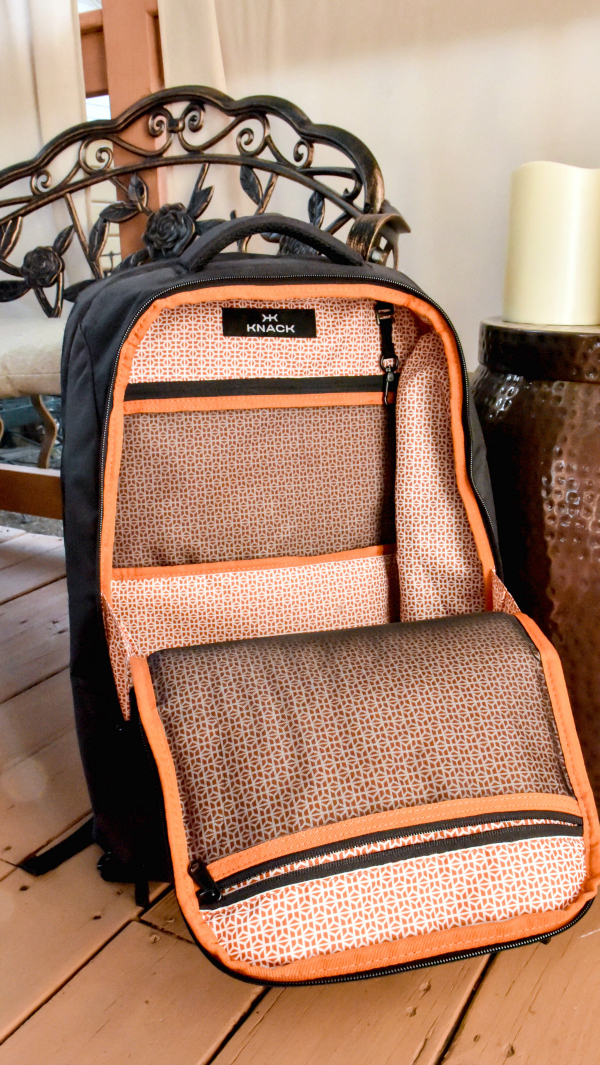 Not sure you're staying in town after your business trip is over? With the hidden suitcase compartment, you can change clothes and live spontaneously. The Knack Pack's main compartment has two generously sized, soft monofilament mesh, zip organization pockets. The mesh makes it easy to always see all the things you stuff into the pockets. That's not all! There is also a protective fleece-lined pocket to keep your tablet safe and sound.
Get to Know Your Knack Pack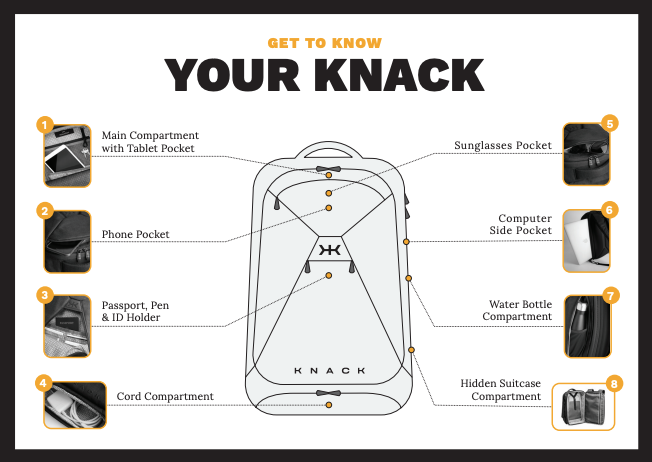 Key Everyday Features
⦾ Easy-access, padded side-zip computer pocket for 17″ laptops
⦾ Spacious main compartment with organization pockets, fleece-lined tablet pocket, and a removable key leash
⦾ Hidden, zip-away side water bottle pocket
Key Travel Features
⦾ Separate, patent-pending, expandable packing compartment holds 3 to 4 changes of clothes
⦾ Meets most global airlines' carry-on dimensions even when expanded
⦾ Packing compartment with easy-access suitcase lid
⦾ Hidden trolley sleeve slips over wheeled luggage handles
Key Technical Features
⦾ Custom-developed, durable, water-resistant body fabric
⦾ Molded, comfort-cool foam back panel
⦾ YKK™ water-resistant zipper with custom-designed pullers
The Knack Pack backpack is used by a variety of people, with key customer groups being:
⦾ Business professionals who want a sleek laptop backpack to get to-and-from the office.
⦾ Travelers who use the expandable suitcase compartment
⦾ Athletes who want a better way to carry items for a workout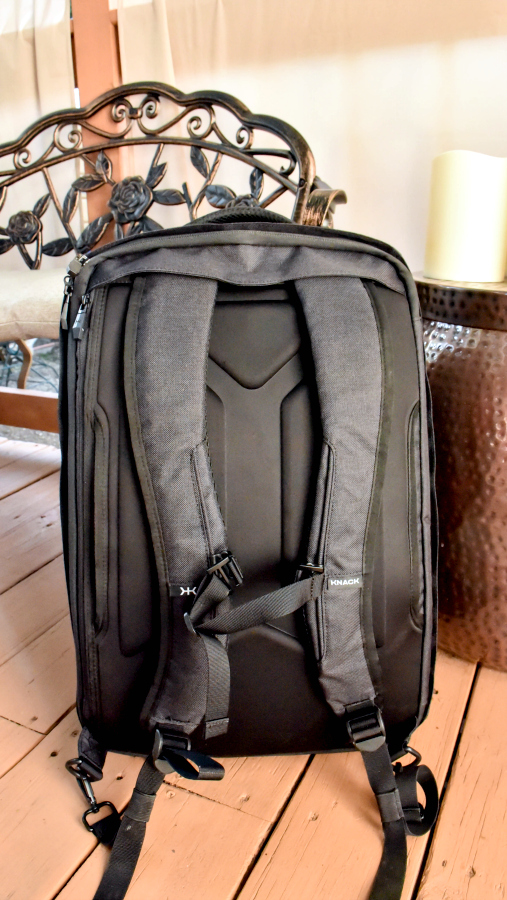 Versatility and simplicity are the keys when selecting the backpack that can adhere to a busy lifestyle! Having this backpack helps reduce stress and simplifies my time to get things done. Everything I need is organized and conveniently accessible within seconds! You purchase the Large Expandable Knack Pack in Stealth Black or Savile Gray.
Looking for a smaller backpack to accommodate your needs? Look no further than the Small Expandable Knack Pack ($165) or Medium Expandable Knack Pack ($195). Both come in four color options that include Stealth Black, Savile Gray, Sangria Red, and Indigo Blue. They also have a Medium Leather Expandable Knack Pack ($475) that is beautifully made with luxurious Napa leather.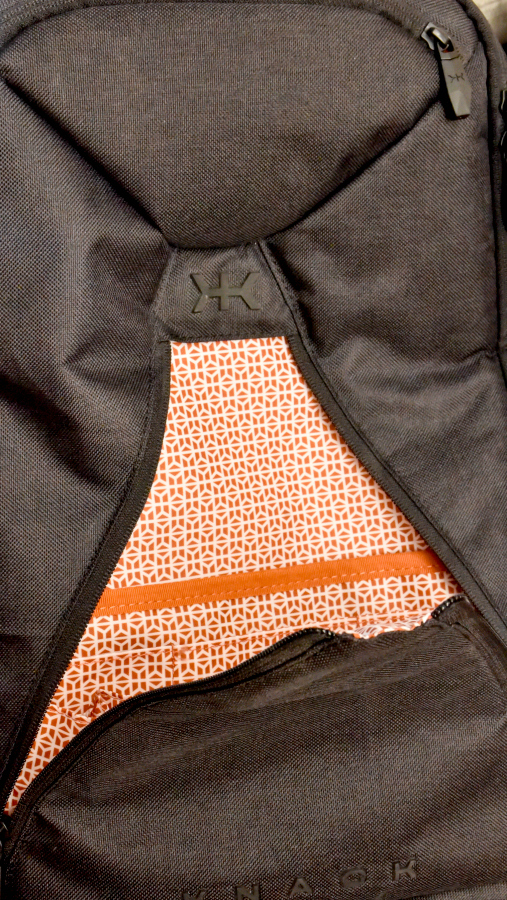 Win a Free Knack Pack
We've partnered with Knack to give one lucky winner a Medium Knack Pack in a color of their choice. The giveaway will conclude on June 24th, 2020. Please note that each entry will be verified.
Connect with Knack via Twitter, Instagram, Facebook, and Pinterest.