Topical and ingestible treatments combining full-spectrum, sun-grown organic hemp extract with aromatic essential oils and other botanicals. Each product at Floramye promotes stress support, inflammation relief, and calmer skin.
This post may contain affiliate links, in which I will make a commission if you purchase via the links.
Floramye believes that wellbeing isn't just a science – it's also an art. Their CBD formulas are certified-organic, reflecting the best of both worlds! Each product is hand-crafted and encourages the balance in your body without altering your mind in the process.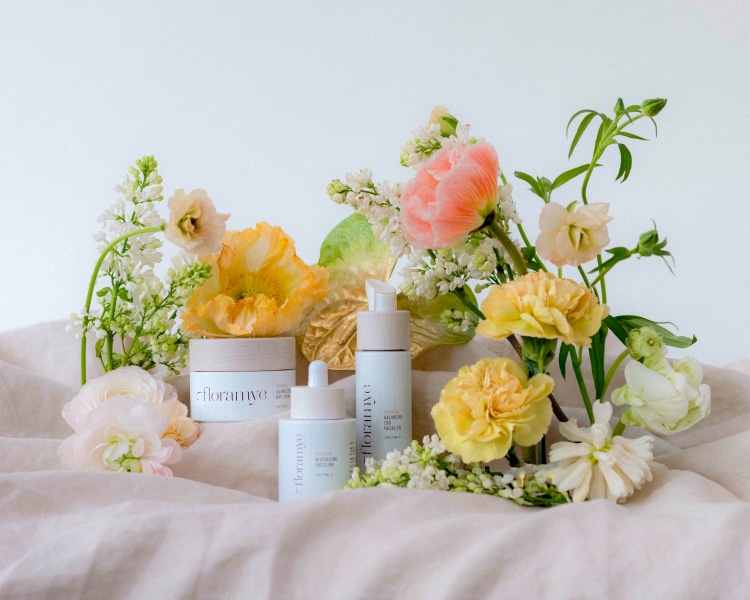 Floramye's topical and ingestible treatments combine full-spectrum, sun-grown organic hemp extract with aromatic essential oils and other botanicals. Used together or separately, each item in the collection promotes calmness for the mind, body, and complexion.
All ingredients are conscientiously sourced. Every formula is crafted in small batches, using certified organic raw materials + finished product. Everything is rigorously tested to ensure the utmost purity and safety.
Heirloom Flora + Modern Wellness at Floramye
---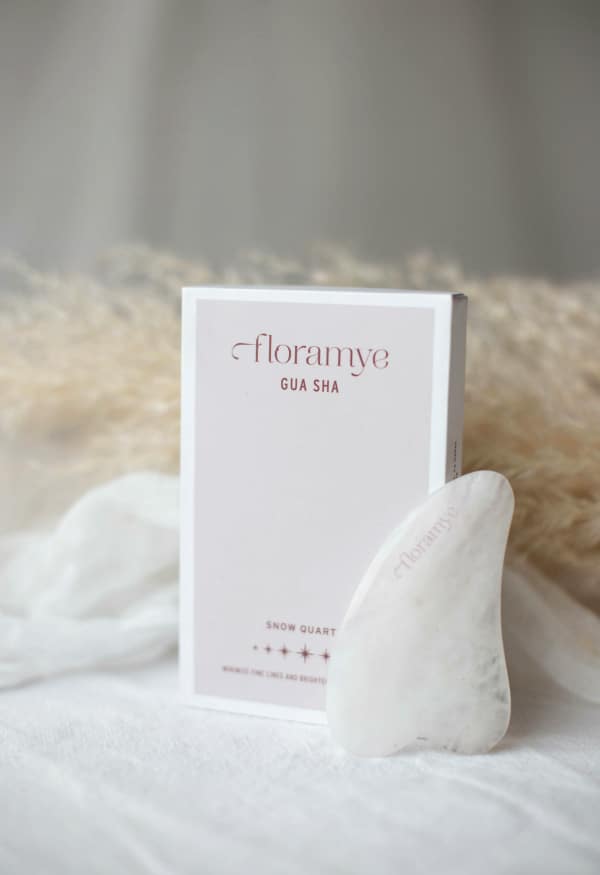 Snow quartz is abundant with healing feminine energy. It's valued for its ability to enhance clarity and intuition, revealing hidden treasures from deep inside the self. When used as part of your daily skincare ritual, Floramye's gua sha helps you connect to your goddess within.
Arm your stone in your hands or use cool to soothe inflammation. Anoint your face and neck with Floramye's Balancing CBD Facial Oil in Bravura (grounding) or Phenom (uplifting). While expressing deep gratitude and love for yourself, gently move your gua sha across your face and meridians, as shown.
Cleanse and dry your gua sha for storage. When possible, bathe your stone in the light of a full moon so it can fully attune you to natural forces.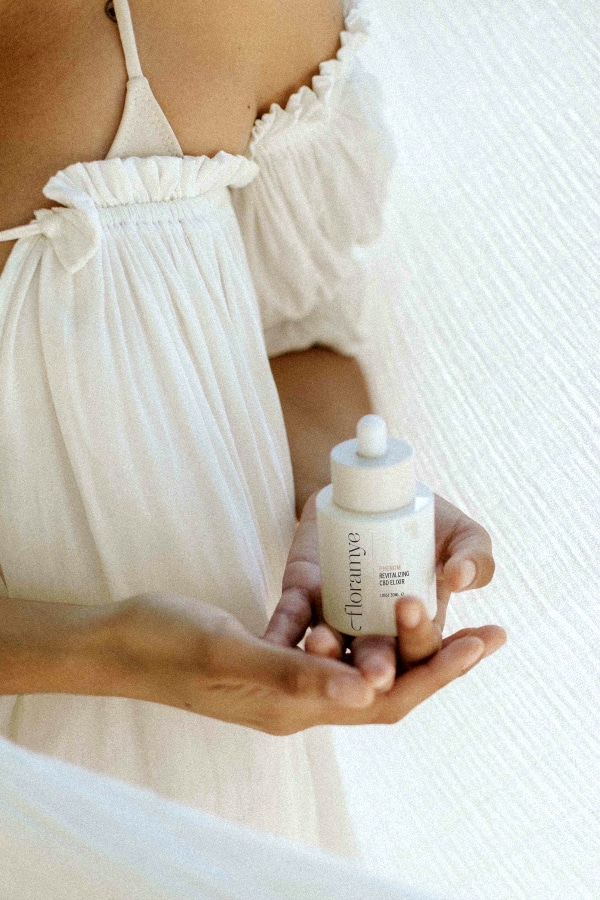 Floramye combines CBD-rich hemp extract with essential oils in their Certified Organic CBD Elixir to further enhance your experience. All plants, including hemp and essential oils, contain terpenes—compounds that give plants their scents and flavors. When we inhale or ingest terpenes, they have an effect on the body. Some are energizing, while others are more calming. 5% of profits from this product benefit mental health organizations.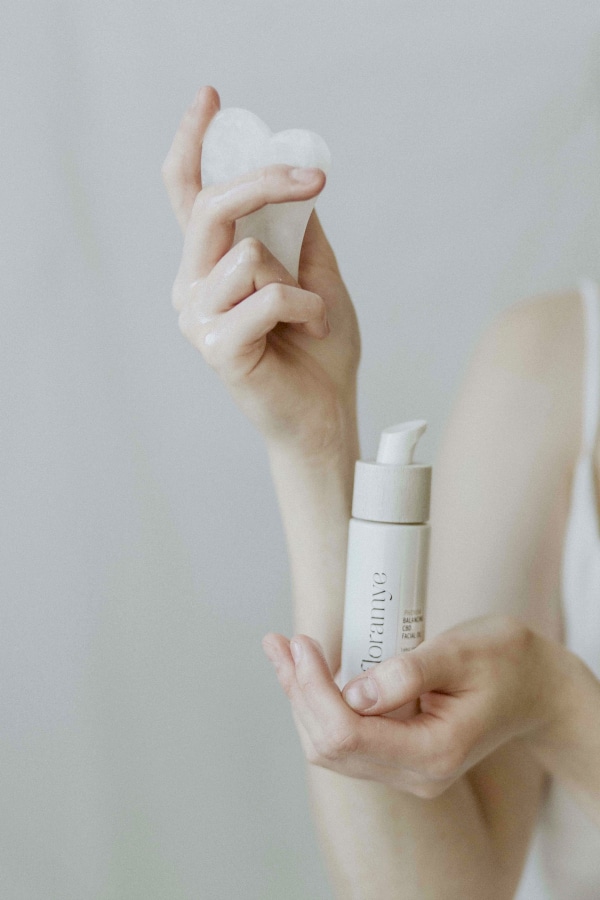 Unveil a clearer, more radiant complexion with the artisanal facial oils from the Balancing CBD Facial Oil. Made with their full-spectrum, certified organic hemp CBD and essential oils, these nutrient-rich formulas help calm irritation while enhancing skin's youthful glow.
Keeping this in mind, Floramye created Phenom and Bravura as the two distinct fragrance profiles to choose from. Phenom uplifts your senses with a delicate bouquet of evening primrose, rosehip, chamomile, geranium, and other floral oils. It's also a wonderful choice for those with problematic skin. It contains gamma-linolenic acid, which regulates hormone levels and can diminish hormone-related acne. Grapeseed oil has a small molecular structure that will not clog pores. Phenom is an uplifting floral blend that balances, clears and smooths complexions.
Bravura helps you ground yourself at the moment, thanks to an earthy mix of ylang-ylang, citrus, cedarwood, and sandalwood, to name a few.
It also delivers lasting luxurious moisture to battle signs of aging. It contains naturally bio-available vitamins, minerals, and fatty acids to nourish the skin. Bravura is a grounding blend that hydrates, brightens, and refreshes the complexion.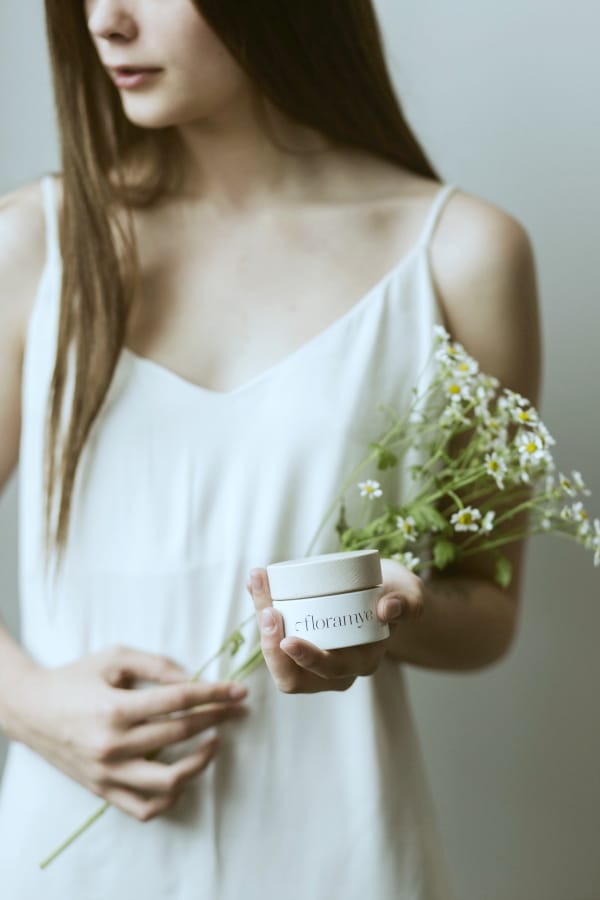 Floramye's CBD Creme restorative cream helps soothe sore joints and muscles while elevating the spirit. It has a symphony of certified-organic ingredients, including full-spectrum hemp CBD that also helps balance dry, or irritated skin.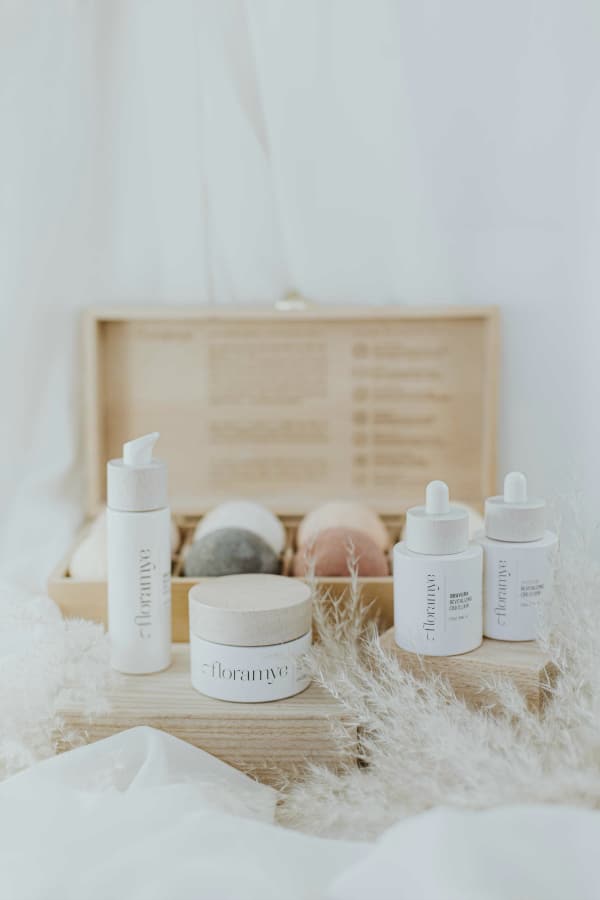 Take self-care to the next level with the Bath Bliss Set! CBD helps to relieve sore muscles and reduce tension. Each bathing ball contains a natural chakra stone that will reveal itself during your bathing ritual. Once you have all seven, store them in your muslin bag for safekeeping. To regain spiritual vitality and restore balance, place stones in your hand and repeat 11 times "my chakras are aligned." Additional inspiration and clear quartz are included to help amplify and align all chakras. Considered the master healing stone, quartz opens channels to facilitate the natural flow of energy.
Floramye's organic CBD formulas reflect the best of both worlds. Each one (120g) is crafted by hand with a potent 200mg full-spectrum dose of CBD to encourage balance in your body.
◊ SAHASRARA Palo Santo Damascus Rose with Lepidolite (crown chakra) for connection and joy.
◊ AJNA Vetiver and Lavender with Sodalite (third eye chakra) for calming intuition.
◊ VISHUDDHA Shea Butter Milk with Lapis (throat chakra) for soothing self-expression.
◊ ANAHATA Sandalwood Jasmine with Avertine (heart chakra) for abundant love.
◊ MANIPURA Tulsi Verbena with Calcite (solar plexus chakra) to power your inner god or goddess.
◊ SVADHISHTHANA Honey Ginger with Carnelian (sacral chakra) for a sensual glow.
◊ MULADHARA Seabuckthorn Tea with Hematite (root chakra) for grounding confidence.