This sponsored post is in partnership with Soothe. Photos are courtesy of the sponsor.
I always look forward to the holiday season! Conflicting schedules and distance often prevents me from being able to spend time with friends and family, but the holiday season gives us the capability to press pause and reconnect. While this is the happiest time of year to spend time with loved ones, there are a variety of roles and tasks that can make the holidays stressful. Everything from deciding on what to buy everyone on your list and a limited budget to entertaining and hosting can practically make anyone almost succumb to a yuletide meltdown.
Stress can affect our productivity and can sometimes make us more susceptible to illness. Take this holiday season by the horns by slowing down, taking a breather, and relishing in much-deserved "me" time amid the busiest season. We could all use a break from the fast-paced and hectic lives that we lead!
The most critical step in your overall wellness is regular self-care. We often regard self-care tools like massages as an unnecessary indulgence. However, massage therapy provides a wealth of benefits for the mind and body. For a healthier and happier you, this is the perfect time of the year to update your self-care routine. Consider an on-demand massage from Soothe!
Soothe Away Holiday Stress with Soothe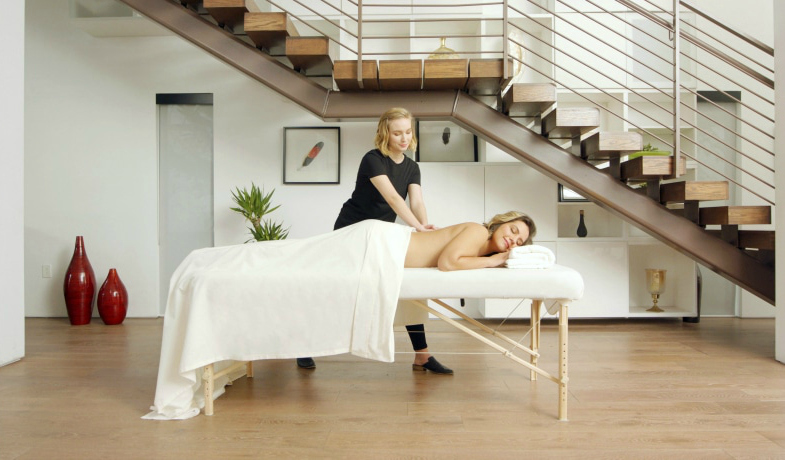 Soothe is the world's leading on-demand massage service that you can book via their app, website, or phone. They have an array of different massages, including deep tissue, prenatal, and Swedish, that you can request. What's better than relaxing in the comfort of your own home? One that includes sharing the relaxation with someone you care about. You and the special person in your life can escape the hustle and bustle of the holiday season with a couple's massage. Has your workload been stressful lately? De-stress and improve your work productivity with an in-office massage. The massage therapist arrives at your home, office, or hotel, bringing all of the essentials to provide the client with the utmost massage experience. These essentials include a massage table (or chair if you're at work), linens, lotions, oils, and music.
With sessions ranging from 60, 90, or 120-minute segments, their on-demand massage services will easily fit into any hectic schedule! Soothe has offered almost 1 million massages globally since the release of their mobile app and massage service in Los Angeles in 2014. They're now operating in 70 cities spanning four continents, with more than 13,000 background-checked therapists in their network.
Pamper Yourself or Someone Special with These Spa Gifts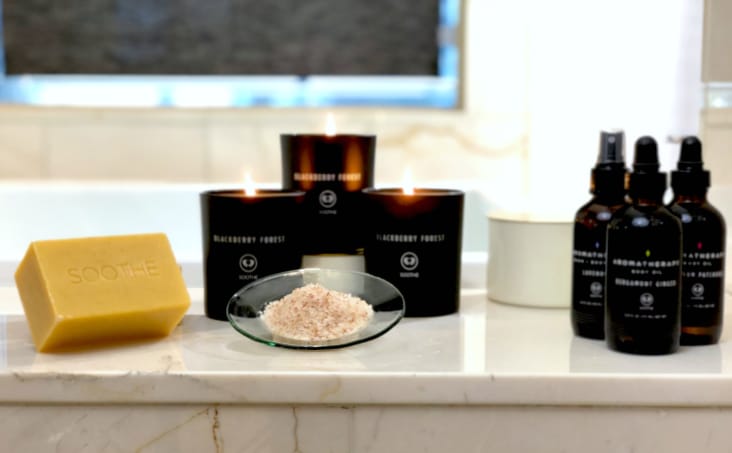 What's an at-home spa experience without a therapeutic body massage, accompanied by a warm bath? Soothe unveiled a blissful Calm. Cleanse. Cure. Holiday Gift Set ($180 – $230) to elevate the at-home spa experience. Each gift set contains a Soothe massage card ($150 – $200) and three sachets of their Sootherapy Healing Bath Salts. These spa-worthy gift sets extend the healing and restorative effects of massage for the mind and body!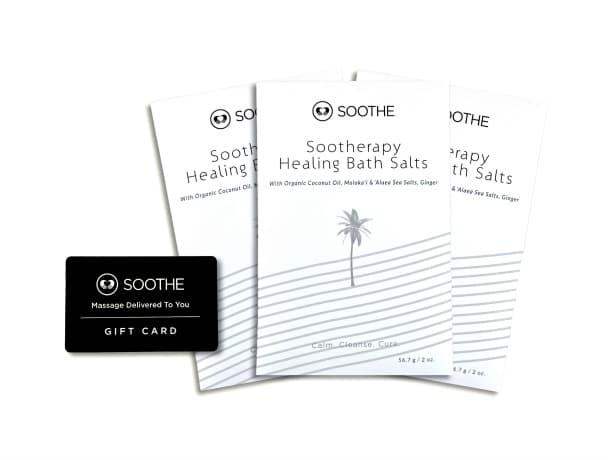 A warm and comforting bath is a wonderful way to relieve stress, release tension, and improve your mood. With their Sootherapy Healing Bath Salts ($30), you'll feel relaxed and rejuvenated! Just one soak of this soothing blend of coconut milk, lemongrass, and ginger deeply nourishes the skin. Meanwhile, the Moloka'i sea salt detoxifies and soothes sore muscles. Each set contains three sachets and comes gift wrapped in a white box with a black and silver Soothe ribbon. With a flicker of a flame and fragrance, add a tranquil and beautiful ambiance with their Blackberry Forest Candle ($32.99) as well!
Let Soothe be the antidote to the higher demands of the holidays and the stress that comes with it. You can rest assured you'll have the best holiday season that you have had in a long time! Connect with Soothe via Twitter, Facebook, and Instagram.