This post is in partnership with West Virginia Tourism. Airfare, meals, activities, accommodations were provided. Visit my Instagram to follow along for more adventures when I was visiting West Virginia. All opinions and photographs are my own.
After a long wonderful day in Wheeling, there wasn't any time to waste. We had breakfast and left the Oglebay Resort and began a much anticipated day in Morgantown, the city which lies the beautiful campus of West Virginia University. Home of the Mountaineers. It is said that summer is the best time to visit Morgantown. This is normally when it's less crowded. We took a small drive of about an hour and a half to visit Coopers Rock State Forest to prepare for one of their much talked about scenic hikes. Showcasing many beautiful images for picture opportunities and memories to build upon.
Coopers Rock State Forest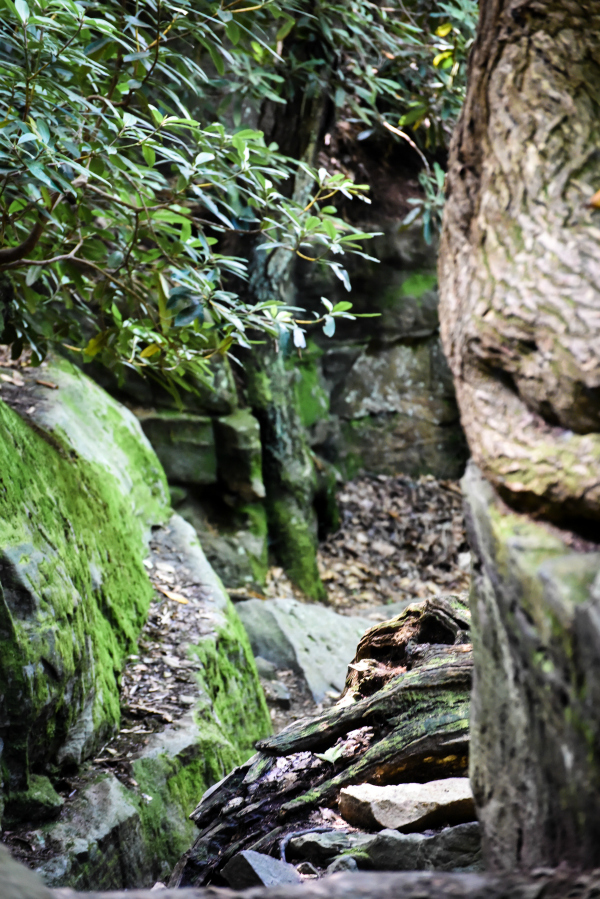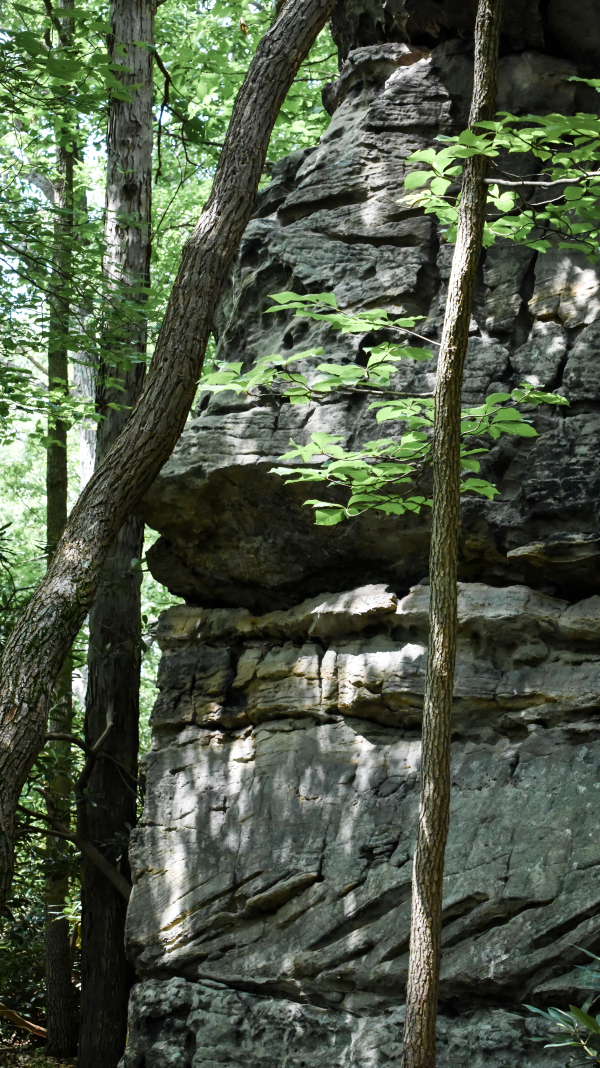 Coopers Rock State Forest is about 15 miles away from Morgantown. Known for the overlooks over the Canyons overlooking the Cheat River. Offering an array of activities to choose from including Hiking trails that cover nearly 50 miles. One of the most popular being the Historic Henry Clay Iron Furnace Trail, featuring the 30 foot high Pyramid in shape furnace built in the 1830s.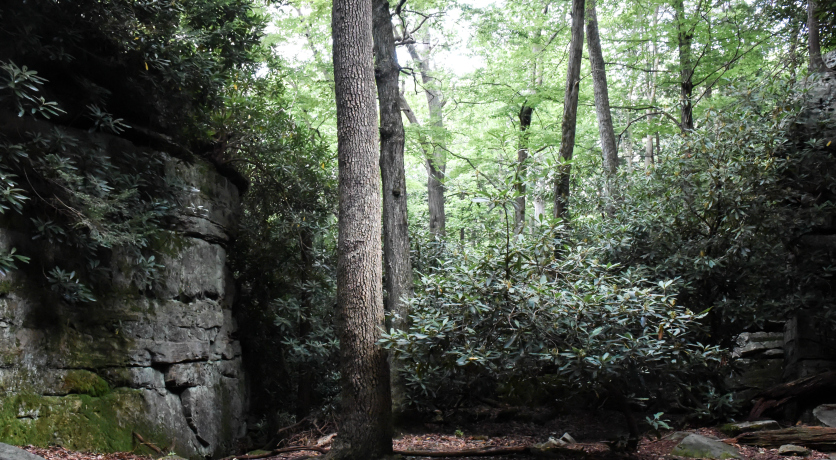 With many opportunities for an outdoorsman including plenty of fishing and hunting areas for those enthusiasts. Coopers Rock State Forest offers camping sites, biking trails, golf greens, ziplining, rafting, and even geocaching. It's the perfect place to bring a family on vacation for a wonderful picnic experience.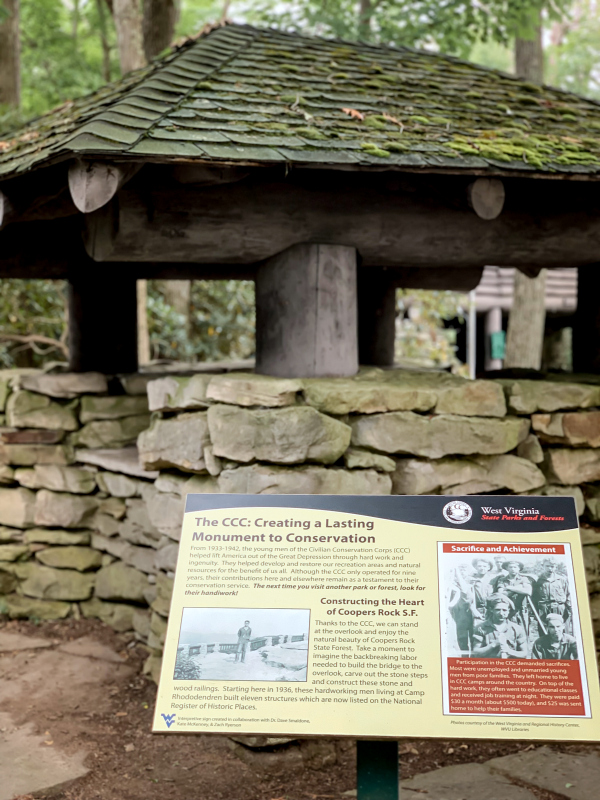 Coopers Rock State Forest may have varied stories on the origin of its name whether it came from an old fugitive many years ago, or a name that stems from the cliffs that tower over the Cheat River Gorge. If you are looking for a prolonged stay in this beautiful park, look no further than giving yourself a chance to stay in one of the Mountain Creek Cabins within the forest. With ready to use kitchens, fireplaces, porches to look out at the wonders of nature, and even a relaxing hot tub. A wonderful place to stay for a camping enthusiast, including the McCollum Campground that has a multitude of sites for tents, and recreational vehicles. There are more than enough areas to park for an extended stay to camp for an outstanding vacation experience. Check these sites out in early spring to the end of autumn.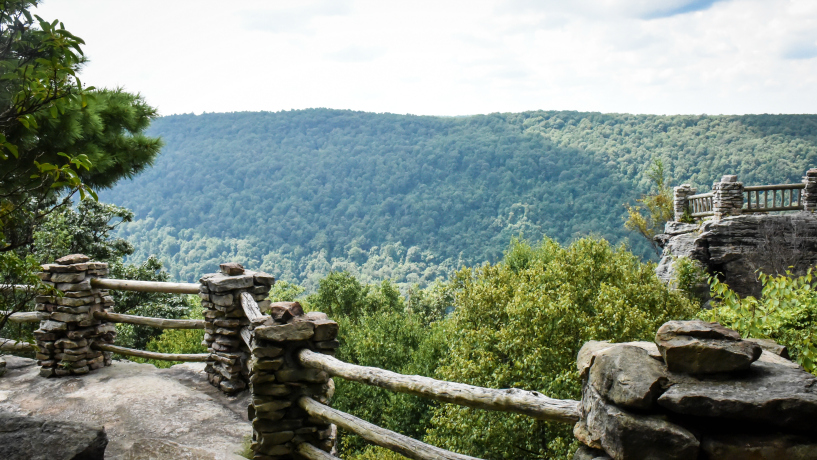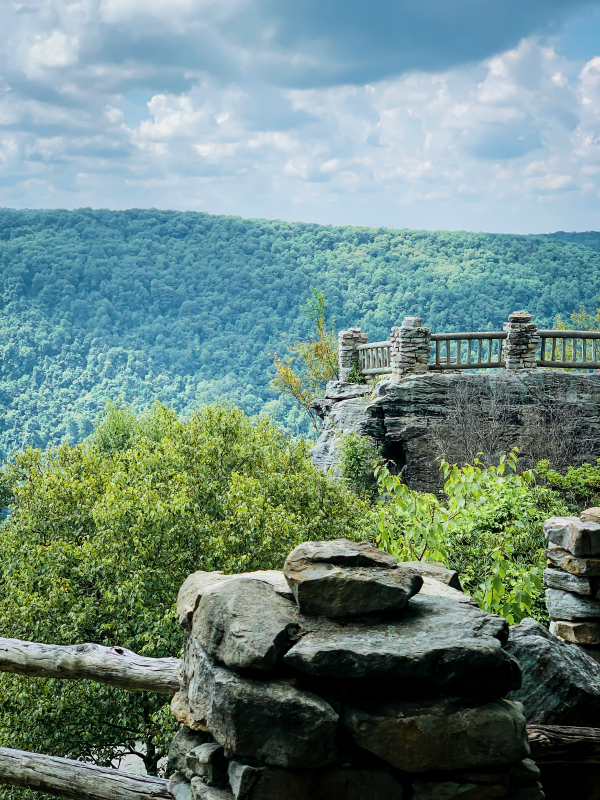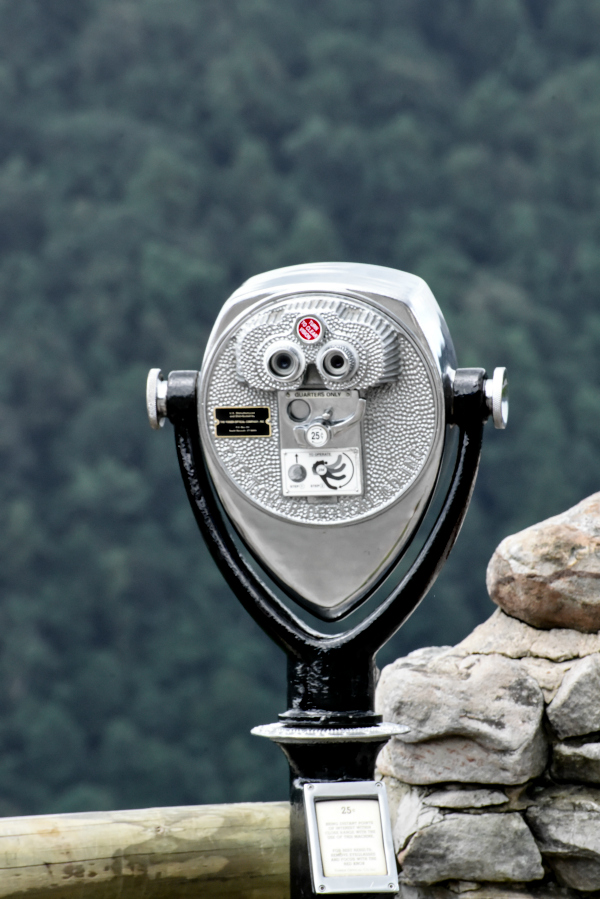 The trails, the trails, and even more trails are available in Coopers Rock State Forest. 21 in fact. For the quick hiker that doesn't want to go full-fledged into a hiking adventure to the more challenging trails, and why not try to go all 50 miles on these trails! Exhausting? Sure, but beauty throughout will keep you intrigued the whole way.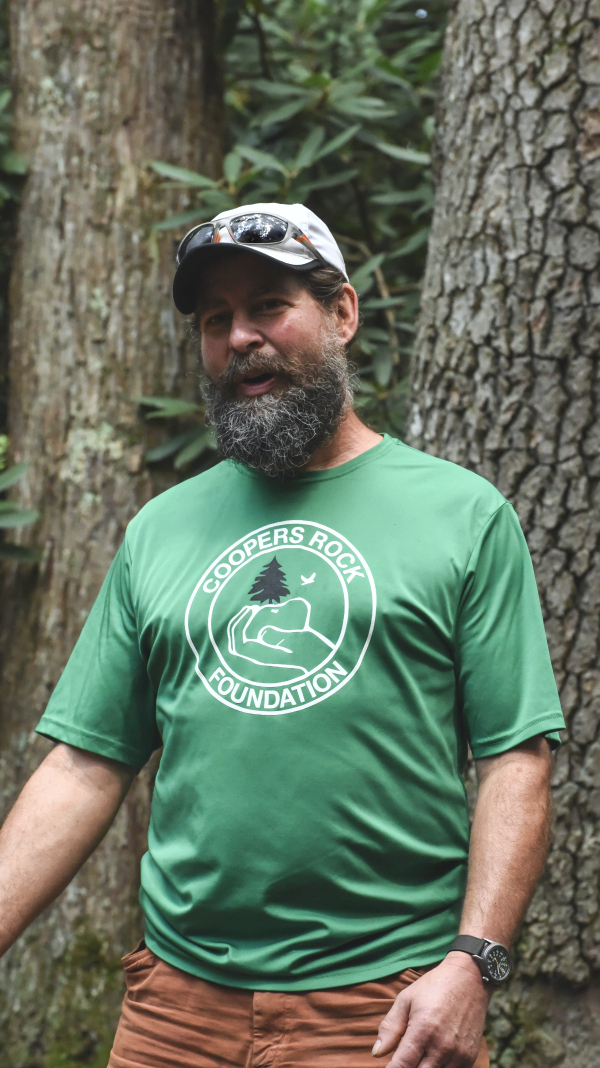 For the more daring folks, try rock climbing or ziplining through the Chestnut Ridge Park and campground leading to the West Virginia University Zip-line Canopy Tour. And you don't have to be a pro, beginners are welcome as well. Do you want to try out the Cheat River in the canyon section? 36 miles of water, (a river trail) that offers many water activities including fishing, canoeing, whitewater rafting, etc.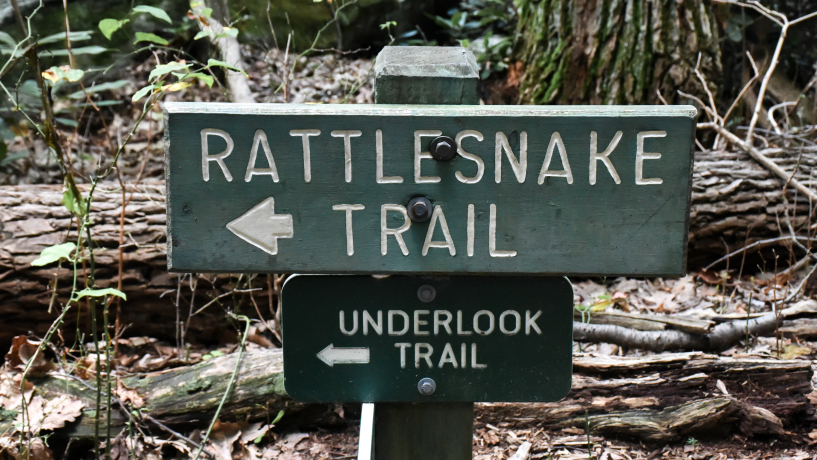 During my short hike through Coopers Rock State Forest, I saw so many gorgeous rock formations. I was a little leery when we came upon a trail called Rattlesnake Trail, however, this was told to be more of a name than a realistic rattlesnake haven. I was thrown-back by the beauty of this state park, and I felt there was so much more to explore. I took notes of all the possibilities that would adventures I'd like to take on if I'm lucky enough to bring my family out for an extended stay to this park. I had more adventures ahead and time was ticking!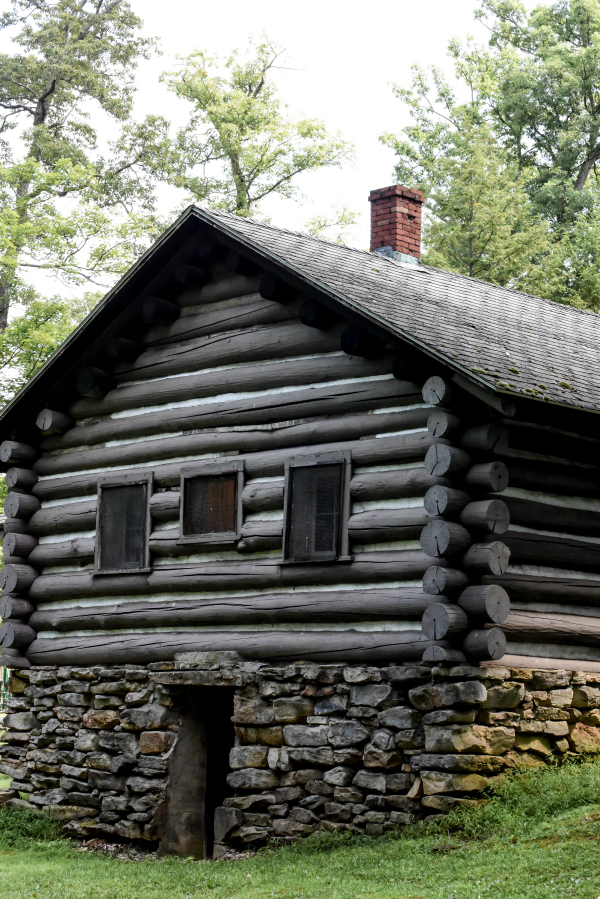 Terra Café
After a nice trail walk, my stomach began to rumble, and we had to find something to eat. We were scheduled to attend this well thought of café in Morgantown called Terra Café. The staff was very friendly and the menu offered a nice variety, however, this is a very busy café I was alerted to place my order the day before. I ordered a Vegetable Reuben Sandwich, which was the best Reuben I've ever bit into
The Tera Café is an award-winning establishment that makes their pastries from scratch. They offer quite the variety for all types of delicacies and personal tastes. Specialty burgers featuring organic beef, veggies, and fruits to delicious looking Red Velvet Pistachio Cupcakes with macaroons. There is always something yummy for the Morgantown homebodies and travelers alike when it comes to the Terra Café, not far from the Tug Boat Depot. After lunch, some of the others on this trip went to Edith Barill Riverfront Park, which is a short walking distance from Terra Café.
John Fitzgerald Kennedy Memorial Park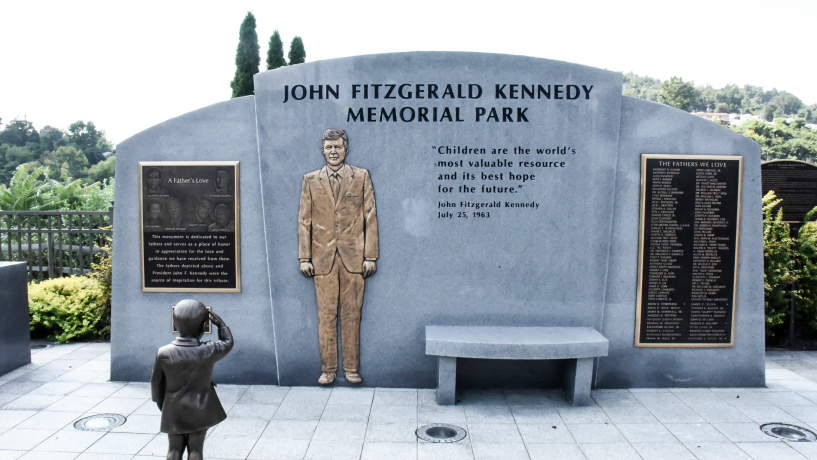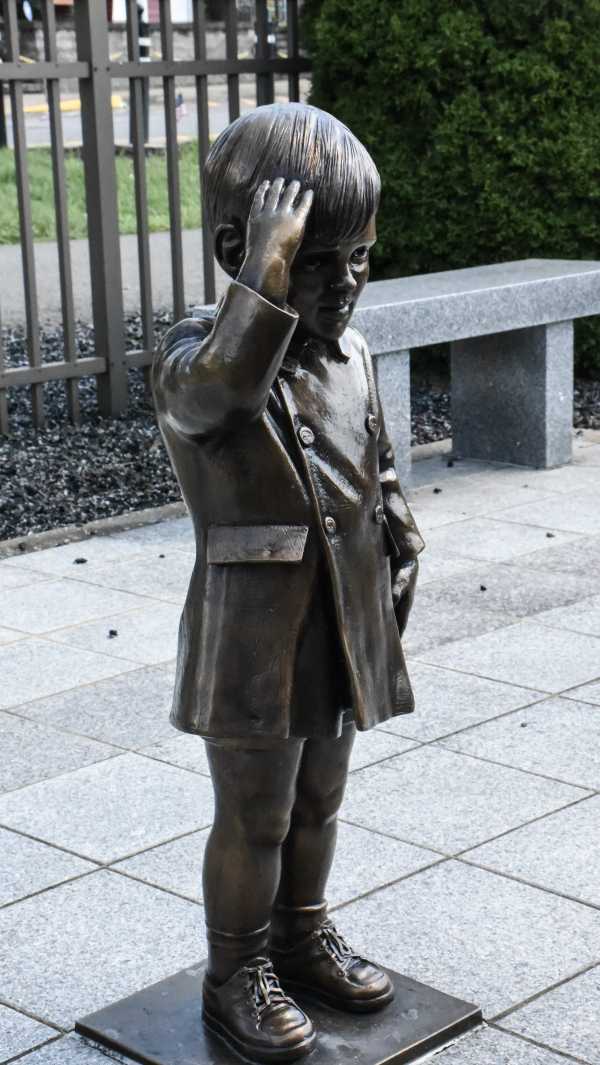 Meanwhile, I ventured around the area and took some pictures, including of this John Fitzgerald Kennedy Memorial Park that I stumbled upon during my walk. The John Fitzgerald Kennedy Memorial Park features a 27-foot wide memorial, including bronze statues of JFK and John Jr. as well as three tall granite pillars and a granite bench.
Morgantown Marriott at Waterfront Place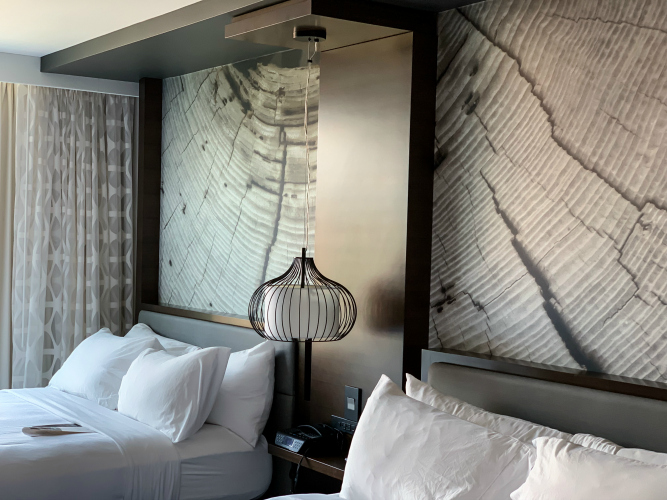 Next, it was time to relax for a small amount of time at the Morgantown Marriott at Waterfront Place. Sitting in the heart of the Wharf District and Walking Trail. You can look out to see the very pretty Monongahela River.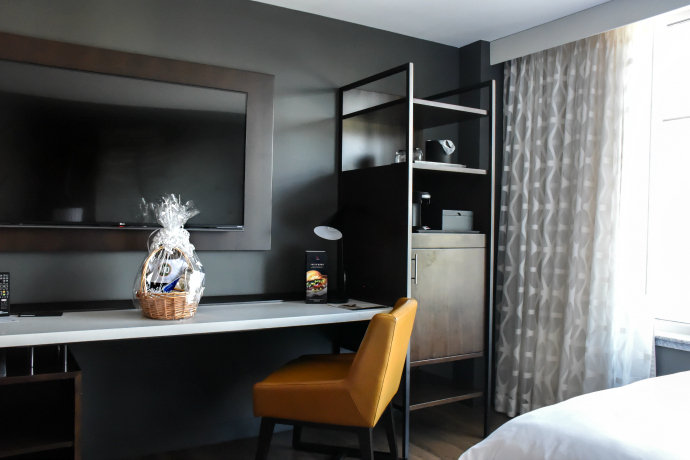 I couldn't help but notice the decor and furniture! It has a hint of mid-century modern, which I love. The Morgantown Marriott at Waterfront Place accommodates a West Virginian traveler to a spoiled level, offering guest rooms, luxury bedding, indoor pools, a fitness center, spa services, room services, HDTVs, high-speed wireless internet, and more. This hotel also has a full-service Starbucks and the Bourbon Prime restaurant.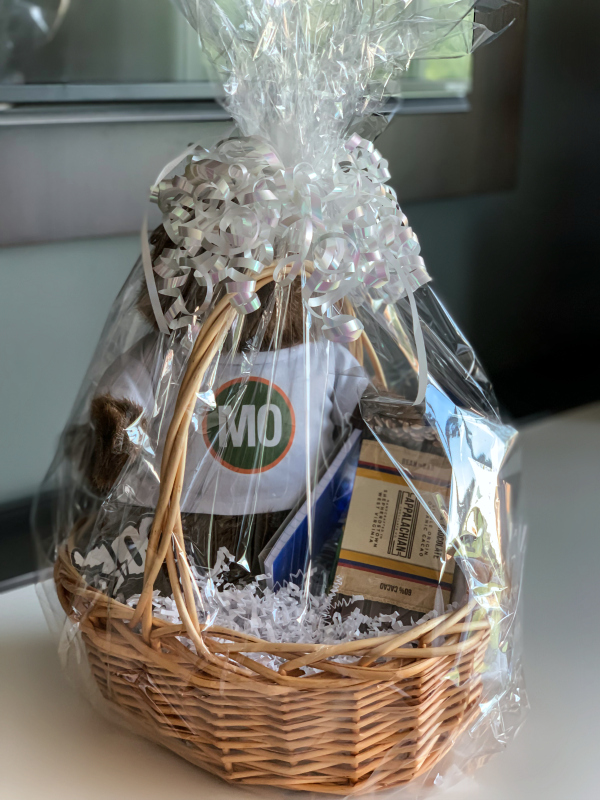 I was pleasantly surprised to find a welcome gift basket waiting for me in the room. I thought this was so sweet!
Although, I didn't get to experience all the surroundings of this hotel due to the short amount of time. I have heard wonderful things about the Caperton Rail-Trail and Park, River Birch Café, Mountain State Brewing, and so many local shops. Someday, I really can't wait to come back and take it all in. Only 2 and a half hours later it was time for dinner. And this time it was a very respected family establishment that has something for everyone with the taste that would fill an Appalachian appetite in no time.
Iron Horse Tavern
The Iron Horse Tavern is a very artistically built tavern with two locations in Downtown Morgantown, and one in University Town Centre. What a menu and a great value! Salads, wings, pretzels, house fries + chips, and many, many types of burgers, shrimp, pierogis, salmon, and more. As a vegetarian, I was delighted that they had two vegetarian burger options. I opted for the Beyond Burger and later on had the buckwheat doughnut holes. Their Beyond Burger was deliciously packed with many vegetables and condiments.
WVU Tomchin Planetarium & Observatory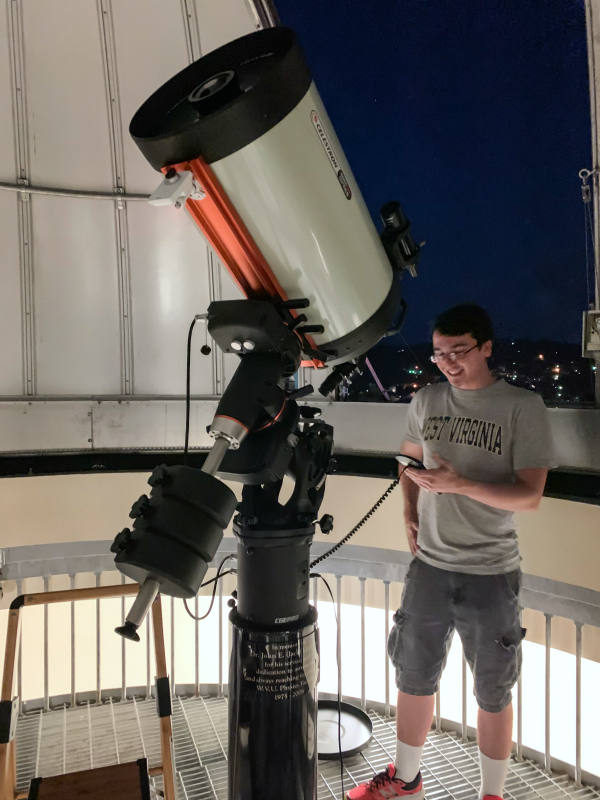 After a quick dinner, it was time to visit the Woodburn Circle on West Virginia University's campus, a nice scenic walk that leads us to the West Virginia University Tomchin Planetarium & Observatory to view astronomy from the Mountaineer state of view. A very interesting and educational experience that engages you into the wonders of what this galaxy is made of, and capable of with always upgrading, expanded equipment & scopes to allow you to see this universe with the most clarity possible. Offering many programs for tourists and field trips including 3-D Constellation shows, Galilean Moons, a Lincoln Almanac Trial, a study of seasons, night sky activities, gravitational waves, astronauts studies, black holes, dark matter mystery and more.
After a long adventurous day exploring Morgantown. The University of West Virginia's city it was time to head back to the Morgantown Marriott at Waterfront Place to get some much-needed rest and relaxation. My feet were sore and the comforting beds in the Marriott were the perfect place to rest them up since tomorrow will be a new adventure in the wonderful trip I've had so far in West Virginia.
Bourbon Prime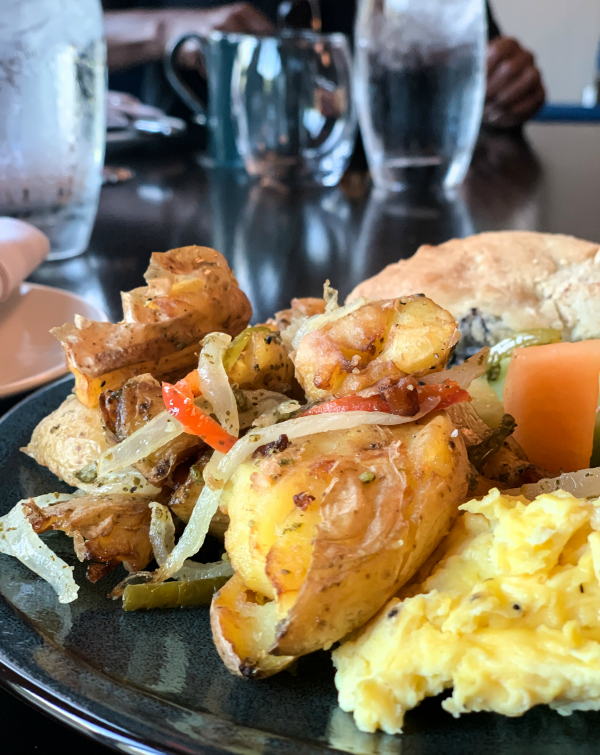 In the morning, I walked down to the Bourbon Prime at the Morgantown Marriott at Waterfront Place to have a delicious breakfast. A hearty breakfast was a must to prepare myself for other adventures ahead. That day I'd be departing to Charleston. I had the savory fingerling potatoes, scrambled eggs, and some fruit (honeydew melon & cantaloupe). I was then rejuvenated to take on the next adventure in Almost Heaven. So long to Morgantown for now (I'll revisit someday soon), that day belonged to Charleston. In the upcoming travel guide, I'll be covering the best places to eat, play, stay, and shop in Charleston, West Virginia!