This post is in partnership with CC-PR.
Cinderella is a timeless classic that has always been one of my all-time favorites over the years! This year, Cinderella waltzes in the highly celebrated Walt Disney Signature Collection and the hearts of a whole new generation with the all-new anniversary edition. Now available on digital and Blu-ray, you can revisit this enchanting tale with its unforgettable characters! The Cinderella Anniversary Edition offers two all-new extras. Hours of classic bonus material celebrates this anniversary edition. It features memorable music, the art of Disney's legend Mary Blair, and the original demo recording of the title song of the film.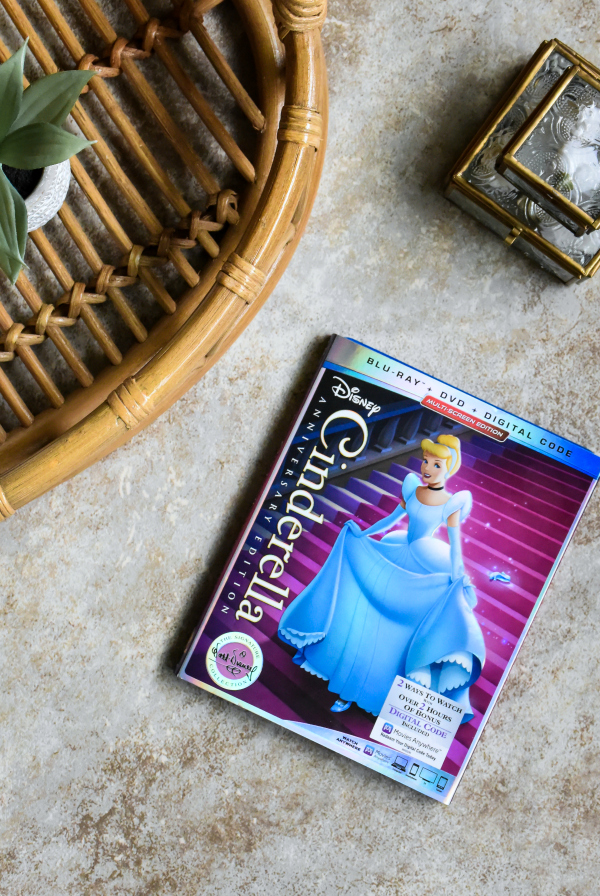 Cinderella lives in unfortunate circumstances after losing both of her parents at a young age. Her stepmother (Lady Tremaine) and stepsisters (Drizella and Anastasia) force her work in her own chateau as a scullery maid. In spite of all of this, Cinderella's situation doesn't deter her from being kind and hardworking. It also doesn't stop her from dreaming that her situation will change for the better one day. Cinderella believes that her time has come when an invitation to the royal ball arrives.
Cinderella discovers a gown that once belonged to her mother and chooses to redesign it for the ball. She completes it with a necklace and a sash that was discarded by her stepsisters. Her dreams of going to the ball are quickly shattered when her stepsisters tear her dress to shreds. Just as Cinderella believes that everything is lost, her Fairy Godmother appears! With a wave of her wand and "Bibbidi-Bobbidi-Boo," her fairy Godmother transforms an ordinary pumpkin into a magnificent coach and Cinderella's rags into a beautiful gown. She then proceeds to send Cinderella off to the Royal Ball. In her beautiful dress and glass slippers, Cinderella catches Prince Charming's heart. Her enchanting evening comes to a screeching halt when the spell is broken at the stroke of midnight. It will take the assistance of her fearless mice friends and a perfect fit into a glass slipper to create the ultimate fairy tale ending!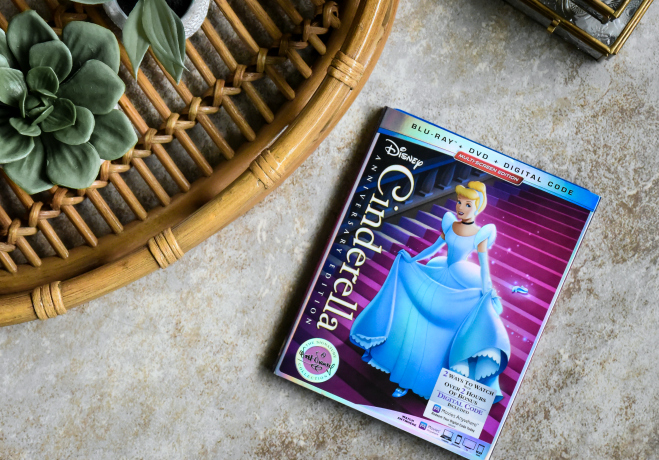 Bonus Features on Blu-ray + Digital
👗 Try This Trivia on for Size – Join Ruth Righi and Ava Kolker from Disney Channel's Sydney to the Max and put your knowledge of Cinderella to the test.
👗 In Walt's Words: Enhanced Edition – Watch the movie and gain some insight into its production with storyboards, archival photographs, sketches, and transcripts.
Classic Bonuses
👗 Diane Disney Miller "Cinderella" Film Intro – In this introduction to the animated classic, Diane Disney Miller describes how Cinderella helped launch a studio renaissance.
👗 The Real Fairy Godmother – Learn about the real-life inspiration for the Fairy Godmother, Mary Alice O'Connor, wife of Disney layout artist Ken O'Connor.
Behind the Magic: A New Disney Princess Fairyland – Discover how Imagineers created a Fantasyland at Walt Disney World featuring each of the Disney Princesses.
👗 The Magic of the Glass Slipper – World-famous shoe designer Christian Louboutin creates a very exclusive "Glass Slipper" in honor of a beloved Disney classic.
The Art of Cinderella
👗 Concept Art – View a gallery of concept art from the feature's production.
👗 Character Model Sheets – View a gallery of character model sheets from the feature's production.
👗 Story Sketches – View a gallery of story sketches from the feature's production.
👗 Live-Action Reference – View a gallery of photos taken from live-action footage shot as a reference for the animated feature.
👗 Pencil Animation – View a gallery of pencil animation from the feature's production.
👗 Behind-the-Scenes Stills – View a gallery of behind-the-scenes stills from the feature's production.
👗 Feature Stills – View a gallery of stills from the feature.