Empower your skin with KPS Essentials Anti Aging Ultimate Power System to defy aging. This system works together to give you beautiful, healthier skin. Used daily AM and PM, you will notice your skin is more luminous, your cheeks have more volume, and overall your skin appears more youthful with diminished fine lines and wrinkles.
This post is in partnership with KPS Essentials.
KPS Essentials was founded in Grand Rapids, Michigan in 2016. This organic and vegan skincare line is powered science and botanicals, tackling common skin woes from aging and acne to scars and skin conditions, including eczema, psoriasis, and rosacea. With a passion for giving back and making a difference in people's lives, KPS Essentials strives to restore the natural flower of the body through skincare that isn't toxic yet is effective. In addition, KPS Essentials has a strong mission of being of service to cancer patients.
When Rocket Science Meets Organic Beauty
Natalie Novak-Bauss, an oncology aesthetician, used to sell high-end skincare for Nordstrom. She personally witnessed chemically-laden products eat through a carpet after some of them spilled after an earthquake. This first-hand experience inspired Natalie's quest for organic and green skincare. "As research and experience turned into a lifelong obsession, I hope to take our message to women, men, and teens everywhere," says Novak-Bauss. "There's still a lot of stigma around organic products. A lot of people think, "Oh, it smells good, but will it do anything?" "People end up pleasantly surprised when they try our products," she added.
Rob Webb, a physicist and former rocket scientist, states "Working as a rocket scientist has helped me take a more comprehensive approach to skincare. I was also fortunate enough to collaborate in biological sciences in the areas of plant-drug research and animal wound care nutraceuticals. However, it was my physical science background that opened opportunities in skincare. When I began researching skincare's active ingredients, I looked at the feasibility of the actives and plausible bioavailability. I quickly saw a fundamental flaw. All of the actives were far too large to get through the skin. Some of the other actives that were able to get through wouldn't and couldn't do anything for the skin."
"Many of the skincare products on the market right now are advertising the importance of using peptides, collagen, and stem cells in their ingredients," says Novak-Bauss. "What most people don't realize that these ingredients are unable to go through the skin. At KPS, we take an entirely different approach."
How I Take Care of My Skin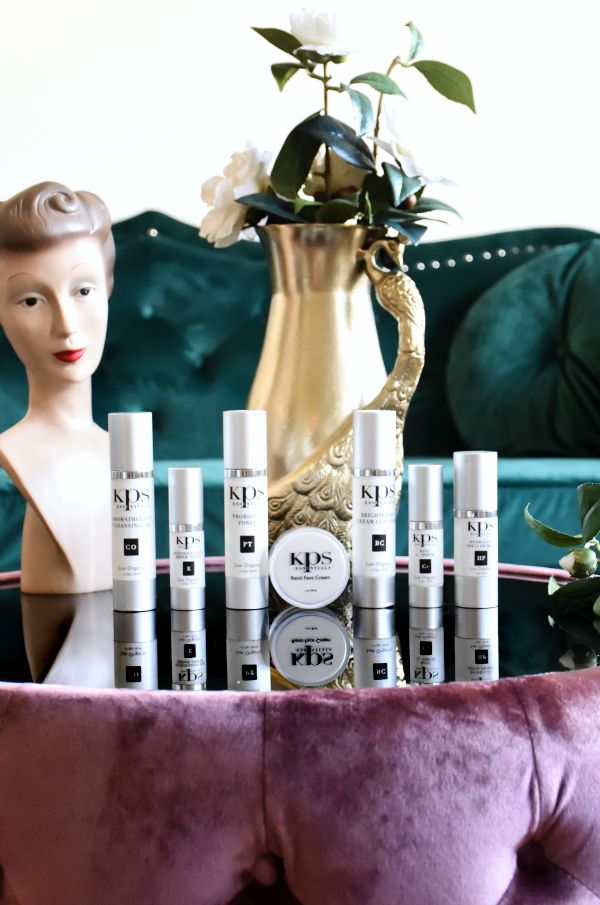 There's hardly anything I miss about being in my 20s, but I know that if I want to look and feel good about my age, it's more important than ever to take care of my skin. Some of the best ways to take care of our skin are often the most neglected: limit our sun exposure, protect our skin with sunscreen when we're out in the sun, drink plenty of water, avoid unnecessary stress as much as possible, steer clear of tanning beds, make healthy eating and drinking choices, stay active or go on long walks. This sage advice may have been given many times before me, but as they are always good reminders, I will state these tips again!
Another surefire way to take care of your skin is to adhere to a skin care regimen with your daily routine. I was half-tempted to review the KPS Essentials Anti Aging Ultimate Power System earlier than I normally do skin care products since it's that good! By using the products for at least a month, I avoided that temptation in order to give them an accurate review they deserve!
Over the years, I've learned that you won't normally experience instant results with skin care products. It may take a month for skincare products to see results, while others may even take a few months. I admit I sometimes become apprehensive about using skin care products I've never used before, considering how unpredictable my skin might be. It's dry for a few days, while it's out of control for other days: oily and prone to acne. Then there are the days my skin appears to be flawless without a blemish in sight.
Introducing KPS Essentials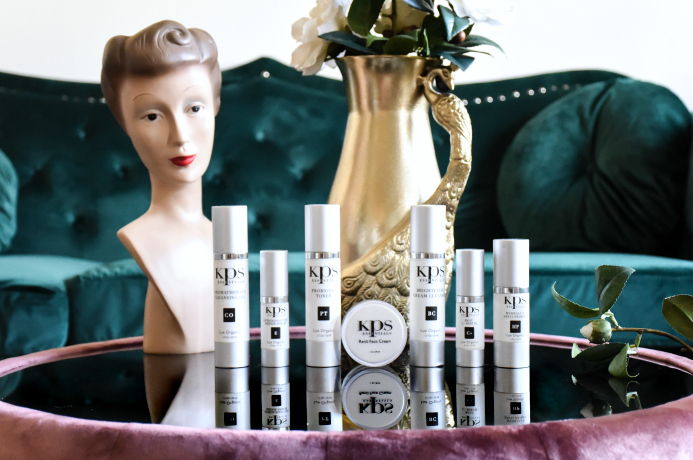 + Cleansers +
I've come to loathe cleansers that give me that tight, headache-inducing, and squeaky clean feeling. This normally results in dry, itchy skin or worse: infuriating breakouts. I don't think I've ever found any cleanser that's more gentle yet powerful than Aromatherapy Cleansing Oil and Brightening Cream Cleanser! Both gently cleans my skin and use natural ingredients to tackle impurities without removing natural moisture from my skin. My face always feel refreshed in-between cleansing and moisturizing!
+ Hydralux SPF15 Primer +
One of my top favorite products from this system is the Hydralux SPF15 Primer. This primer is a must-have during the warmer months since it's lightweight yet provides ample coverage, making it major multi-tasker! It works beautifully as a makeup primer as well as an SPF shield, emollient moisturizer, and anti-aging powerhouse.
+ Antioxidant Eye Repair Serum +
A high-quality eye cream like the Antioxidant Eye Repair Serum is a woman's best friend at any age! Helping undo the handiwork (i.e. fine lines, wrinkles, and crow's feet) of Father Time, this eye repair serum will also help address dark circles and puffiness. This eye cream revives the under-eye area with a blend of soothing ingredients. Some of these ingredients include Punica Pranatum (Pomegranate) Seed Oil, Rose Canina (Rosehip) Fruit Oil, and Camellia Sinesis Leaf Extract (Green Tea).
+ Renū Face Cream +
Have you noticed a change in your skin within the past few months? Nothing dulls a complexion more than the cooler seasons since our skin is more prone to dryness, making it almost unmanageable! That's why I always make a point of treating my face after a long day with a little TLC. A powerful facial cream like the Renū Face Cream is a perfect candidate for all skin types when it comes to achieving and maintaining a healthy glow. This luxurious facial cream brightens, soothes and hydrates parched skin, plus it also smells amazing! Ingredients like botanically-infused Olea Europea (Olive) Fruit Oil, Simmondsia Chinensis (Jojoba Seed) Oil, C12-20 Alkyl Glucoside (plant-based emulsifier) help address everything from acne and crow's feet to deep wrinkles and dryness.
+ Probiotic Toner +
The Probiotic Toner is simply wonderful! It gives my skin the sense of clarity that it needs. The ingredients include Witch Hazel extract, Acetic Acid (apple cider vinegar), and a proprietary blend of essential oils. This is perfect for toning the face, neck, and decollete, and eye area. It also helps balance pH, stabilize, and purify oil glands.
+ Vitamin C Lip Treatment +
I thought the Vitamin C Lip Treatment would be waxy or sticky, considering that one of the ingredients is beeswax. Fortunately, with this lip treatment, this is not the case at all! For dry, chapped lips, it is really moisturizing, smooth, and soothing.

Because, Giving Back is Beautiful!
A percentage of each purchase at KPS Essentials goes back to Hello Gorgeous! Hello Gorgeous! is a 501 (c)(3) non-profit organization that provides complimentary, professional makeovers and cosmetic education to women battling all cancers.
KPS Essentials is also the creator of The Spirit of Compassion. The Spirit of Compassion is a non-profit organization that helps provide assistance for those in need. Both founders spend hours mentoring groups of teens, pushing them to follow their goals and keeping them off the streets. They also devote their time to a circle of homeless women, teaching them self-care and self-love. That's not all! Additionally, The Spirit of Compassion trains individuals on how to heal their bodies holistically and how to switch to an organic lifestyle.
Connect with KPS Essentials