Craving for frozen yogurt? Combine a container of Organic Valley yogurt and a handful frozen fruit in a blender or food processor until you have a creamy consistency. Feel free to top it with some of your favorite toppings.
This post is sponsored by Organic Valley.
Learn how to live healthier…one step at a time. Let's keep our family, our guests, and our planet all happy and healthy with organic products! Kids are the most susceptible to the negative effects of pesticides, so education about eating healthy and making the right organic choices is key. Organic foods are just as delicious as conventional options (no one will be able to tell the difference). If you are yearning to embrace a healthier lifestyle without sacrificing the tastes you love, organic food is the way to go!
Spring is here, bringing allergies with it. My family is living proof; a runny nose; itchy, watery eyes; and itchy nose or throat. But before you hit the drugstore, try a natural approach…with food. One of our favorites? Organic Valley.
A study suggests that children who eat organic dairy products instead of conventional ones are less likely to develop allergies, asthma, and eczema before age 2. Why? Researchers say it may be because organic milk, cheese, and yogurt contain higher amounts of essential fatty acids like omega-3 and CLA (conjugated linoleic acid), which aid in development and growth and help maintain a healthy heart, brain, and immune system for kids and grown-ups.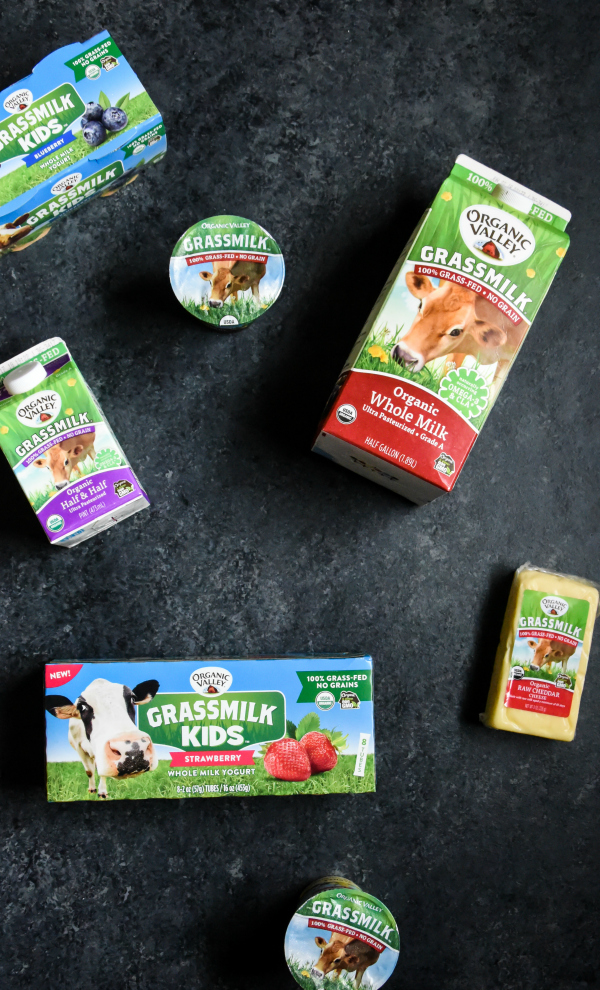 Organized in 1988, by just seven Midwest farmers, Organic Valley is now America's largest cooperative of organic farmers and one of the nation's leading organic brands. It represents more than 2,000 farmers in 35 U.S. states, Canada, Australia and the United Kingdom. They produce a wide range of organic dairy, soy, egg and produce products. This leading grower of organic products has an extensive website that makes eating and cooking organically a snap with their products and family-friendly recipes so that you can feed your family the healthiest high-quality organic food while protecting and treating the planet with respect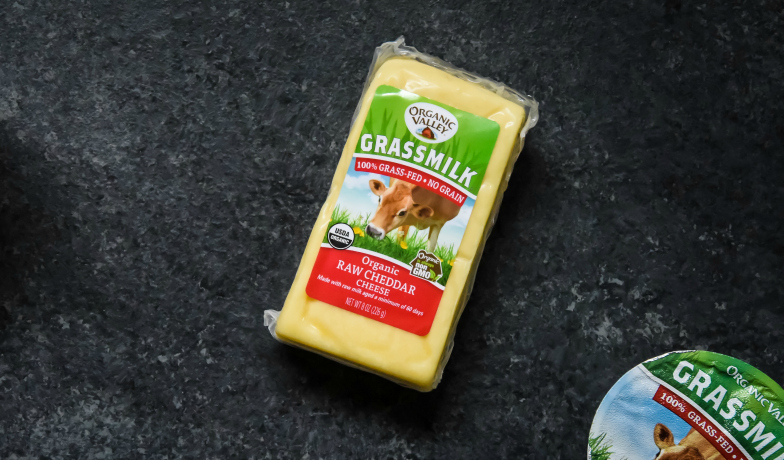 Grassmilk comes from cows that eat organic grass and dried forages like nature intended. New science shows that what nature intended is more nutritious foods. Organic Valley focuses on minimally pasteurized and non-homogenized, which comes with the cream on top. NO antibiotics, synthetic hormones, toxic pesticides or GMO anything. Organic Valley's organic grass-fed milk, cheese, and yogurt are choices the whole family will love.
GHEE, their high quality clarified butter with hints of nutty, caramel flavors. It provides convenient and tasty ways to avoid the fats you don't need while getting more of what you do need. It's yummy for recipes that are heavy on flavor, light on calories, and will put the spring back in your step!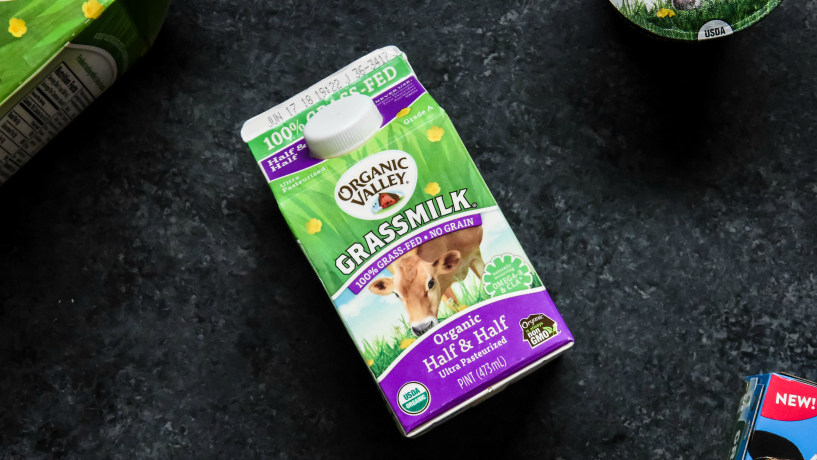 It's time to maintain a natural and healthy lifestyle. Organic Valley has you covered with advice from experts in their fields. If you haven't already heard of Organic Valley, it's a blend of farmers connecting people with amazing natural products. All of their products are grown on their very own certified organic farms. They take quality control to an entirely new level! The process is monitored from the field to manufacturing.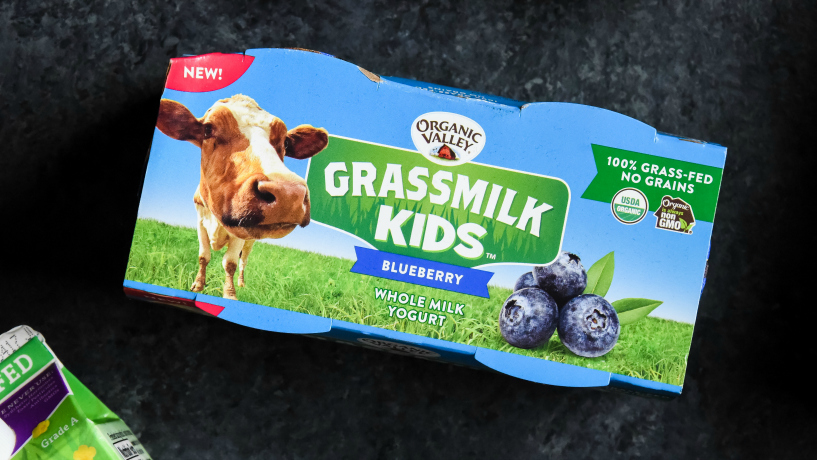 Organic Valley is dedicated to providing organic products for everyone. Their brand began with a commitment: to provide better products, so families can nurture their health with the utmost confidence. Over the years the product line has expanded from organic milk into new categories. They are the leading retail brand of organic grass-fed products—including milk, cheese and yogurt lines under the Grassmilk brand. It's because they're committed to producing high-quality organic food that treats the planet with respect, is safe for your family, and tastes better.
Frozen Organic Valley Yogurt Breakfast Bowl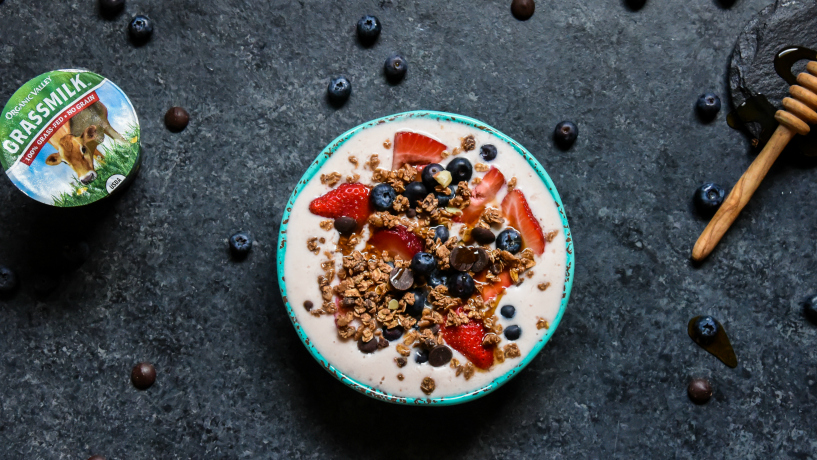 Craving for frozen yogurt? Combine a container of Organic Valley yogurt and a handful frozen fruit in a blender or food processor until you have a creamy consistency. Feel free to top it with some of your favorite toppings like granola, drizzled honey or a honey alternative, such as raw maguey sap; fresh fruit, and cacao chips. Voilà! All it takes is less than 10 minutes of your time to make a delicious, homemade frozen yogurt breakfast bowl – without an ice cream machine.
Their yogurt is free of toxic pesticides, antibiotics, synthetic hormones, or GMO anything. Their Grassmilk yogurt comes in 5 different flavors, including Black Cherry, Strawberry, Vanilla, Blueberry, and even a plain option.