Carrie Higgins provides over 350 simple solutions in
Organization Hacks
. With Organization Hacks, you can turn your home into a clutter-free paradise.
Most of us strive to live a balanced life, but in reality, most of us get caught easily in a whirlwind of activities. I'll admit that there are days that I feel like I am part of a circus. This is why I appreciate creative tools and ideas that can help simplify the home. After all, simplicity is the key to a well-balanced life and true happiness.
It's time to tackle the mess and take back your space! The mere thought of minimizing, cleaning, and organizing can be deterring for many, but you'll find clever ideas and solutions in Organization Hacks by Carrie Higgins that will inspire you to take on these arduous tasks. Carrie Higgins, the organization expert behind the Making Lemonade, shows how you can achieve and maintain balance in your home and regain the love you felt when you first moved in.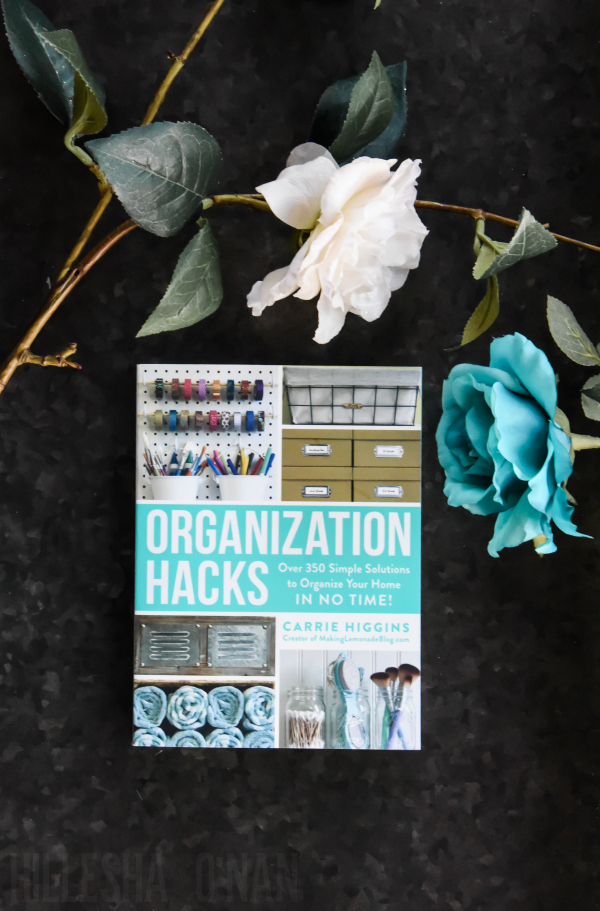 From solutions for decluttering cluttered cabinets and organizing jewelry to tackling different areas of your home and properly folding a fitted sheet, this book covers it all. I'm in the midst of moving and I found her moving hacks (pages 208 – 209) helpful, considering how physically and mentally exhausting moving can be with the sorting, packing, and cleaning. I also loved 10 Ways to Organize with Mason Jars (pages 56 -57). I use mason jars for just about everything! Mason jars are also perfect for organizing everything from office supplies to small craft supplies. One of my favorite ideas from this section is turning a mason jar into a soap dispenser for a farmhouse-inspired look.
Giveaway
One winner will receive a copy of Organization Hacks by Carrie Higgins.
Organization Hacks by Carrie Higgins Giveaway

About the Author
Carrie Higgins is a former teacher and school librarian who has been blogging for over seven years. She has been featured in Country Living, The Good Life with Dr. Oz, The Philadelphia Inquirer, Better Homes and Gardens, House Beautiful, Apartment Therapy, and more.
Connect with Carrie Higgins
This post is in partnership with Simon & Schuster.