Do your kids think tempeh is weird? Does your partner worry that a vegan diet isn't well balanced? Do your parents just not get it? Well it's time to win them over!
This post may contain affiliate links. I will make a commission if you purchase via my affiliate link(s).
In her second book, But My Family Would Never Eat Vegan!, Keepin' It Kind blogger Kristy Turner proves anyone can eat vegan food. Her vegan recipes will overturn common excuses, from "Vegan cooking is too hard" to "I could never give up cheese!" But cooking vegan for the whole family presents its own challenges…or does it?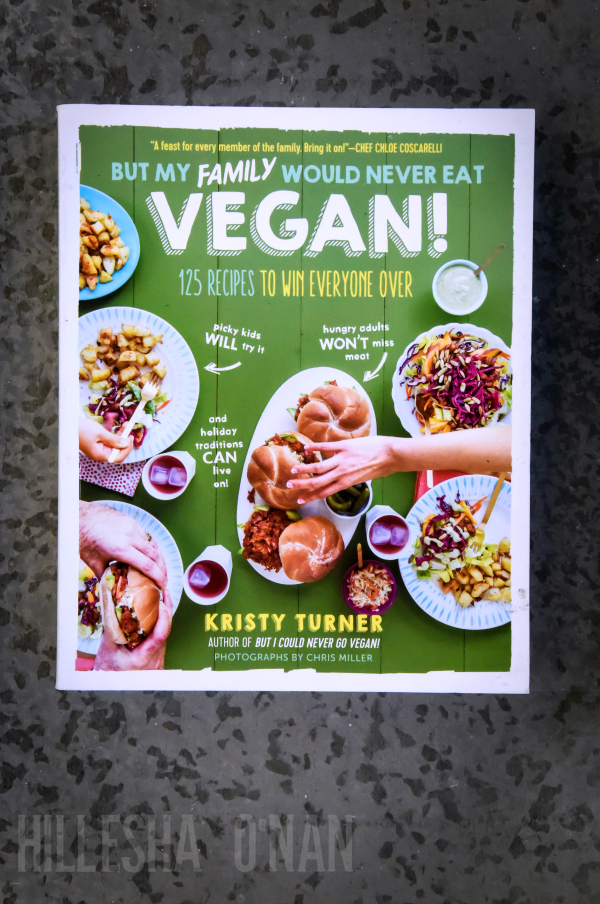 With But My Family Would Never Eat Vegan!: 125 Recipes to Win Everyone Over, Kristy presents 125 stress-free vegans that will satisfy everyone in your family, whether it's your teen that doesn't want to feed their friends "uncool" snacks or the uncle who thinks every meal should start and end with meat. Organized around 20 too-familiar objections like "My brother thinks there is no such thing as a meatless sandwich" and "It's just not the holidays without Aunt Dora's pumpkin pie!", But My Family Would Never Eat Vegan offers compassionate yet scrumptious recipes.
This cookbook includes recipes like Jackfruit Crabless Cakes with Lemon Aioli, Beer-Marinated Portobello Tacos with Avocado Corn Salsa, Double-Double Cheeseburgers, Maple Peanut Butter Pancakes, Tempeh Sloppy Joe Sliders, Vanilla French Toast with Strawberry Sauce, and Peanut Butter Oatmeal Cookies, to name a sampling of my favorites. These vegan recipes will have even your most skeptical family members begging for more!
About the Author
A self-described former "die-hard cheese nerd," Kristy Turner is now the writer, recipe developer, and food stylist behind the vegan food blog Keepin' It Kind. Once a professional fromager and mutterer of the words "I could never be vegan," Kristy now embraces a compassionate lifestyle and works with her photographer husband, Chris Miller, to make veganism fun, accessible, and delicious for everyone.
Her book, But My Family Would Never Eat Vegan!, has received glowing reviews from InStyle, Angela Liddon (bestselling author of The Oh She Glows Cookbook), Publishers Weekly, Chloe Coscarelli (author of Chloe's Vegan Desserts, Chloe Flavor: Saucy, Crispy, Spicy, Vegan, Chloe's Kitchen, and Chloe's Vegan Italian Kitchen), Booklist, Library Journal, Gene Baur (the president and co-founder of Farm Sanctuary).
Giveaway
One winner will receive a copy of But My Family Would Never Eat Vegan! and a $25 Amazon gift card.
But My Family Would Never Eat Vegan by Kristy Turner Giveaway