While you want to be well prepared for the birth of your child, you also don't want to bring everything but the kitchen sink for your upcoming hospital stay. Here is my list of must-haves:
Some products and/or samples were received but all the opinions are my own. This post also contains affiliate links. I will be compensated if you make a purchase after clicking on some of these links.
Congratulations, you're on the home stretch of your pregnancy! You can proudly say that you have checked off a laundry list of things before your impending arrival arrives, from deciding on the type of practitioner that's ideal for your pregnancy and setting up a baby registry to creating a birth plan and picking out a pediatrician. It then dawns on you, you have completely forgotten to prepare your hospital bag! You don't understand how and why this slipped your mind. Fret not! The practically endless decisions that we have to make as expectant mothers can be overwhelming for anyone!
While you want to be well prepared for the birth of your child, you also don't want to bring everything but the kitchen sink for your upcoming hospital stay. Admittedly, I've done the latter with the birth of my two children, but I'm going to keep it more simple and sweet with the third child.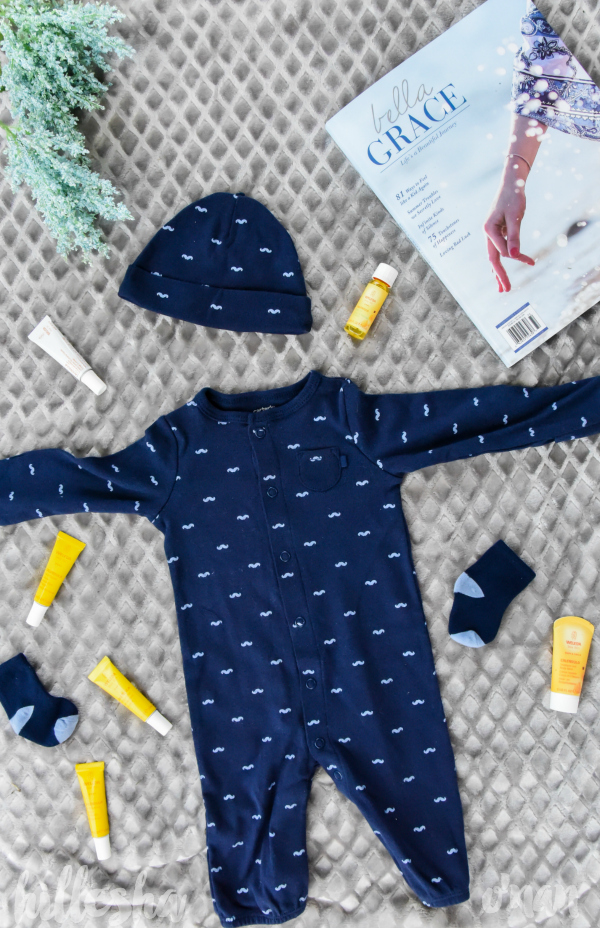 In My Hospital Bag
▲ 2 Pairs of Comfortable Pants
▲ Slippers
▲ Jessica Simpson for Motherhood Maternity Clip Down Shelf Bra Nursing Cami: I've tried my fair share of nursing tanks, but these camis are the holy grail of nursing camis! They're pricier than I normally pay for a plain cami, but they're truly worth the investment. I have two of these nursing camis so far, but I plan on buying more. They're supremely comfortable and come in an array of colors that are universally flattering. I love that they run true to size and that the modest padding helps me avoid any peekaboo. The lace is also a nice addition since it adds a touch of sexiness without pushing the envelope!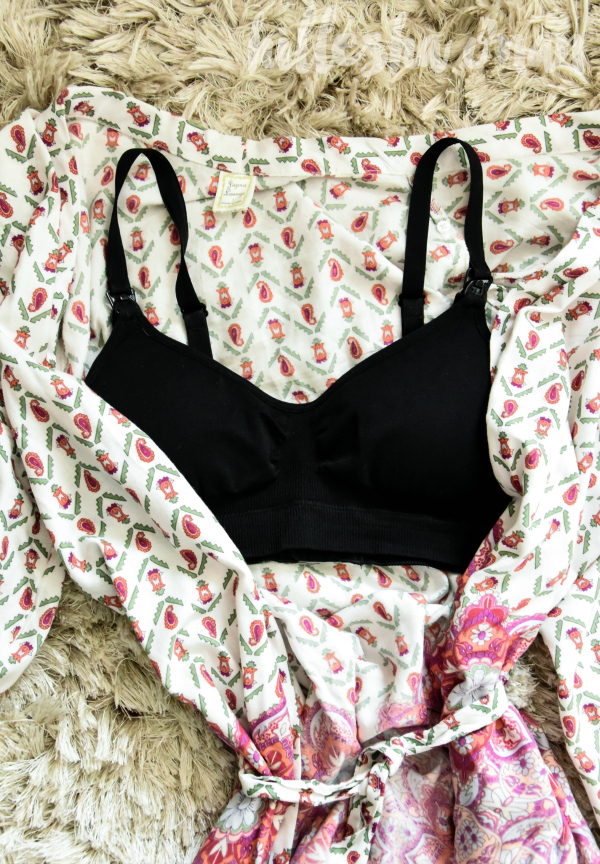 ▲ Nourish by BeliBea Bra: Forget clunky, ratty, and unflattering nursing bras! It was becoming harder and harder for me to find the perfect bra during my pregnancy, but my search came to an abrupt end when I recently discovered the Nourish by BeliBea Bra ($49.95). This nursing bra is just as flattering as it is supportive and supremely comfortable. The seamless fabric is soft yet sturdy whereas the shape that it gives is phenomenal! In addition, it gives a smooth and natural profile that won't show through clothing. Convenient and quick one-hand nursing clasps allow you to discretely and easily get to nursing with as little hassle as possible. This is ideal for any nursing mother who is concerned about losing their "shape" due to nursing.
▲ Light Reading Material: Realistically, I'm not going to have the time or desire to read a novel during my hospital stay. That's why I'm just going to bring a couple of my favorite magazines like Bella Grace Magazine and ORIGIN to read in-between takes.
▲ Toiletries: I'll be packing travel-friendly essentials, which includes shampoo and conditioner, deodorant, soap, lotion, a toothbrush, comb, and toothpaste.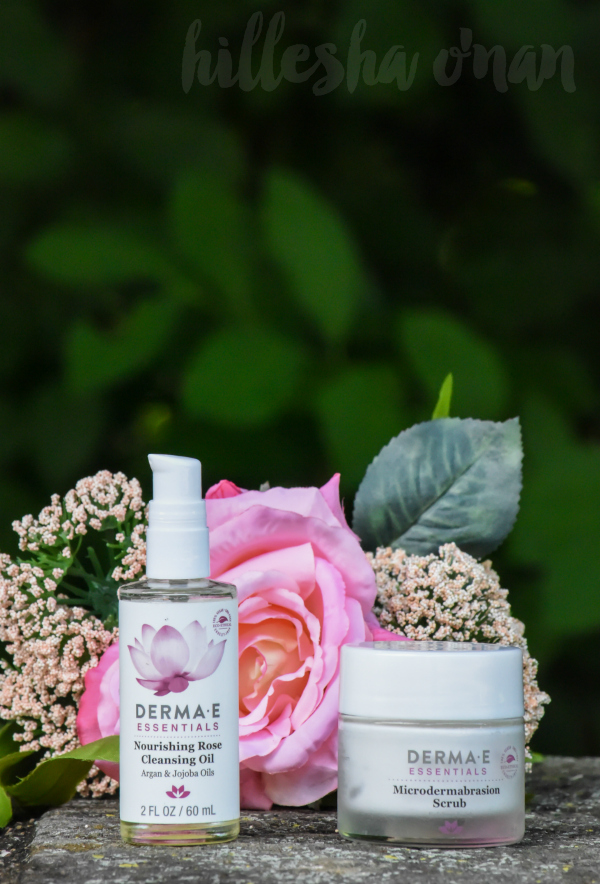 My skin has been prone to dryness throughout my pregnancy which has led to me sampling a number of moisturizers for dry and oily skin (more than I'd care to mention). That's why I'm going to also bring a few of my skincare favorite products such as derma e Hydrating Serum ($29.50), derma e Nourishing Rose Cleansing Oil ($17.99), and KARYNG Restructuring Night Cream ($75) to help maintain a healthy glow. With make-up, I'll keep it fairly simple with Doucce Punk Volumizer Mascara ($24) and Doucce Mineral Foundation SPF 22 ($38).
▲ Robe: Not only hospital robes can be uncomfortable, but they can also be challenging when it comes to nursing. A pretty robe like the PinkBlush Maternity Mint Lace Trim Dressing Robe is ideal since it's loose, comfortable, and soft.
▲ Undies
▲ Nipple Cream
▲ Laptop & Charger
▲ Phone & Charger
▲ Going Home Outfit: This summer, I've been practically living in maxi dresses since they've been providing the utmost comfort during my pregnancy. The NEARKIN Beloved Women's Scoop-Neck Slim Cut Stretchy Maxi Dress is the perfect "coming home" dress! It's soft, comfortable, and simple yet chic. I'll be pairing it with Havaianas Flip Flops. These flip-flops have been giving my sore, tired feet much-needed relief for the latter part of this pregnancy. Also, these flip-flops make perfect shoes when showering at the hospital!
In Baby Diaper's Bag
▲ Soft Blanket
▲ 2 Onesies
▲ Baby Nail File
▲ Going Home Outfit: I couldn't resist the Carter's Infant Boys 4 Pc. Mustache Layette Set for my little gentlemen! This layette includes a pair of pajamas, a hat, a bib, and socks.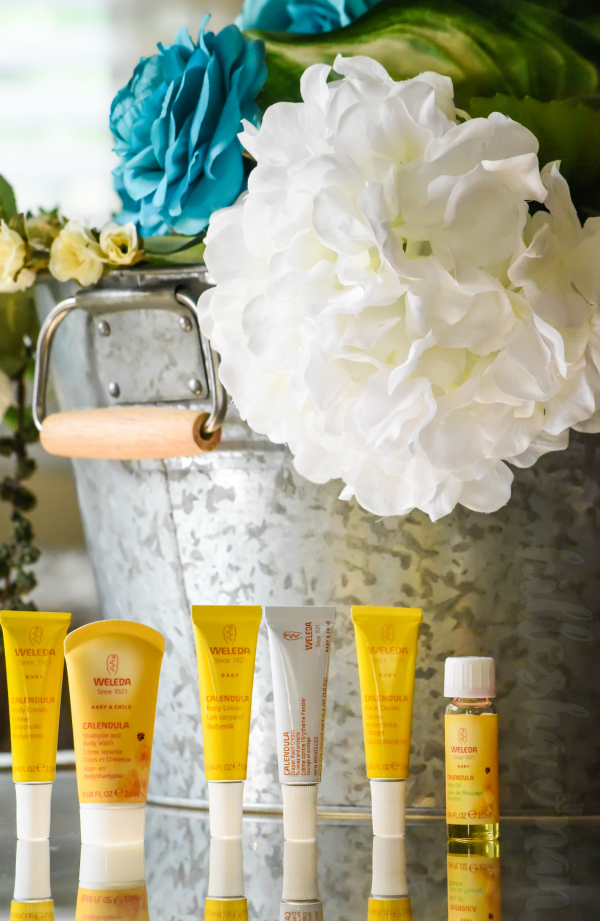 ▲ Weleda's Baby-On-the-Go Calendula Baby Starter Kit ($14.50) is ideal for new moms, whether it's preparing for the arrival for bambino or planning for a weekend getaway sans the stress and hassle of packing every baby product necessary. The kit features a carefully formulated selection of calendula-infused products. This includes Diaper Rash Cream, Body Lotion, Body Oil, Body Cream, Face Cream, and Shampoo & Body Wash. Each product is ideal for delicate baby skin and can even be used on a mom's sensitive skin. Plus, they're all housed in a small bag they can easily throw into their purse!