This post is in partnership with Evite.
Holiday festivities are on the horizon! Many festivities will be taking place between now through New Year's Eve. This is my favorite time of year to entertain, but it's a rarity when I can have an impromptu soiree since I usually prefer to plan far ahead. It turns out that throwing an impromptu soiree is easier than it sounds!
This holiday season, Evite® invited me and 14 other influencers to throw a holiday party on the fly, on the cheap, and with our own twists. Combining old traditions with new ones keep the holiday season fresh and the spirit alive for us and our loved ones, whether it's an ugly sock party in lieu of an ugly sweater party or even a "Wine & Wrap" party to make a girls' night out of wrapping gifts.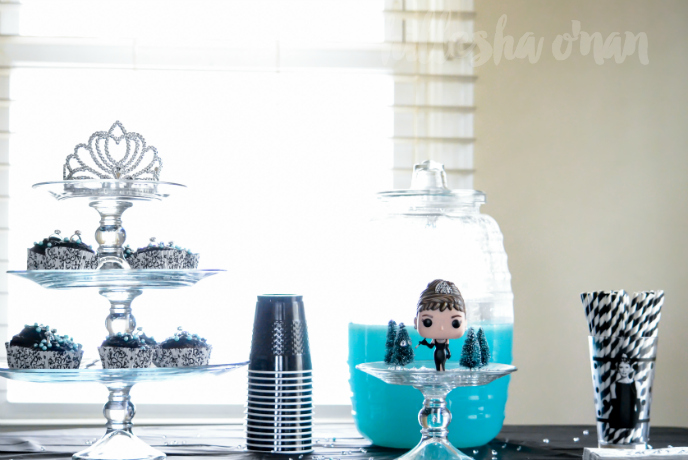 Audrey Hepburn is the epitome of elegance and femininity. No film captures this svelte beauty's flighty charm and impeccable style better than Breakfast at Tiffany's. It has been 55 years since her impish grace stole hearts of many as the urban sophisticate Holly Golightly. I wanted a small get-together that was chic, fun, sophisticated, and unconventional for the holiday season. There was no better choice than Breakfast at Tiffany's, especially since it's a theme that is often thought of for weddings and birthdays – not the holiday season.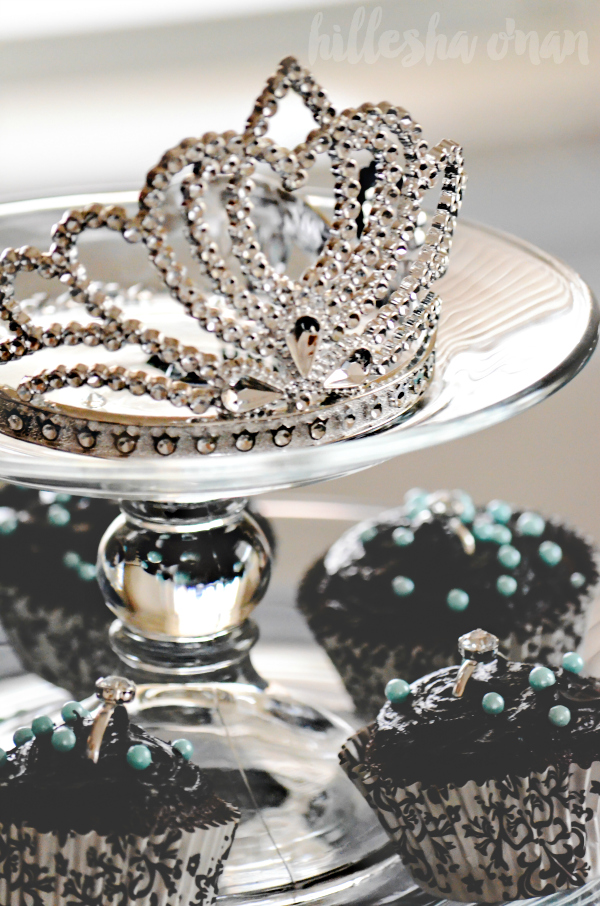 It's effortlessly easy to go all out for a theme like this, but I wanted to keep it simple and sweet with chocolate cupcakes adorned with black frosting, faux diamond rings, and blue edible pearls; blue punch (a mixture of Blue Hawaiian Punch and lemonade), touches here and there to give it pizazz, and a viewing of the iconic film!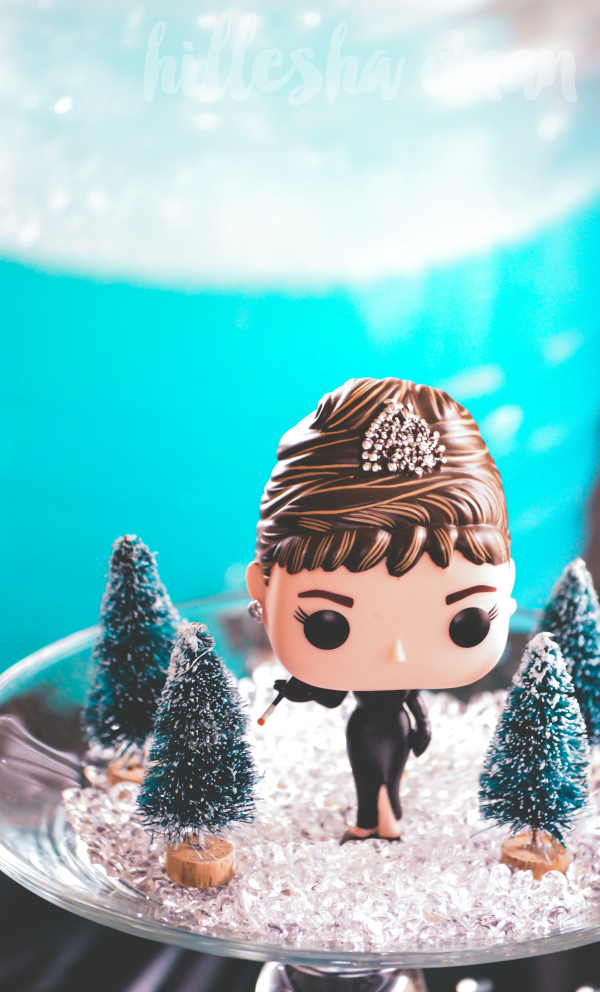 It also wasn't complete without the legendary icon herself surrounded by a sea of faux diamonds and snow-covered trees, which added a wintry touch to the theme.
Party Supplies
Silver Engagement Rings for Table Decorations or Favor Accents (Pack of 12), $4.79
Outside the Box Papers Striped Paper Straws in Black and White (Pack of 100), $8.99
Breakfast at Tiffany's Glass, $5 at Five Below
FunKo Breakfast at Tiffany's Holly Pop Movies Figure, $10.99
Diamond Table Confetti, $5.99
The Cellar 2.5-Gallon Barrel Beverage Dispenser, $16.99 at Macy's
The Cellar Cake Stand with Mini Dome, $11.99 at Macy's
The Cellar Stackable 3 Tier Cake Stand, $16.99 at Macy's
Black Plastic Cups 20ct, $2.99 at Party City
Princess Tiara, $6.99 at Party City
Black Damask Foil Baking Cups 36ct, $2.99 at Party City
Wilton Pearl Blue Sugar Sprinkles, $4.99 at Party City
Pack of Brush Trees, $3 at Target
Total: $102.69
The Invitations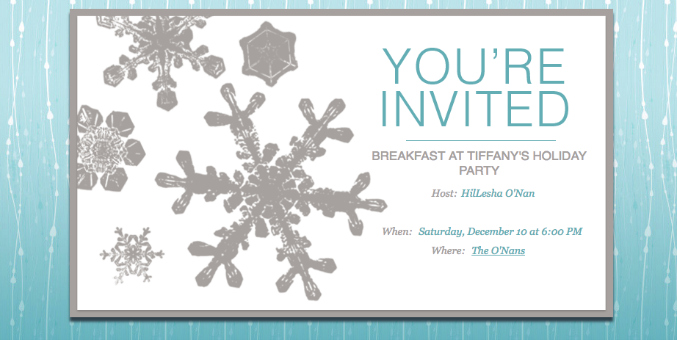 Evite is one way to make the festivities and special occasions less stressful. Their motto is that "Life's Better Together." I couldn't agree more! That's why they strive on saving your time and sanity by making any get-together effortless and even more memorable. They have a vast selection of online invitations like the one shown in the picture above that are simple and easy to create – at no cost! Additionally, they offer customizable and ad-free invitations and cards that merely cost the price of a postage stamp.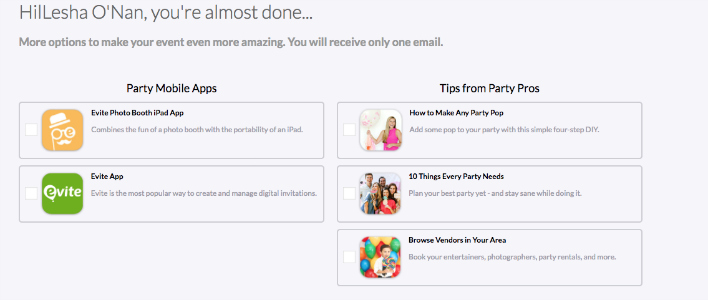 Evite gives other options to make events even more memorable with their app as well as an Evite Photo Booth iPad app. Additionally, you can receive tips from party professionals, including how to make any party pop, 10 things every party needs, and available vendors (photographers, party rentals, and entertainers) in your area.
Just in time for the holidays, Evite has unveiled a private sharing feed to help capture those don't-miss memories. Pictures, plans, and conversations are kept private among partygoers – there's no need to wonder who can see what!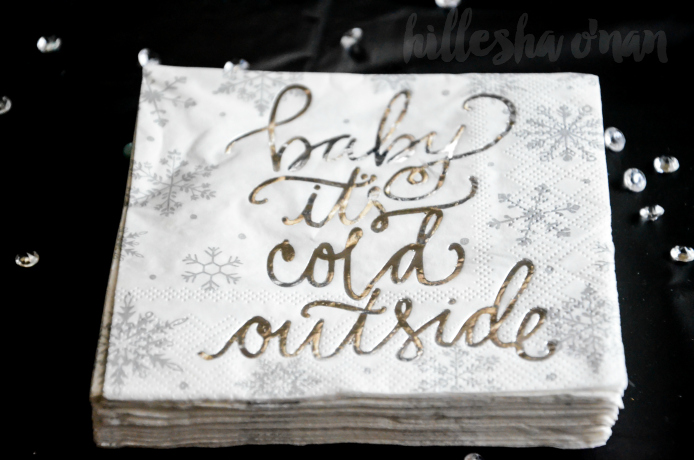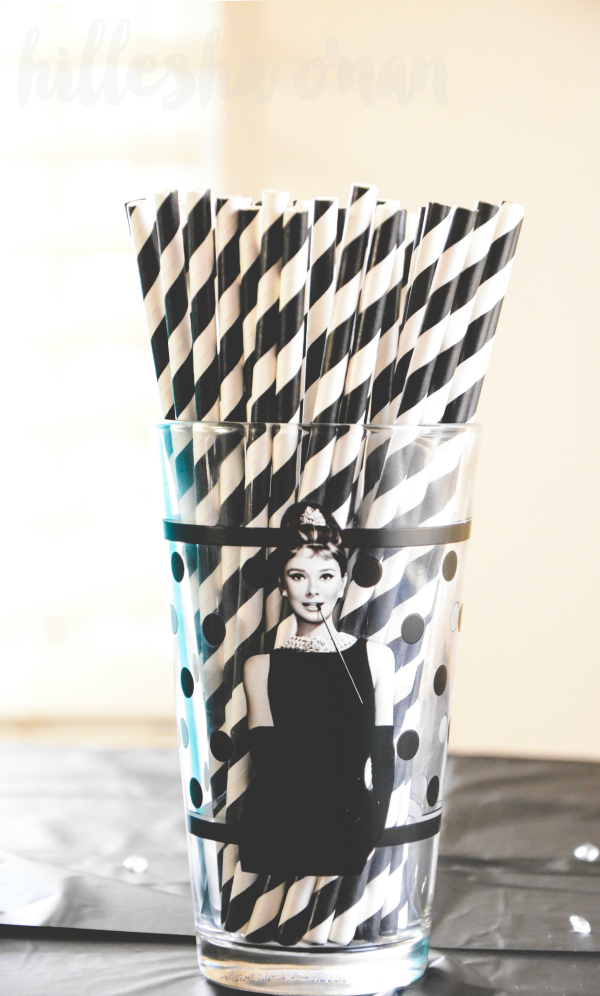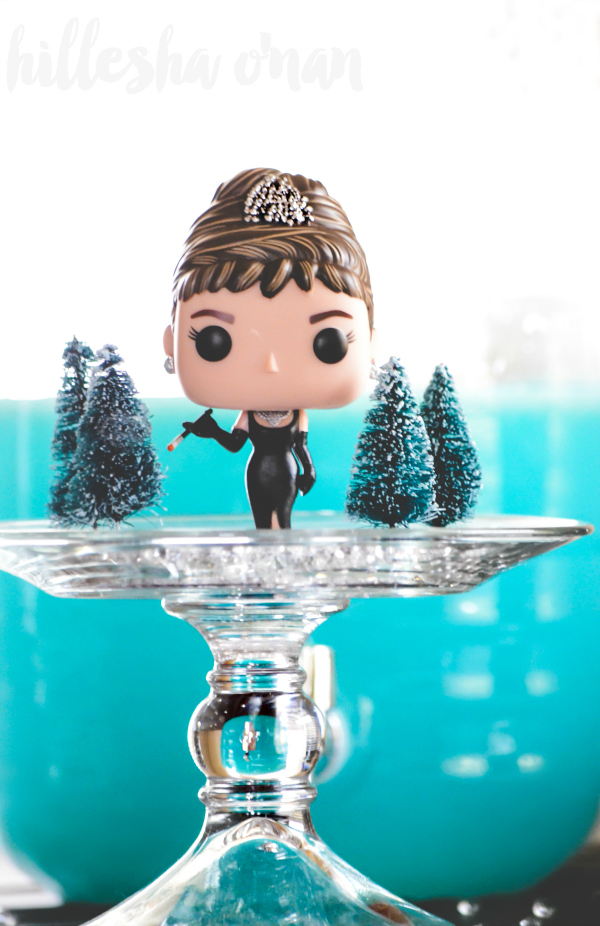 Connect with Evite