This post is in partnership with Tide.
I don't think hardly anyone truly loves doing laundry, but it's one of those things that come with life's territory. Doing laundry is one of the most tedious chores, especially during the summer when my family and I are more active. I'm not only doing laundry more frequently. I'm also encountering the toughest stains from barbecue sauce and sunscreen to perspiration and grass. It may not be one of my favorite chores, but I've learned to do it well since the most surefire way to ensure that my wardrobe is looking its best is by treating it with TLC! Treating our clothing with the TLC that they deserve can also extend the longevity of your wardrobe.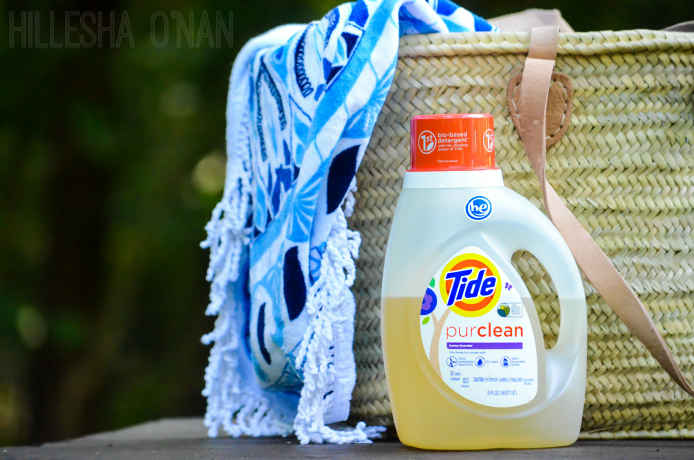 My tried and true methods for having my wardrobe look its best are setting my washer on the cold setting, using the right amount of laundry detergent that's high quality; avoiding the dryer much as possible, and hanging and folding clothes properly! Veering away from stain removers, fabric softeners, and laundry detergents that are laden with harsh chemicals also help. These chemicals are not only bad for our clothing, but they have an impact on our health since they come in contact with our skin. Additionally, they cause environmental issues with our waterways. It almost goes without saying that it's important to take care of our environment, skin, and clothing – naturally as possible.
That's why I'm happy that a conventional brand like Tide has come out with a laundry detergent that is gentle, yet effective. This is what many environmentally conscious moms are looking for in a laundry detergent! I recently bought the Tide purclean at my recent jaunt to Target. Surprisingly, it was the only Target shopping trip that I didn't come out $100 less since I was looking forward to getting home quickly as possible and putting this laundry detergent to the test. I couldn't be happier with my purchase since it's a workhorse in the laundry room!
The Tide purclean gets rid of dirt and tough stains without lessening the quality of my clothing, ensures that my whites are pristine white while keeping other colors vibrant and beautiful; and the fragrance is true to its name (Honey Lavender). My clothes smell like I have frolicked in a lavender field each time they come out of the wash. It even helps the peskiest stains pull a Houdini!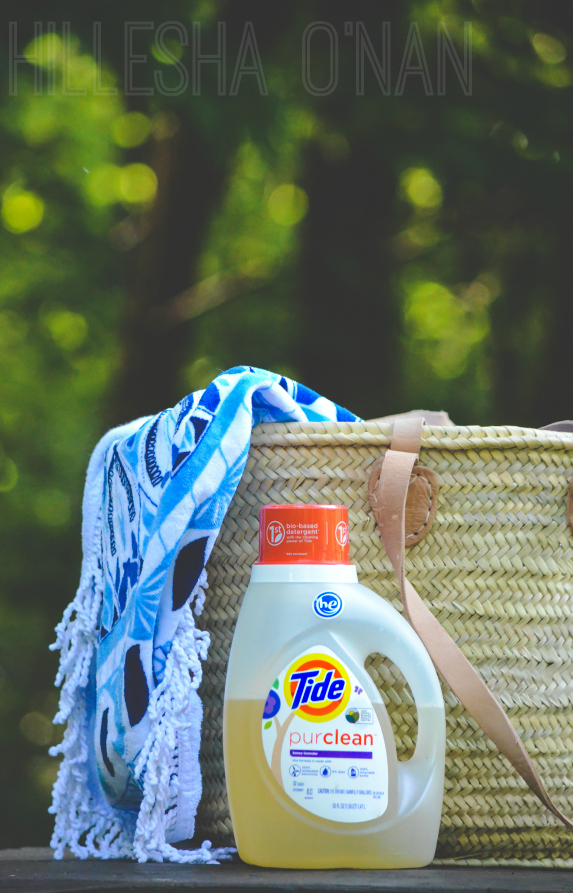 Tide purclean is made with 100% renewable electricity and zero manufacturing waste to landfill site. It gets better – it's free of chlorine, dyes, and phosphates. Instead, it's made with water, coconut derived cleaning agent, plant derived surfactants, mineral based enzyme stabilizer, plant derived processing aid, pH adjuster, bio-derived enzymes, chelant, and fragrance. It's actually the first bio-based detergent with the trusted cleaning power of Tide!
Purchase Tide purclean at Target and you'll get $1 off by using the "neckhanger" coupon. Additionally, you'll receive an extra 5% off if you use the Target Cartwheel mobile app. Both offers expire on July 30th.