One of the most important things to do at my age is taking good care of my skin in order to look and feel good about my age. I don't have any qualms about my age, but do want to age gracefully. When I think of aging gracefully, I think of people such as Salma Hayek, Kate Winslet, Jennifer Aniston, and Molly Sims, to name a few.
Some of the surefire ways to obtain this are to work out regularly or at least stay active, even it's just going for long, brisk walks; drink plenty of water, limiting unhealthy beverages much as you can since they can be taxing on the skin, wear sunscreen, get enough sleep, and healthy eating. It has all been said and said for years and years, but each truly helps!
It's true that Father Time is slowly, silently and steadily ticking away. Another surefire way to defy Father Time is adopting a skincare regimen to help prevent and offset the signs of premature aging. As the old adage suggests, less is more. Even simplicity is what French women strive for when it comes to defying the signs of aging since they're known to put more focus on skincare than makeup. Their views on outer beauty are respectable since they believe in hydrating, maintaining, and coddling the skin; not masking it. It's no wonder why they're the epitome of aging gracefully since they begin using anti-aging skincare products early as 15 years old. French or not, this indicates that it's never too early to start taking care of your skin.
Lately, I've been using the Conture Kinetic Skin Toning System ($249) to help enhance a healthier looking appearance. The Conture Kinetic Skin Toning System is a revolutionary at-home device that's non-invasive and is designed to battle the signs of aging – painlessly, effectively, and quickly!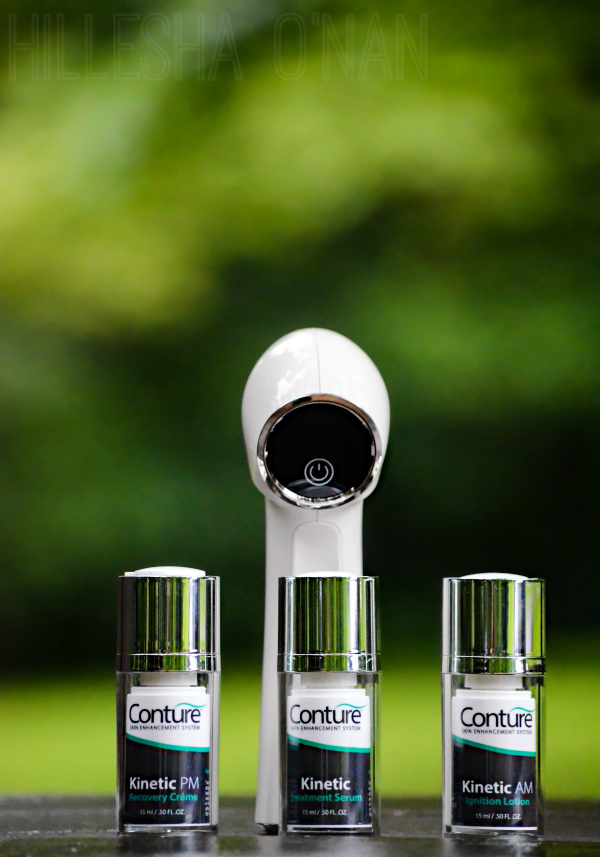 The Conture Kinetic Skin Toning System utilizes a unique combination of isometric compression and low-frequency vibrations. They work harmoniously together to gently lift and released targeted skin zones while safely stimulating the skin. It features a touch-screen that has three different settings: Mild, Face, and Neck. The device, itself, is one the easiest beauty devices to use! Use it in conjunction with the Kinetic Treatment Serum by applying a dime-sized amount. This will help restore radiance and firmness to your décolleté, eye area, forehead, and everything in between. Then, gently glide the Conture Kinetic Skin Toning System on the face and neck in an upward motion. Move it further along with every 3-5 pulses. The pulses are not painless in the least. Instead, it's a gentle suction that slightly tickles!
It's recommended to use the Conture Kinetic Skin Toning System daily for the most desirable results. It has been clinically proven to dramatically improve the signs of aging. This results in a healthier, vibrant, and youthful appearance.
First Impressions Always Count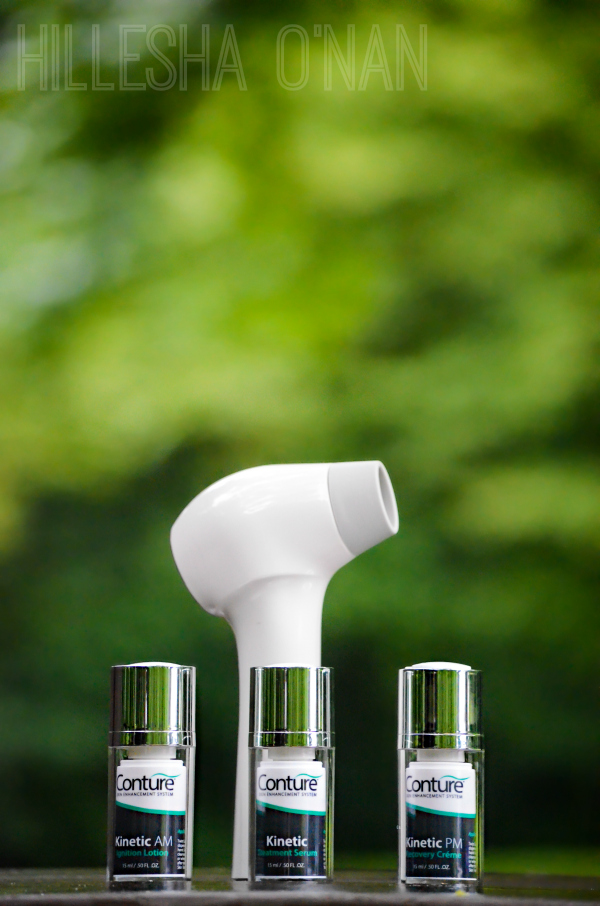 I haven't been using this device for long, but I've been noticing slight changes already. I've been experiencing issues with under eye puffiness, especially under the right eye and dark circles off and on for the past few years. I have tried a few eye creams, the old cucumber trick, and limiting my sodium intake to no avail. That's why I was pleasantly surprised that the Conture Kinetic Skin Toning System has helped dimish the appearance of the puffiness within a week. I'll be trialling this device for two months, so I'm looking forward to sharing my overall outcome!
How to Use the Conture Kinetic Skin Toning System
Exclusive Coupon
Readers will receive a 20% off discount on the Conture Kinetic Skin Toning System when coupon code TotheMotherhood20 is used at the online checkout.
Connect with Conture Skincare
This post is in partnership with Conture.