Poverty, homelessness, and hunger have always tugged at my heartstrings, especially when children are involved. There are more than 16 million children in America that are living in poverty. Not only this amount of children that live in poverty is staggering, but it's sad to say that child poverty is continuously on the rise. Our children are our future. The least thing we can do for them is helping them reach their full potential. Break the cycle of poverty by giving back. That's why my heart jumps in joy and happiness because there are many ways I can help make a difference in their lives.
Donate/Volunteer at Food Banks Throughout the Year
Children need the proper nutrition to excel socially and academically. A balanced and nutritious diet enables a child to reach their full potentiality as it's crucial for physical growth and brain development. Many don't realize the fact that hunger isn't a seasonal issue. That's why we shouldn't just donate or volunteer our time during the holidays. Many food banks start experiencing a decline in food donations during the first quarter. They often refer it as a "spring hunger gap" when their food supply is at its lowest level. The hunger crisis is at its historic high and is sadly and continuously on the rise. We can spark change in this epidemic by breaking the cycle of the hunger crisis by giving back throughout the year, whether it's via donations or volunteering.
Offer Free Tutoring
One of the underlying causes of poverty is the lack of education. Tutoring a child can help pave the way to success for them down the road.
Start a Children's Book Club
One of the ways that your child can get involved is starting a children's book club. Statistics indicate that 1 in 4 children in America grows up without learning how to read. They're 4x likelier to drop out of high school if they don't read proficiently by the third grade. This can result in a host of issues as they reach adulthood, including poverty and crime. 70% of the inmates in America are unable to read past a fourth-grade level. Starting a children's book club can help foster the love of reading, improve literacy statistics, prevent dropouts, and create a more promising future.
Break the Cycle with Social Media
The digital age that we live in has made it easier than ever to help break the cycle of poverty. The power of social media has given us an unprecedented opportunity to create change and influence others worldwide.
Band Together
I love when companies like Jewelers Mutual Insurance Company are striving to make a difference in the world! Jewelers Mutual Insurance Company will be donating $2 million that will support three of the most important causes: hunger, health, and home. Organizations such as Feeding America, St. Jude Children's Research Hospital, Food Banks Canada, or Habitat for Humanity will be supported via their Jewelers Mutual "Band Together" campaign.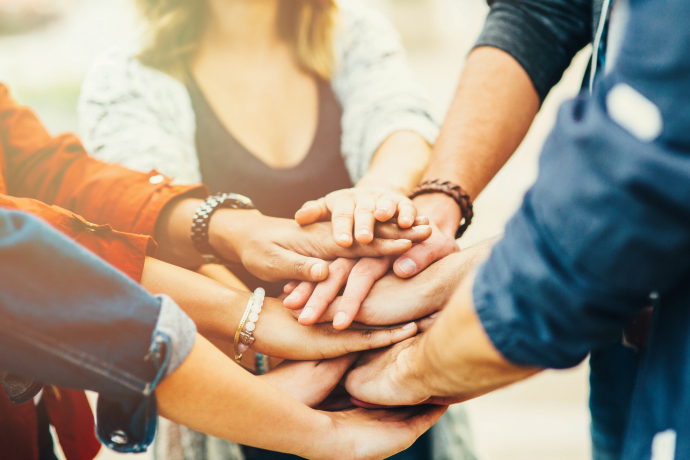 Jewelers Mutual Insurance Company will be unable to do this unless we band together since they need our help in deciding which organization should be awarded $1 million. We can do this by voting for the cause of our choice between now and July 31th, 2016, at 11 PM CT. $700,000 will be awarded to the runner-up and the third-place winner will receive $300,000.
In addition, they'll be hosting a weekly giveaway. Each week, one person will receive a set of three stacking bands (a $450 value) from STACKED New York. It's recommended to vote daily to increase your chances, especially since each vote is counted as an entry!
"Our greatest natural resource is in the minds of our children." – Walter Elias Disney ºoº
I was selected for this opportunity as a member of Clever Girls and the content and opinions expressed here are all my own.