This post was sponsored by Alaska Jewelry.
Nothing says "Mother's Day" like a brand new addition to the jewelry collection! Okay, that may have sounded a tad bit materialistic, huh? LOL! Don't get me wrong – hugs and homemade cards are (without a doubt) the best gifts a Mom could ask for. But who doesn't love a little something sparkly on a special occasion!?
A striking pair of earrings from the kids pleads, "Mommy, we love you! And we're sorry about the markers on the hallway walls… again!"
A gorgeous gold bracelet from a significant other screams, "You're still as lovely as the day we met – how did I ever get so lucky?"
A stunning statement ring, as a gift to myself, is my way of saying, "Hey you. You're kind of awesome and don't you forget that!"
No matter who it comes from, few moments are as exciting as the moment before you open that tiny box – just big enough to hold something shiny and new.
So today, I'm sharing a few fine jewelry items from Alaska Jewelry that are definitely on my "Mommy's Day Wish List" this year.
Ready, set, and sparkle!
The Ultimate Mother's Day Earrings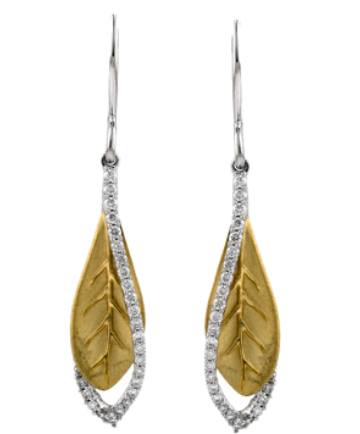 The first piece of jewelry that caught my eye is this pair of diamond earrings, so appropriately named Diamond Drop Leaf Earrings for Mother's Day. Well, isn't that just perfect for the upcoming occasion!?
These dangly earrings feature 30 points of round brilliant diamonds set in 18k gold. In the center, an 18k yellow gold leaf swings freely inside the glittering halo of diamonds. And who doesn't want to walk around with glittering halos dangling from her ears? So elegant. A perfect addition to dress up any outfit for a night on the town.
Not Your Average Bangle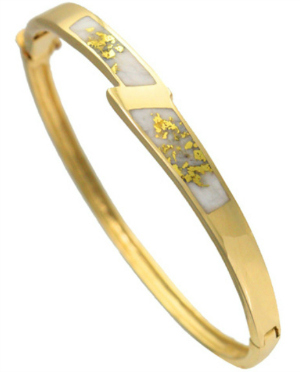 When I think "bangle" two things used to cross my mind – the 80's rock band and dozens of stackable bracelets. Well, the bangle has officially been redefined in my mind – because neither of those descriptions applies when referring to Alaska Jewelry's Contemporary Gold Quartz Bangle Bracelet. Two panels of gorgeous inlaid natural gold-in-quartz sit snuggly in solid 14k gold. Talk about arm candy! The rare gold-in-quartz formations are found in their natural state and then hand cut and polished, making each bracelet one-of-a-kind. A unique piece that just happens to go perfectly with the next item on my list…
Hello, Lover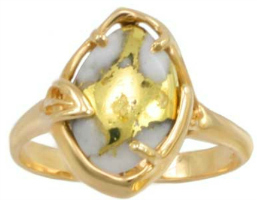 Do you remember in that Sex and The City episode when Carrie peers into the store window at those "must-have" pink, strappy sandals and says, "Hello, Lover!"? Well, that was my reaction when I stumbled upon this 14k Gold Free-Form Gold-in- Quartz Ring. The band is 14k yellow gold with a free-form gold-in-quartz centerpiece. I just love the way the website describes the detail: "Pure veins of gold were forced into quartz by hydro-thermal pressure while they were both in a molten state." Those words, "pure veins of gold" make this sound like a superhero ring for a superhero mom!
Oh, I just love a good wish list! Don't you? Like we said before, Mother's Day isn't about "stuff" or "things". It's about spending time with family and loved ones! But, who said you couldn't spend quality time while wearing a new piece of jewelry (or two!). Happy Mother's Day to all of you amazing moms, grandmas, and mother figures out there!