Rustic meets nautical! You can evoke the spirit of the ocean while giving your bedroom a cozy, cabin-like feel, which combines the blues of the sea with rustic wood furniture. All of this can easily be found under one figurative roof at Cabin Place.
I'd love to incorporate an on-trend nautical theme bedroom with a classic "rustic escape" appeal. Since I love the cool shades of blue, I have been thinking about my master bedroom needing an updated color palette and finishes. I'm thinking of adorning it with aqua walls, complementary turquoise window treatments, and turquoise accents.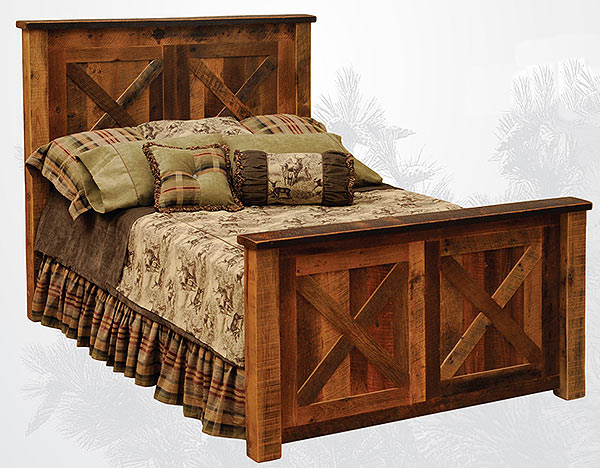 Barnwood is no longer reserved for barns anymore. It's now a simple and versatile way of adding rustic and practical sensibility to any modern theme. You can easily incorporate the look of barnwood in a rustic nautical theme by starting with the bed. Barnwood beds are solidly built, very high quality, and can adapt to a variety of styles.
Cabin Place will surely spruce up your bedroom with their varied selection of barnwood beds, including this Barndoor Style Barnwood Bed ($1389.99 – $2049.99). The Barndoor Style Barnwood Bed is meticulously crafted from reclaimed Red Oak from 1800's tobacco barns that features a traditional plank design. The dull catalyzed lacquer finish adds to the wood's natural allure. The rustic nature of this bed is quite a showpiece! Since the style of the bed makes such a statement, you certainly don't want other pieces vying to be the focal point of your newly furnished bedroom.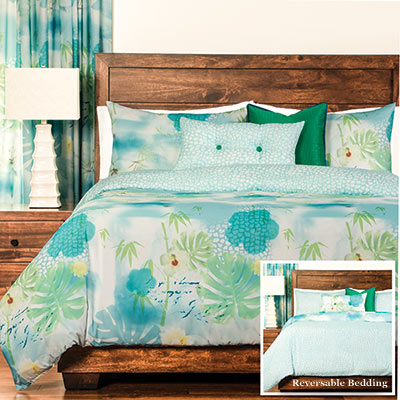 The right bedding set can make a dramatic difference in a bedroom! Cabin Place has a wide selection of nautical and coastal bedding sets. One of my favorites is the Tropical Botanicals Bedding Set ($179.95 – $319.95). The Tropical Botanicals Bedding Set lends a modern vibrancy to the bedroom. It boasts a lively watercolor design that's beautifully accented with a chic floral pattern and a subtle blue leopard accent.
Alternatively, you can reverse it to a soft leopard print design. The unexpected details of this bedding set are a perfect example of how thinking outside the box can add even more charm. You can add more visual punch, while keeping the serene and restful theme intact with accent throw pillows in a rich hue of emerald green or dark blue. The latter will bring out the color that's least used in the color combination of the bedding set. It's all in the details!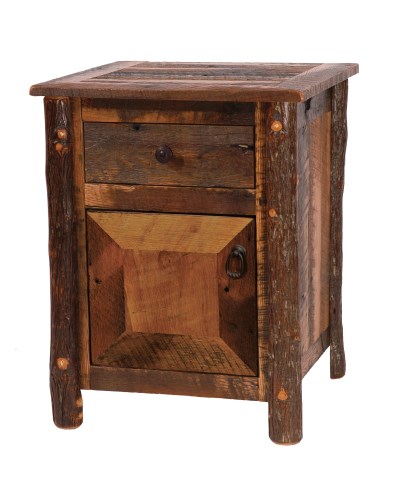 Matching your bed with a nightstand like the Barnwood Enclosed Nightstand ($619.99) can provide traditionalism and symmetry. This Barnwood Enclosed Nightstand is crafted from reclaimed Red Oak that has been salvaged from 1800's barns, to perfectly match The Barndoor Style Barnwood Bed. This
nightstand futures one drawer on the top and an enclosed storage base at the bottom, which is perfect for storing your bedtime reading materials, hiding the remote, or even stashing your favorite candy. Concealed European-esque hinges keep the look clean, uncluttered, and simple.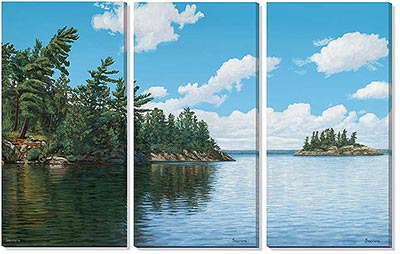 Wall art can give charisma to any room in a home. It also reflects your personality and what piques your interest. You can add a personal touch to a nautical bedroom theme by blowing up your digital vacation memories to poster size and framing them to place on your wall. You can also use wall art like the Sunny Days Wrapped Canvas ($329.95) to perfectly capture the essence of the sea (without being cliché or hokey in the least!)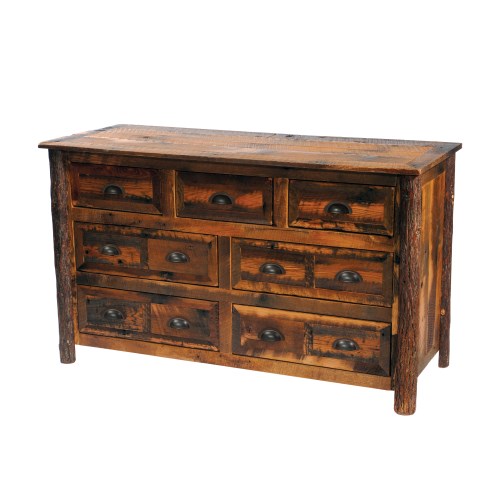 Lastly, you can seal the deal with the Barnwood 7 Drawer Chest ($1,449.99 – $1,679.99). Brilliant blooms tucked inside an ornate blue vase atop the Barnwood 7 Drawer Chest, decor wise, would be the cherry on the top.
Cabin Place's rustic chic and authenticity furniture has made it one of the top destinations for shoppers looking for something unique and different. Cabin Place's furniture and décor can help us completely transform our bedrooms, living rooms, and even our bathrooms! Personally (as I'm sure you could tell) I'm excited about this sleek and stylish new take on nautical, rustic life.
This post is in partnership with Cabin Place.