The weeks before spring's impending arrival may feel like eternity, yet I can't help but smile as I daydream about trees showing signs of life after a long, dreary winter; thick, lush, green grass; gorgeous, vibrant, and fragrant flowers! Spring also signifies a clean slate: minimizing, cleaning, and organizing.
The mere thought of minimizing, spring cleaning, and organizing can be deterring to some, but you'll easily find yourself springing ahead with inspiring books on organization like The Complete Book of Home Organization: 200+ Tips and Projects by Toni Hammersley! The Complete Book of Home Organization: 200+ Tips and Projects is for anyone who wishes to organize their homes into clutter-free, design-conscious, and Pinterest-worthy spaces. It's easy to read and beautifully photographed.
Most of us strive to live a balanced life, but in reality most of us get caught easily in a whirlwind of activities. I'll admit that there are days that I feel like I am part of a circus. My life is a juggling act of managing household tasks, working, keeping up with an energetic 9 year old, and chasing around an even more energetic 3 year old. It can be overwhelming! That's why I appreciate creative tools and ideas that can help simplify the home. After all, simplicity is the key to a well-balanced life and true happiness.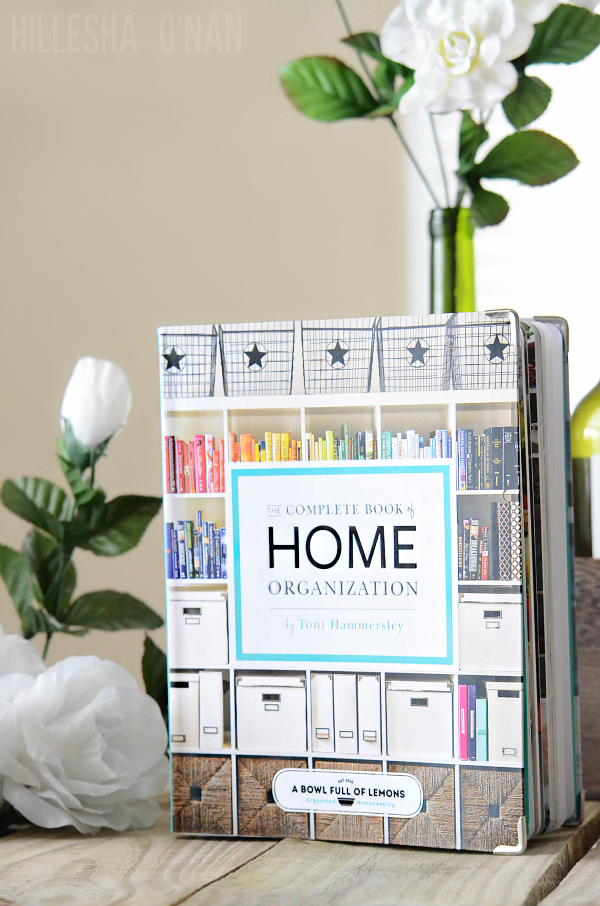 Toni Hammersley, organization blogger, shows how you can achieve and maintain balance in your home and regain the love you felt when you first moved in. From solutions for tiny apartments to tackling a big, messy home, this book covers it all. The Complete Book of Home Organization spells out everything you need to keep your home—and life—in tip-top shape, whether it's reorganizing your bookshelf and setting the tone for your home to maximizing storage in a tiny kitchen to throwing a casual party.
Toni takes you through each space, combing through the unknown, purging, donating and categorizing. Weekly challenges and checklists are included in this book, which can help make tasks enjoyable and easy to tackle! This has become my go-to guide to help keep track of my pantry, weekly menu planning, and schedule. This book covers every nook and cranny, including the basement and attic.
It's time to tackle the mess and take back your space!
Toni Hammersley is the creator and writer of the popular home organizing and entertaining blog A Bowl Full of Lemons, which inspires thousands of people around the world to get their lives in order. She hosts a popular 14-week organizing challenge each year, aimed at helping her readers conquer clutter. She is also a registered nurse and photographer. She lives in Charleston, South Carolina with her husband and three children.
Connect with Toni Hammersley
This post is in partnership with Weldon Owen.