Live Happy is a magazine that's a first of its kind that harmoniously combines the science of happiness with practical advice from positive psychology experts. This magazine's primary focus is to help guide readers to live happy and productive lives, while reminding us the importance of appreciating all that we have. The issue for November/December 2015 discusses about family and forgiveness.
Country legend Dolly Parton adorns the cover. I have always had deep admiration for Dolly Parton as a singer and person, because she has always been candid about the hardships that she has endured in life in the past. She is a true inspiration! In this issue, she shares the power of family and her Appalachian upbringing as the foundations for her unwavering strength, resilience, values, and trademark positivity. She discusses about her new NBC autobiographical movie, Coat of Many Colors, named after one of her most popular songs. She also shares what gives her the most meaning in life: God, family, and music.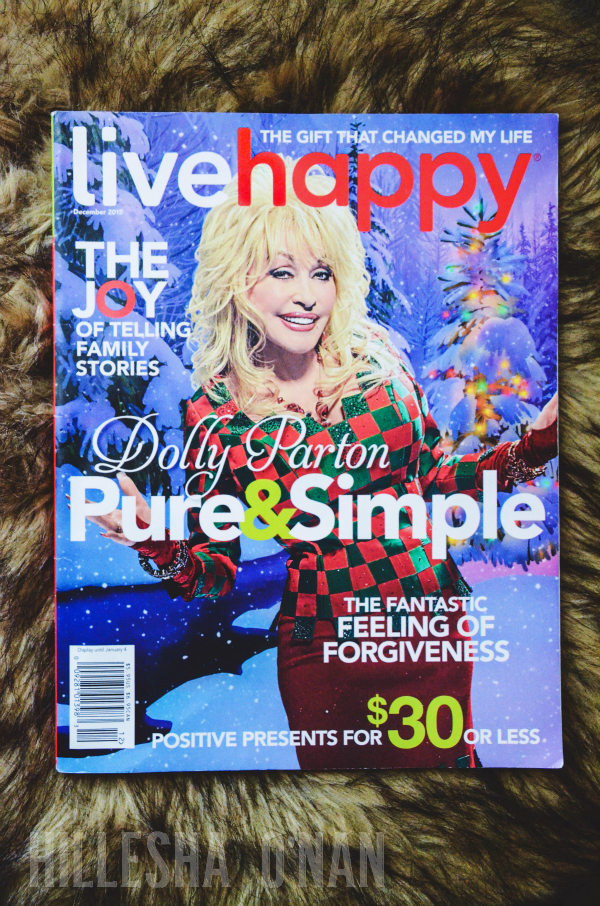 The current issue of Live Happy also shares on how to give meaningful gifts; exploring the myth of work-life balance; mood-boosting movies for the holidays; discussing how and why telling and re-telling family stories helps us stay connected; and presents us with healthy ideas on how to kick the holidays on a positive note. One of my favorite articles is Growing Up Chopra.
Deepak Chopra and his daughter, Mallika, share their journeys to peace, joy, and purpose. Deepak credits his age for cultivating some of his wisdom. He also believes that it's the one key to his physical and mental state of serenity. "I can say honestly that I don't get stressed," Deepak says. "There are no what ifs' for me. I live in the present. I don't worry about what might happen tomorrow or the next day or what was part of yesterday. I remain aware of where I am and what I'm doing, feeling, and experiencing right now."
The issue also provides an inside look at OWN's Belief series, which explores finding faith and the universal search for connection to something greater than ourselves. It reveals the link between gratitude and grief as a powerful source of healing to embrace a new chapter in life. Additionally, you'll learn about the traditions celebrated throughout the word, positive presents that are $30 or less, ways to rejoice without overindulging, and cookies that are festive yet healthy! That's just a mere sampling of what this issue has to offer.
Live Happy Now
Live Happy Now is an inspiring weekly podcast that is free and available on iTunes. It offers interviews with renowned authors and thinkers in the fields of positive psychology and well-being. LiveHappy.com also offers additional tips and content on achieving and spreading happiness, extending its reach to Mexico with the launch of http://espanol.livehappy.com.
The magazine editors will be releasing a new book, Live Happy: Ten Practices for Choosing Joy, in March 2016. The highly anticipated book brings together the latest research on what practices and actions contribute to a happy life, with 40 inspiring celebrity and real-life stories!
Live Happy is available on newsstands at major retailers throughout the United States, including Barnes & Noble, Whole Foods, Presse Commerce in Canada, and Hudson News, to name just a few. The digital edition is available at the App Store and Google Play for $9.99. Non-digital copies of the magazine normally sell for $17.95 for one year (6 issues), but you can get it just $10 this holiday season. Gift your loved one with a year round of happiness with a subscription to Live Happy!
Connect with Live Happy
This post is in partnership with Live Happy.