In celebration of Lucasfilm's highly anticipated film, Star Wars: The Force Awakens, Disney and Bloomingdale's are joining forces with an illustrious group of designers in a fashion meets fundraising initiative, "Force 4 Fashion." Drawing inspiration from the film's costume designer, Michael Kaplan, fashion designers like Giles Deacon, Halston, Cynthia Rowley, Diane von Furstenberg, Opening Ceremony, Parker, Ovadia & Sons, Todd Snyder, Timo Weiland, and Rag & Bone are each creating an outfit to be auctioned for charity that pays homage to the characters in the upcoming movie.
Star Wars and Bloomingdale's Collaboration
The designers' looks will be unveiled at a "Force 4 Fashion" launch event, presented by Kay Jewelers, in New York City on December 2nd before going on display in Bloomingdale's NYC flagship windows the following day. Outfits will then be auctioned off between December 2nd – 18th by Bloomingdale's on Charity Buzz, with the proceeds benefitting their holiday charity partner, Child Mind Institute, on behalf of Star Wars: Force for Change – a charitable initiative that empowers people to make a positive impact on the world around them.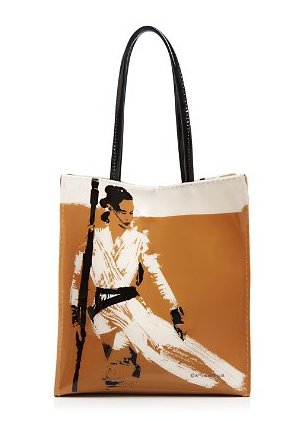 Additionally, Michael Kaplan has designed three, limited-edition "little brown bag" reusable totes ($28), only available at Bloomingdale's during the holiday season starting just before Thanksgiving. The Star Wars-themed totes will be merchandised in pop-up shops that feature various Star Wars inspired merchandise. Please visit StarWars.com for more information about Force 4 Fashion. Also, follow the hashtag #Force4Fashion on social media.
Designer Sketches for Force 4 Fashion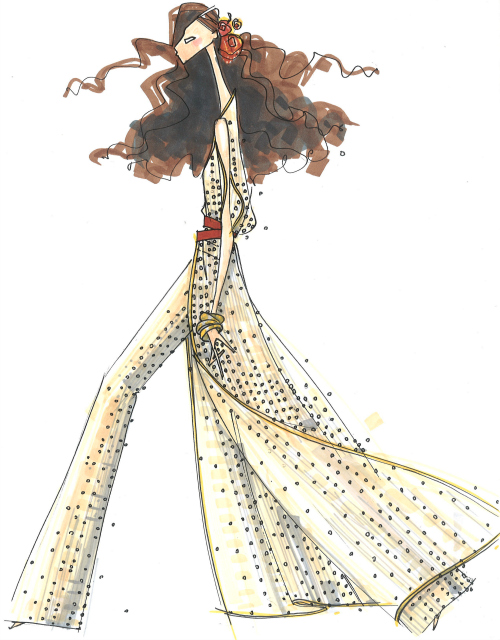 "This look is really a celebration of strength and beauty which is perfect for Rey. It is also lightweight and easy, because movement is so important." – Diane von Furstenberg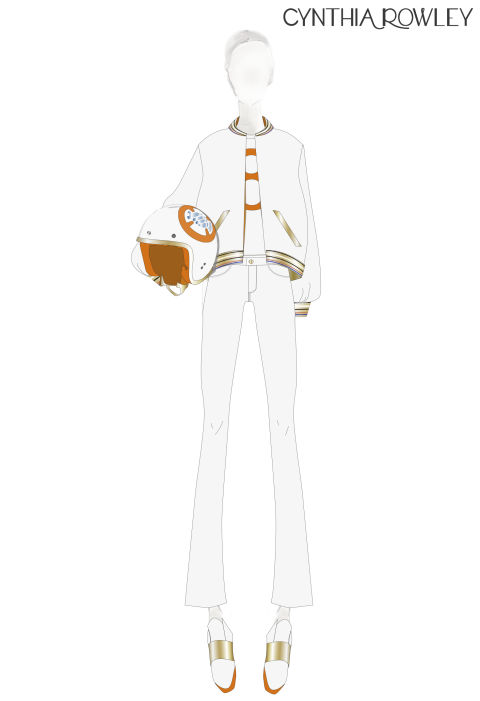 "Lucasfilm has always pushed the boundaries of creativity, especially in costume design. BB-8 takes droids to the next level!" – Cynthia Rowley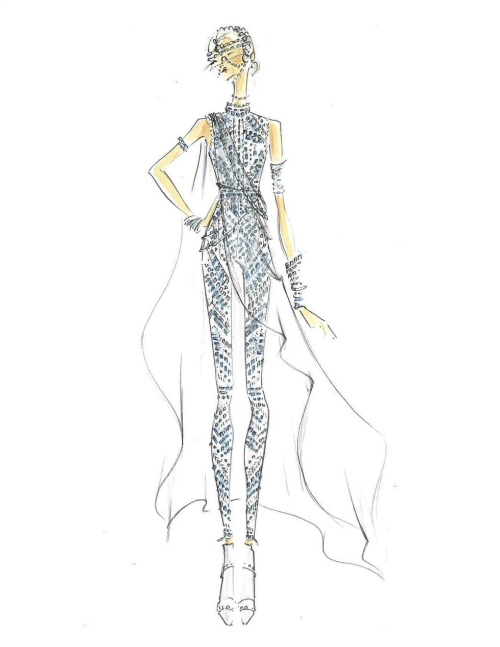 "We imagined what Captain Phasma would wear out of her Stormtrooper uniform. We wanted to glam her up but still keep her looking fierce. Our design was inspired by ancient tribal warriors." – Parker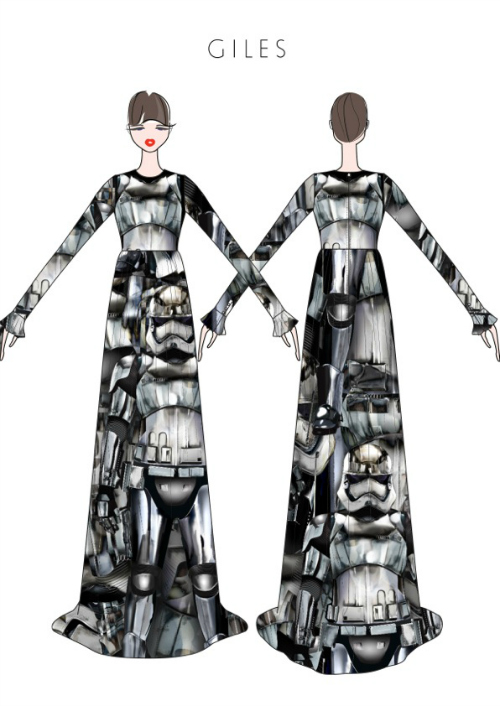 "The dress I have created for the Force for Change charity event is a long sleeved double georgette gown with an all over print inspired by Gwendoline Christie's character Captain Phasma, it has been great fun designing the dress whilst helping to support the Child Mind Institute" – Giles Deacon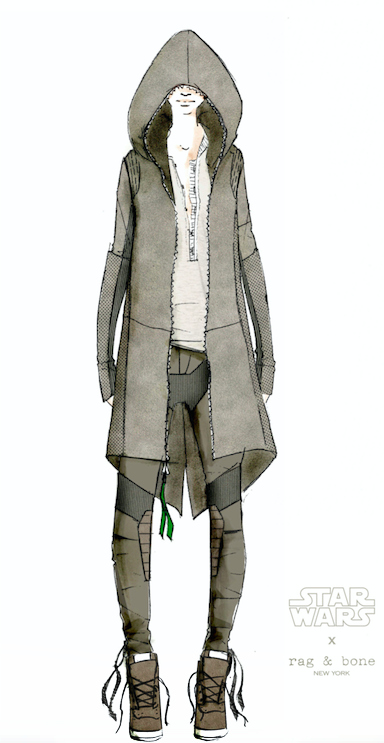 "This was a natural project for rag & bone, not only aesthetically, but also because the original Star Wars trilogy had a major impact on me as a young boy. "Star Wars IV: A New Hope" has been my favorite film since I was a child. I'm still a huge a fan today, as are my three young children. To create these looks for Kylo Ren and Rey, we drew upon the core of rag & bone's aesthetic. We're a brand very much inspired by the edginess of New York but also very rooted in our English heritage through tailoring and military influences. You will see that reflected in these pieces." – Marcus Wainwright, Rag & Bone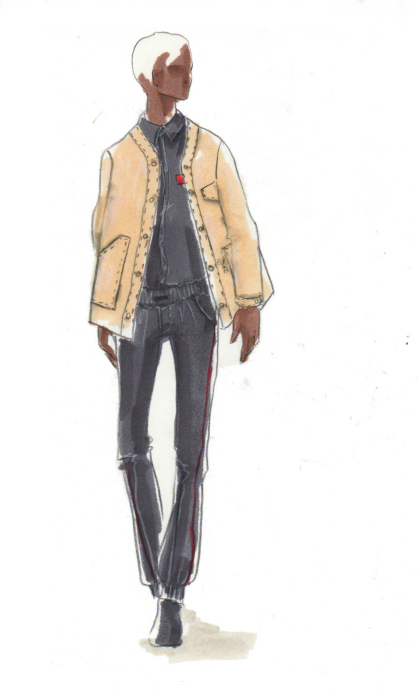 "We chose Finn because we wanted to explore his adventurous character. We love the idea of combining functionality with fantasy and creating something for Finn that could easily translate to everyday wear." – Timo Weiland
Star Wars: Fashion Finds the Force Launches in London
Star Wars' association with British fashion and design will also be celebrated by London-based designers like Agi & Sam, Bobby Abley, Christoper Raeburn, J.W. Anderson, Nasir Mazhar, Peter Pilotto, Phoebe English, Preen, and Thomas Tait. These 10 fashion designers have also created catwalk looks inspired by Star Wars: The Force Awakens.
Their designs will be showcased at an extraordinary "Star Wars: Fashion Finds the Force" presentation on November 26th in London, following which they will be available to fans worldwide by online auction at http://www.starwarsfashion.london with all proceeds donated to Great Ormond Street Hospital Children's Charity, on behalf of Star Wars: Force for Change initiative.
What do think about this collaboration?