Since 1886, the Hunter Fan Company has pioneered new and smarter ways to circulate the air in your home. Hunter ceiling fans have set the standard in quality, innovation and craftsmanship for more than 125 years, applying these same principles to everything they do and refusing to be considered an afterthought in your home.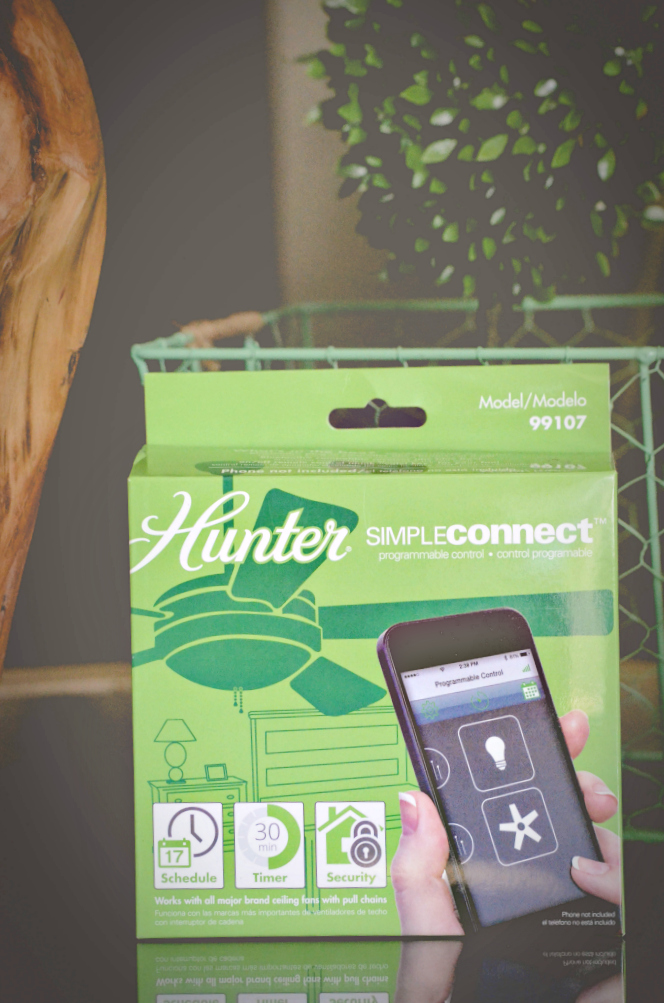 The SIMPLEconnect™ Programmable Control is the latest innovation from Hunter Fan Company that allows you to set your ceiling fan and lights to revolve around your schedule. We had been planning on installing a fan in the master bedroom. Once I received the SIMPLEconnect™ programmable control, off we went to choose a fan that would compliment our bedroom decor.
Since the weather is warmer, our bedroom was hot and stuffy at times. It was hard to watch television while in bed or sleep at night. It's so nice that we can set the timer for 30 minutes prior to going to bed. Falling asleep is much easier now. Since I am a cold-natured person, my better half sets the sleep timer to shut off two hours after going to bed.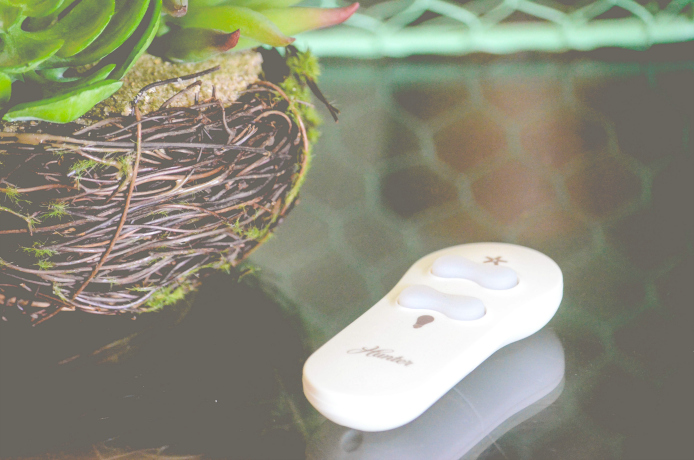 The SIMPLEconnect™ Programmable Control ($100) also comes with a Bluetooth plug-in controller, a Bluetooth compatible receiver, and on/off handheld remote control. That helps when one doesn't have a smartphone.
It works with any major brand of ceiling fans with pull chains. My husband downloaded the app on his phone, installed the receiver, and plugged in the controller. It was a simple task. He had it up and running quickly. The SIMPLEconnect™ app is available for iOS at iTunes or Android devices at Google Play. Also, it's so nice that the SIMPLEconnect™ Programmable Control comes with a security feature! We can set the security feature to turn the ceiling light on at a certain time when we're away from home. That's a great peace of mind.
No more watching television while in bed or trying to sleep in a hot bedroom. Leaving the house for a short time or while on vacation, setting the security feature to turn the light on at a specific time can't get any better.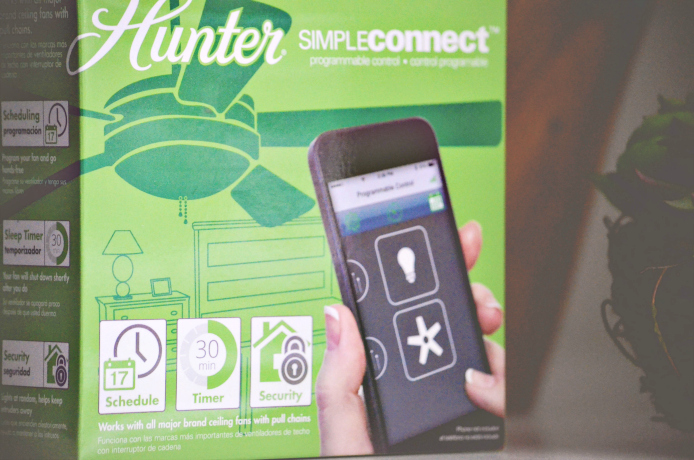 To coincide with the launch, they're giving Facebook fans the chance to win SIMPLEconnect with the month-long Your Fan Can Contest on Hunter's Facebook page, which goes live on May 29th. Simply visit the Hunter Facebook page each week between 5/29 and 6/26 to upload a photo of any fan in your home. After you've entered, your photo will display in their contest gallery so you can ask friends and family to vote for your submission to increase your chances of winning. Each week, one grand prize winner and one runner-up will each receive Hunter's SIMPLEconnect control and have their photos showcased on Hunter's Facebook page! Best of all, each grand prize winner's photo will be showcased in an ad on HGTV.com!
In addition, we'll be giving one winner a SIMPLEconnect™ Programmable Control (a $100 value) of their own!
Hunter SIMPLEconnect Programmable Control

The giveaway will conclude on June 8th.