Many people want a Colgate smile in this cosmetically driven world. Statistics indicate that Americans spend $1.4 billion on whitening their teeth every year. In-office teeth whitening may ensure a whiter and brighter smile, yet it comes with a steep price tag. It can cost anywhere from $300 to $800 to have your teeth professionally whitened, and it can cost from anywhere between $300 – $600 for an at-home bleaching kit from a dentist!
Known for its gentle, yet effective professional strength at-home teeth whitening system, Smile Brilliant is easy, convenient, and delivers the same results that you'd get from a professional teeth whitening service at the fraction of the cost. Depending on one of the three packages that you choose, their prices range from $119.95 – $154.95!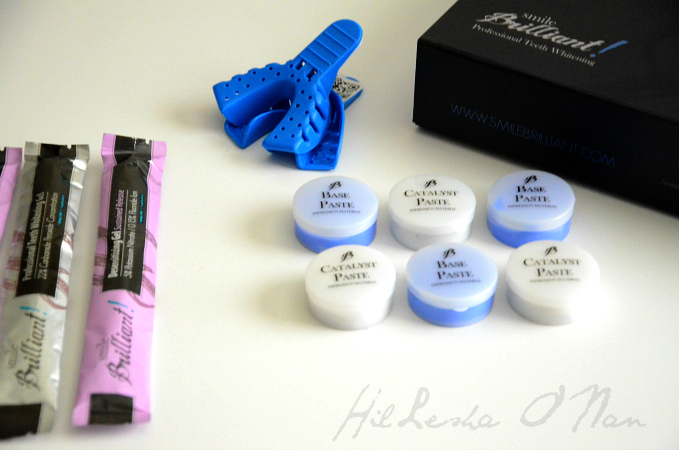 To ensure the perfect customized dental trays, they send three sets of dental impression material that consists of catalyst paste and base paste to combine and place in the blue plastic trays that come with this kit. These blue plastic trays, which are reminiscent of a mouth guard, are not the trays that you'll be using later for whitening your teeth, as these trays are just solely used for making your upper and dental impressions with the combined putty (catalyst paste and base paste). Keeping the impression trays in was a little tricky for me since my gag reflex can easily be triggered when having to keep something in my mouth for a certain length of time. That's why I can't do oil pulling! Somehow I made it through the process and made near perfect dental impressions to mail back to Smile Brilliant's lab to receive my customized trays. They receive impressions within 3-4 business days and approximately 6-10 business days if shipped internationally. The custom whitening trays are created and mailed off within 5 days after the impressions are received.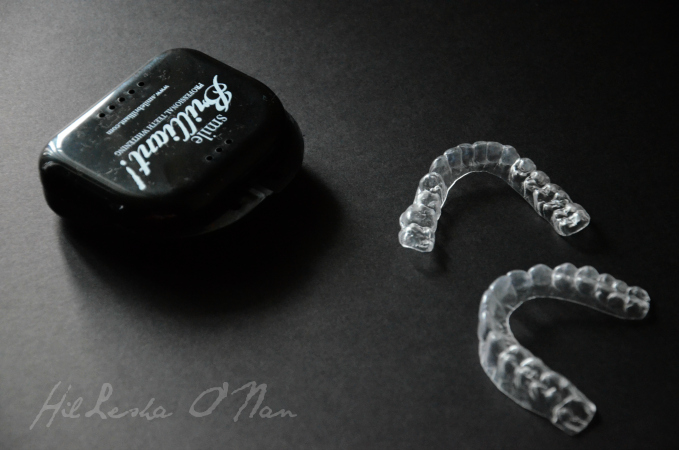 I have tried teeth whitening systems in the past, including an at-home teeth whitening system from my dentist. My sensitive gums normally couldn't handle more than two sessions, thus I had no choice but to not complete the recommended amount of sessions. I couldn't help but be leery of Smile Brilliant since I had pretty much chalked up all teeth whitening systems to being the same. Since gum irritation is a common issue for many, Smile Brilliant wanted to set themselves apart from the rest by including a desensitizing gel in addition to the whitening gel. The desensitizers help make gum and tooth sensitivity more tolerable. Best of all, they replenish essential minerals and vitamins that are lost during the whitening treatments. Using a desensitizing gel will also reduce the chances of re-staining of the teeth following whitening procedures, remineralize small lesions, strengthen tooth enamel.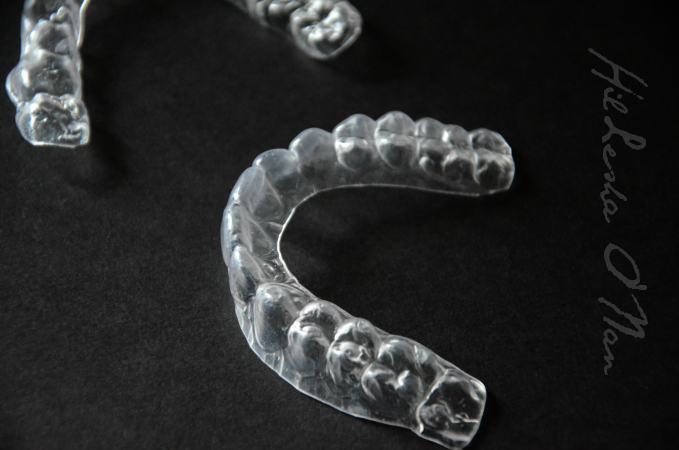 I avoid some of the most commonly known staining culprits (i.e. soda, tobacco, and coffee), but I do have a weakness for something that's deeply rich with antioxidants and other healthy nutrients, but is unfortunately so highly pigmented that cause discoloration: blueberries! No, they don't permanently stain teeth to a deep blue hue, but it can be discoloring, nonetheless! Thanks to Smile Brilliant, I was able to achieve a healthier looking smile that looks naturally bright without being blindingly white.
Giveaway
One winner will receive a Smile Brilliant Teeth Whitening System. The giveaway will conclude on February 2nd.