One common, yet tiresome question that many vegetarians and vegans are asked is "Where do you get your protein?"
If an omnivore was asked the same thing, some would quickly say that they get their protein from meat, eggs, or dairy.
Contrary to popular belief, meat, eggs, and dairy aren't the only sources of protein.
In fact, in order to be protein deficient, you'd have to be calorie deficient since protein is practically in everything! Vegetarians and vegans naturally obtain their protein from various sources: vegetables, especially green vegetables: spinach, French green beans, peas, and kale; milk alternatives: almonds, cashews, flax seed, hemp, coconut, or soy milk; hemp, tofu, seitan, chia seeds, flax seeds, brown rice, tempeh, lentils, beans: kidney, garbanzo, pinto, or black beans; sprouted-grain bread, quinoa, and nut butter.
With all of that being said, how do you think herbivorous animals, such as the buffalo, panda, gorilla, hippopotamus, or elephant get their protein? From the earth! They're not suffering from a protein deficiency, nor or they lacking in stature, build, or strength. 🙂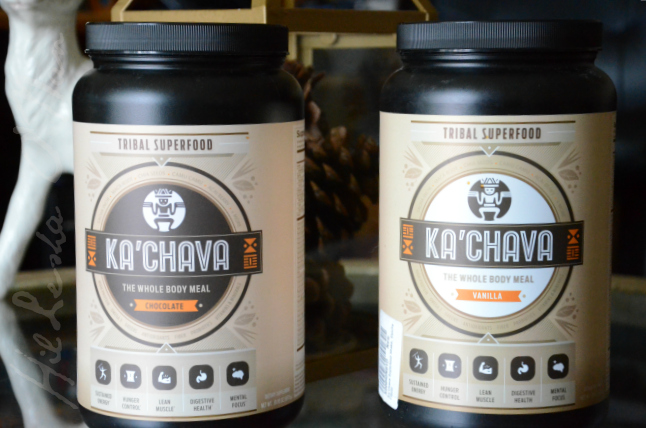 Here's another myth: Protein powders are just for bodybuilders and will instantly turn people into the Incredible Hulk! Once again, just a myth. It's true that they're beneficial for muscle formation and preservation, but they're also beneficial for weight management, digestion, energy, hormonal balance, strengthening the immune system, sustaining mental clarity, and staving off cravings.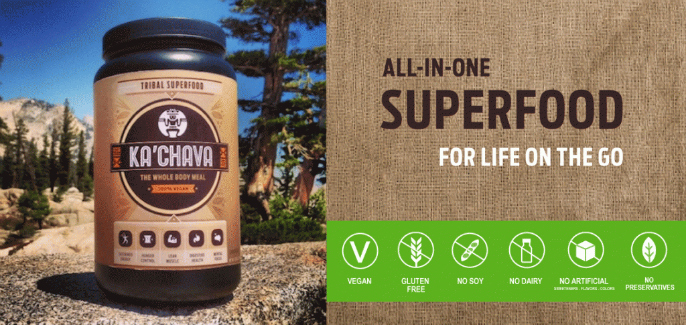 Ka'Chava is a vegan protein powder that is 100% plant-based and free of artificial colors, flavors, and sweeteners. It is also free of gluten, soy, and preservatives. I had about given up on protein powders since I couldn't find a vegan protein powder that tasted good on its own without having to add additional ingredients to mask the taste. Ka'Chava, available in Chocolate or Vanilla, is the first vegan protein powder that I've tried that has a delightful taste. I can easily combine 2 scoops of it with a 12 oz. beverage of my choice (milk alternative or chilled water) without adding additional ingredients, blend it in my Vitamix blender, and call it a complete meal! It gives me the natural fuel that I need to begin my day or post work-out. Not only it energizes me before exercising, but it nixes any unnecessary food cravings that I may have after leaving the gym.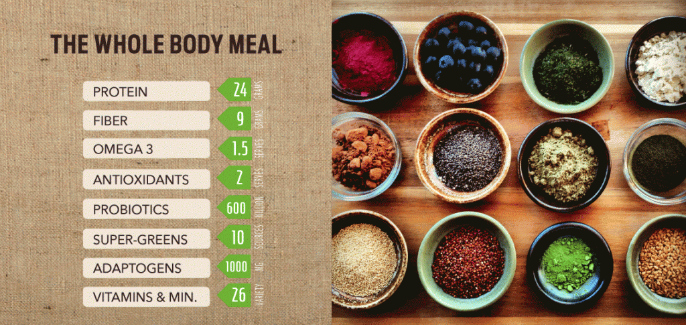 It also makes an ideal whole body meal on-the-go since it is clean and natural with 24 grams of protein, 9 grams of fiber, 1.5 servings of omega 3 (Pure Whole Grain Oat, Organic Acacia Gum, Chia, Flax Seed, Quinoa, and Organic Amaranth), 2 servings of antioxidants, 600 million probiotics, 10 sources of super-greens, 1,000 mg of adaptogens, and 26 varieties of vitamins and minerals. A complete list of ingredients can be found here. Although it's good solo, it can also be incorporated in different recipes.
"Love this new superfood vegan protein powder by Ka'Chava. It's loaded with acai, quinoa, maca, wild blueberries, maitake mushrooms, kale, and so much more. And it tastes great! This stuff is amazing! I have been enjoying the chocolate in my smoothies, and love the clean ingredients list. It's a unique product with I highly recommend!" – Colleen Holland, Co-Founder of VegNews
Giveaway
One winner will receive a container of Ka'Chava (15 Meals/Servings) valued at $69.95 in the flavor of their choice (Chocolate or Vanilla).
Connect with Ka'Chava Tribal Superfood
The giveaway will conclude on January 13th.
This post is in partnership with Ka'Chava.