I'm one of the pickiest when it comes to hair products, but with a good reason: there isn't many that agree with my hair. Salon quality, organic, and drugstore brand; I've about tried them all. Some, excessively dry out my hair, while some weigh my hair down. There are at least a few products and brands that I'll use again and again since they've never disappointed me in the least. One of my all-time favorite brands is Paul Mitchell.
My first foray into the brand occurred over a decade ago when a hair stylist introduced me to Paul Mitchell's Tea Tree Special Shampoo & Conditioner. After using countless shampoos and conditioners that didn't agree with my hair, there was no turning back at that point. Never had I ever tried a shampoo and conditioner that made my hair so shiny and clean! It yielded a welcoming tingly sensation within seconds, making my hair feel like it was getting a hair treatment at a 5 star spa. It also made me think of that cheesy, yet creepy, Herbal Essence commercial where the woman is in the shower and screaming out passionately, Yes, Yes, Yes all over a shampoo. As a child, that commercial creeped me out to no end. How and why a shampoo can evoke such feelings was beyond my comprehension, but if there's a shampoo that can make anyone feel that passionate about their hair; I think Paul Mitchell is the one!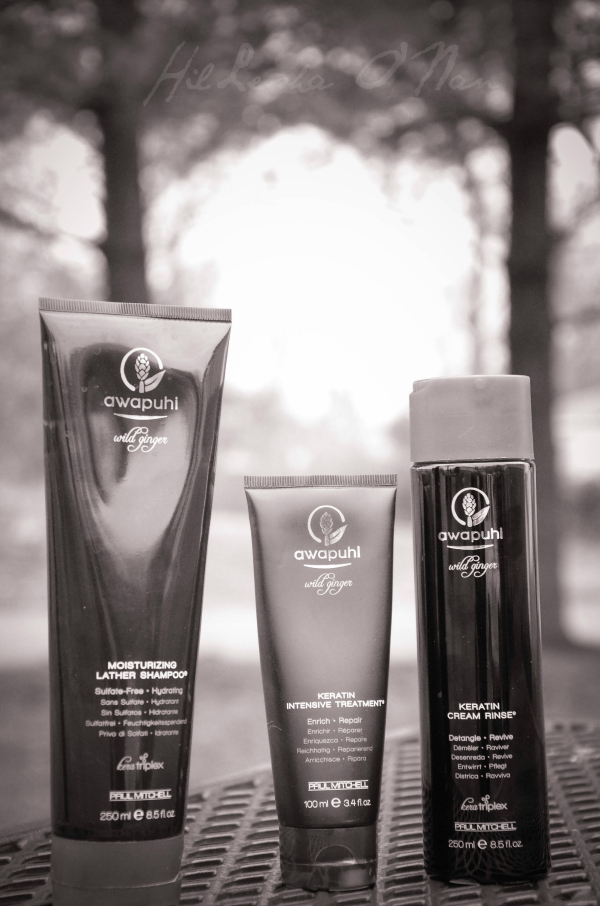 When I was invited to become a Paul Mitchell Insider over a month ago, it was a Yes, Yes, Yes! As a Paul Mitchell Insider, I'll be sampling products throughout the year. I'll also have the opportunity to attend different events so I can provide you the dibs on tried-and-true classics, new, and upcoming products! I recently had the opportunity to sample a few products from the Awapuhi Wild Ginger hair care line, including the Keratin Cream Rinse, Keratin Intensive Treatment, and Moisturizing Lather Shampoo. This line is ideal for people who have dry, brittle hair. Unfortunately, I fall into this category, especially after getting highlights a few times within the past few years.
Some people are seemingly able to get highlights or have their hair colored on the regular without any issues, yet obviously, my hair was way too fragile for the few times my hair was highlighted! My hair is still paying the repercussions after getting my hair highlighted in 2012. My hair is now more prone to breakage. It's a good thing that I still have thick hair, because my hair sheds worse than a dog! It seems like it has been worse lately. Therefore, I've made it my mission to get my hair in a healthier state by limiting my usage of hair tools to once a week, deep conditioning my hair once a week, sealing my hair cuticles by rinsing it in cool water after conditioning it, and letting it air dry instead of using a blow dryer.
I've also been taking Hair Essentials for the past year to reduce the shedding, but I haven't noticed any difference in my hair except for hair growth. I remember when I took NeoCell Keratin Hair Volumizer Supplements over a year ago. It dramatically reduced shedding. This is another reason why I was more than eager to try out Paul Mitchell's Awapuhi Wild Ginger hair care line since the key ingredient is keratin! Keratin reverses hair deficiencies by enriching and repairing the hair. Although my hair is in dire need of a trim, it is closely back to its former state since using the hair products. The products have a light, pleasant fragrance – an added bonus!
Where to Buy Paul Mitchell
Hair care products by Paul Mitchell, such as Pro Tools, MITCH, Tea Tree, and Awapuhi Wild Ginger, may be found at mass retailers, but it isn't guaranteed that they're authentic. They could be old, tampered with, or even counterfeit, and they often cost more than the suggested retail price. To make sure that you're getting the genuine Paul Mitchell, visit a salon or Paul Mitchell School. Their online salon locator will guide you to the nearest location. You can also purchase authentic Paul Mitchell hair products at Loxa Beauty if you prefer to purchase online. To find out if your territory services Loxa Beauty, visit any product page on Paul Mitchell's web-site and use the "check availability" button. If you're eligible to purchase online, you'll be directed to Loxa Beauty's web-site, and the best part is, a salon or professional stylist will receive commission on every purchase you make.
#GivingIsMyStyle
Giving has always been Paul Mitchell's style. They're inviting fans to make a difference by sharing how or why they give back by using the hashtag #GivingIsMyStyle on Twitter or Instagram. They'll donate $1 to one of four non-droit organizations on your behalf whenever you use the hashtag! Their goal is to donate up to $200,000. You can learn more here.
I'm part of the Paul Mitchell Insiders Program. Thoughts and opinions are exclusively my own.