Organic India's Original Tulsi Tea is one of my go-to teas. This tea is pleasant in taste and gives me a sense of calm unlike any other tea. Not only it's soothing, relaxing, and stress relieving, but it is caffeine-free, gluten-free, and abundant with antioxidants. Tulsi (Holy Basil) also has a wealth of other benefits. That's why Tulsi has been touted as the "The Queen of Herbs" in India for centuries. Organic India doesn't only offer one of my favorite teas, but also offer a vast selection of organic herbal supplements that I have come to love. I recently had the opportunity to try out two of their supplements, including one I have never tried before: chyawanprash.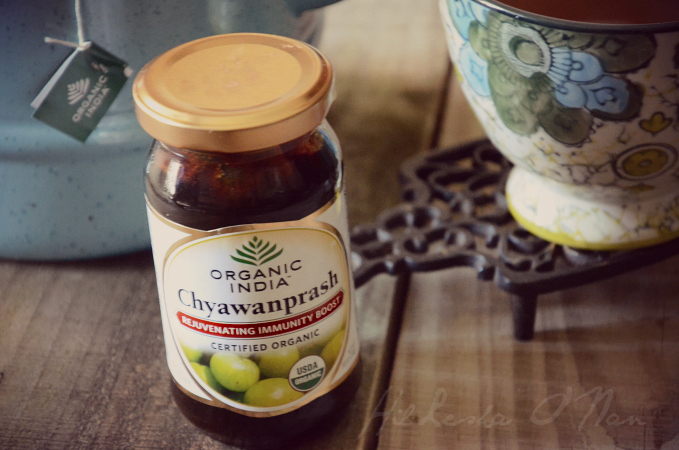 Chyawanprash is a nutritious and delectable jam that has been part of the traditional Ayurvedic system for thousands of years. This 100% organic herbal jam is packed with 36 traditional Indian herbs and Vitamin C. It has been traditionally used in India to boost memory power, strengthen the digestive system, improve skin health, cleanse the blood and aid in the elimination of toxins, support healthy bones and teeth through calcium absorption, improve vigor and vitality, and strengthen the immune system. Since it has a naturally sweet taste, many enjoy chyawanprash by spreading it on crackers or bread, stirring in a warm glass of milk, adding it in smoothies, or my preferable choice: eating it by teaspoon once a day. It it can also be enjoyed with one of Organic India's tulsi teas: Tulsi Original, Tulsi Chai Masala or Tulsi Red Chai.
Organic India's Organic Chyawanprash is authentic, as it is made from the original Ayurvedic recipe that's developed by the sages living in the forests of the Himalayas.
Turmeric is widely known all over the globe for its wealth of benefits. One of the most popular known benefits is that turmeric helps the body ward off cancer formation and growth. It also helps lower cholesterol, improves the skin health, whether one is battling the signs of aging or reducing redness; soothing upset stomachs, and decreases inflammation. The downside is that turmeric isn't for everyone since it has a distinctive flavor. I have grown accustomed to its flavor and I regularly use it in different foods because of its wondrous benefits.
Lately, I have also been taking Organic India's Turmeric Formula, which comes in easy to swallow capsules that is suitable for those who don't incorporate turmeric in their daily diet or simple don't like the distinct taste! As someone who has been plagued with recurring sinus infections since a child, they've become noticeably less since turmeric became an integral part of my diet. With all of the myriad of illnesses floating around, I did come down with a sinus infection last month. The Organic India's Turmeric Formula came at the right time, because I was able to beat the sinus infection within a few days, whereas my sinus infections normally last for over a week. This is why I try to steer clear from allopathic treatments (i.e. conventional medicine) much as I can, because I find that natural methods have a tendency to work in my favor.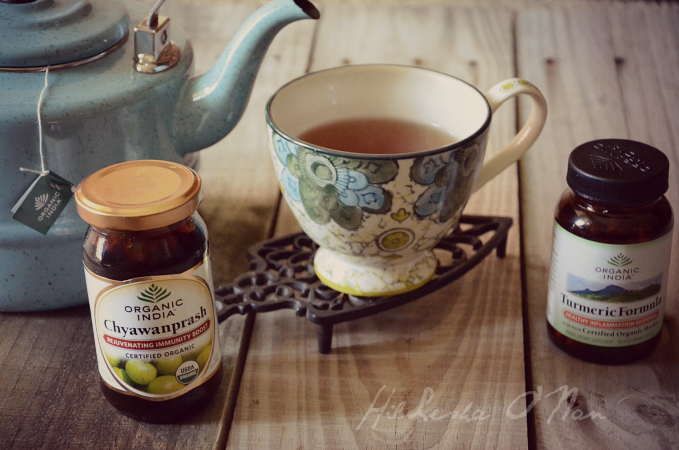 Connect with Organic India
How do you find relief during the cold and flu season?