I have always had a love for different kinds of pasta, including a common, long-time household favorite for many, such as spaghetti. Pasta is one of those foods that should be eaten in moderation, as they're rich in carbohydrates. Carbohydrates releases the "the hunger hormone", commonly known as insulin. This encourages the body to eat more and to store food energy, such as fat, thus leading to weight issues. It's not a surprise why many encourage dieters to steer clear from pasta while dieting!
I'm sure that many of you have heard of "zucchetti" or "zoodles" (zucchini noodles). They can easily be made at home with a vegetable spiralizer, such as the Veggetti Spiral Vegetable Cutter. Cooking hasn't been the same ever since being introduced to it over the summer, as it has replaced one of my favorite kinds of pasta (spaghetti) with a healthier and more flavorful alternative: vegetables. The Veggetti Spiral Vegetable Cutter makes spaghetti-like noodles within minutes! Ordinary pasta has 800 calories and 160 grams of carbs compared to 60 calories and 8 grams of carbs using Veggetti®! Using vegetable-based "noodles" in recipes is no different than the pasta-based recipes, because they usually cook the same way.
Baked Pumpkin Zucchetti with Cherry Tomatoes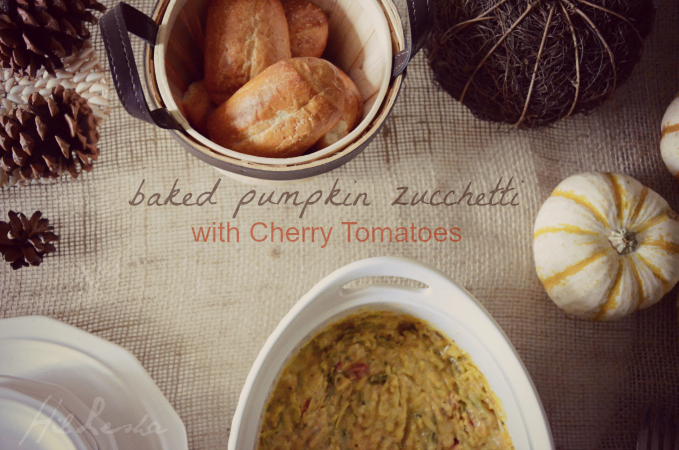 Ingredients
2-3 Medium Sized Zucchini Squash
One Package of Mozzarella Cheese (Non-Dairy, such as Daiya; or Dairy Based)
The Fresh Market Pumpkin Pasta Sauce – any pumpkin pasta sauce is okay, though. You can make your own pumpkin pasta sauce, such as this one.
Cherry Tomatoes
Cracked Black Pepper
Directions
Cut the zoodles after you're done with the Veggetti Spiral Vegetable Cutter. Otherwise, you'll have super long zoodles! Cook zoodles like you would spaghetti, and drain after it's done cooking. Add butter. For a healthier alternative, add one of the vegan buttery spreads by Earth Balance. I used their Soy-Free version.
Combine the zoodles, pasta sauce, cherry tomatoes, cracked black pepper, and 1-1/2 cups of mozzarella cheese (vegan or non-vegan) in a large bowl. The cracked black pepper balances out the sweetness of the pumpkin pasta sauce, giving it a unique, savory flavor. Mix well until the ingredients are thoroughly combined. Transfer the ingredients in a 2.5-Quart dish.
Sprinkle the remaining mozzarella cheese on top. Place a cover on top. Bake it at 350° for 30-45 minutes until thoroughly done.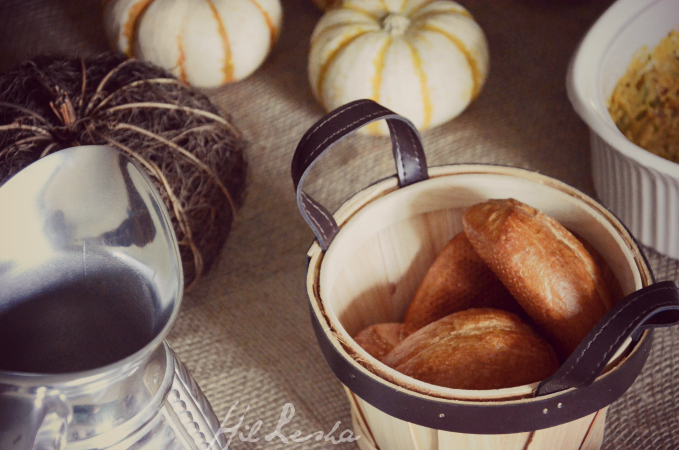 Carbs! I couldn't help but pair this dish with French bread rolls. 😉 They're tastier with coconut oil, such as Spectrum® Naturals, and your herb of choice (i.e. basil), and placed in the oven for five minutes.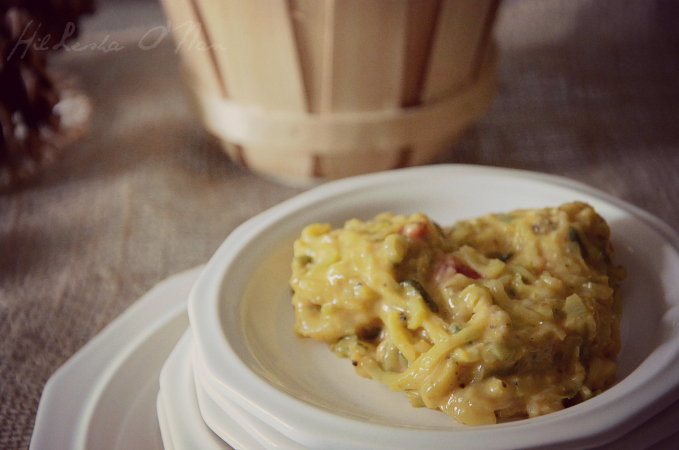 Veggetti® generously gave me a few spiral vegetable cutters to give to my dinner guests. Veggetti® is available at Walmart, Bed Bath and Beyond, Walgreens, CVS and other fine retailers nationwide
This post is in partnership with Veggetti®.