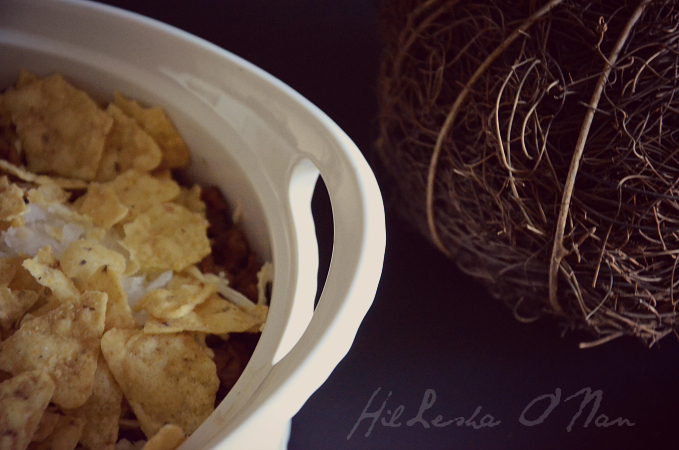 As the lush green leaves slowly fade to crimson red and deep purple anthocyanins, as well as vibrant orange and yellow carotenoid pigments; an influx of pumpkin recipes dominate the autumnal season. The seasonal and iconic staple is mostly incorporated in dessert recipes, but it can also be used in hearty recipes, such as casseroles. I love making casseroles during the fall season. Casseroles are simply one of the quickest, yet heartiness meals to make. The fewer ingredients, the better. I have a wide variety of casseroles that I enjoy fixing, but my all-time favorite is a vegetarian taco casserole. A taco casserole isn't a taco casserole without the salsa, thus I couldn't help but buy The Fresh Market's Pumpkin Salsa. It gives the taco casserole a delightfully warm and autumnal flavor.
Vegetarian Pumpkin Taco Casserole
Ingredients
Ingredients

Package of Gardein Beefless Ground or MorningStar Farms Crumbles - both may look like meat, but they're not. They're vegan.
Taco Seasoning - I used Riega Organic Taco Seasoning No. 4
2 Cups of Shredded Cheese, Divided - I used Daiya Mozzarella, which is vegan.
1 Cup of Pumpkin Salsa - I used The Fresh Market's Pumpkin Salsa.
1 Onion, Chopped (Optional)
2 Cups of Tortilla Chips
Instructions
Directions

1.

Preheat oven to 375°. Prepare Gardein Beefless Ground according to package directions, add taco seasoning, and add an adequate amount of water.

2.

Place corn chips (crushed or chopped) in the bottom of a dish, such as a 2.5 quart.

3.

Add 1 cup of salsa and 1 cup of shredded cheese. Stir until combined.

4.

Add the Gardein Beefless Ground on top of the shredded cheese and salsa mixture.

5.

Sprinkle the remainder of the shredded cheese on top.

6.

Sprinkle the chopped onions over the shredded cheese. You can also top it off with more corn chips, if wanted.

7.

Bake at 375° for 15-20 minutes or until cheese is sufficiently melted.
https://tothemotherhood.com/2014/09/vegetarian-pumpkin-taco-casserole/