Snackeez are the all-in-one snacking solution that's sweeping the nation because they are great to use at home or on-the-go. A clever design drink cup and snack bowl in-one, Snackeez holds a full 16 ounce beverage and 4 ounces of your favorite snack in a colorful and convenient travel cup complete with lid and straw. The Snackeez' bowl fits perfectly into the cup and twists on for a solid seal. It even has a flip-top lid to keep snacks fresh in the cup, and keep bugs, dirt, and even germs out of your snacks when you're not snacking.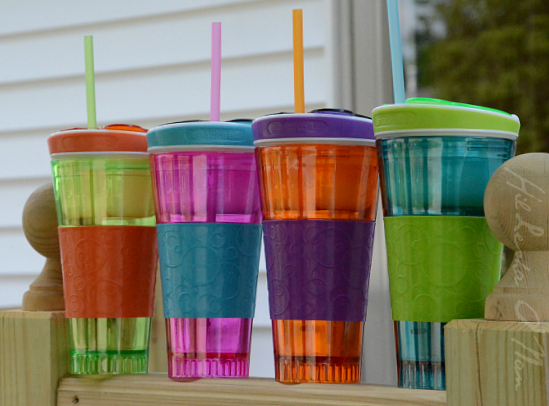 Snackeez are ideal for breakfast on the run, lunches, snacking in the car, after work or school, or even watching TV with the family. Kids love the convenience and moms love it because there's less mess.
Snackeez are durable, BPA free, and top-rack dishwasher safe, so clean up is a breeze.
Anywhere and anytime, it's Snackeez time – all in one hand! Available in four color schemes: Pink/Blue, Blue/Green, Green/Orange, and Orange/Purple, at Bed Bath & Beyond, CVS, Rite Aid, Walgreens, Walmart and more. Just $9.99.
Our little man chose the green/orange one since green is his favorite color. The other three was administered to the adults in the house. I'll have to say that the one that invented Snackeez has a level of talent that is very remarkable.