Most of us women are often searching high and low for products that will give us impeccable, luscious tresses that look like we've stepped out of the glossy pages of a magazine. Even though there are tools and treatments that will aid us in getting flawless hair, many of them are not good for our hair in the long run, such as relaxers, Brazilian keratin treatments, or flat irons. Known for her envy-inducing locks, Jennifer Aniston set the internet ablaze when she practically went for the big chop after damaging her hair with one Brazilian straightening treatment! The hair treatment may be costly and wildly popular, but it is clearly not healthy in the least, considering the key ingredient is formaldehyde, as in embalming fluid. It is also known as a carcinogen.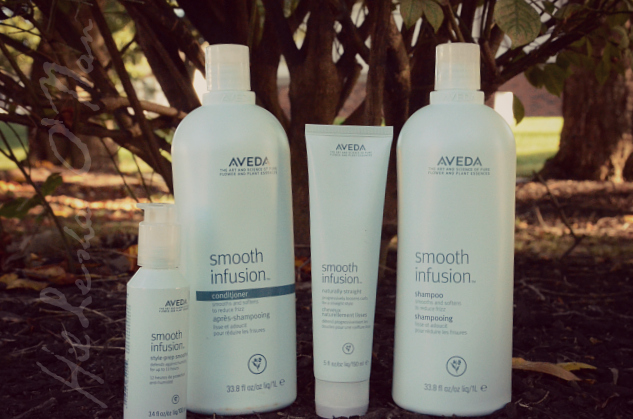 My ongoing hair frenemy has been the flat iron throughout the years. How I wish I didn't pick up a flat iron in the first place! I simply didn't know how else to manage my thick, wavy, multi-ethnic hair that seemingly has a personality of its own. Move over flat iron, because there's a new hair "treatment" in town: the Aveda Smooth Infusion Naturally Straight ($26). Thanks SheSpeaks and Aveda!
I couldn't help but be slightly leery of the mere idea of naturally straightening my hair after 5 consecutive uses, but I figured that I wouldn't know if the product stood by its word, unless I tried it. There wasn't a significant difference in the texture of my hair after using the product for the first time. However, I must note that it was remarkably soft and manageable. I could effortlessly glide my fingers through my hair without them getting caught in the thickness! I didn't even reach for a flat iron, because for the first time in a long time, my hateship for my hair had turned into loveship.
I was noticing a major difference by the third day, as my hair was becoming less and less wavy. I still have a little wave to my hair after using it on the fifth day, but my hair is at its straightest, and manageability is off the charts! No words in the dictionary can describe how much I appreciate this product, because it has helped me spend way less time on my hair. Prior to this, it took at least an hour to manage my hair, which included shampooing, conditioning, blow drying, and flat ironing. It was a long, tedious process that was tiresome.
How to Use the Aveda Smooth Infusion Naturally Straight
Depending on the length and thickness of your hair, use a dime-sized amount of the Aveda Smooth Infusion Naturally Straight styling creme on towel-dried, yet damp hair. Applying it one section at a time. Blow-dry your hair straight, using the brush of your choice. Hardly anything beats a Mason Pearson brush, but EcoTools' brushes are notably good if you can't justify the price of a Mason Pearson brush! Flat ironing is optional.