Biblical Beauty delivers well-researched, multifaceted wisdom about being more beautiful. Renowned beauty expert Rachelle Weisberger redefines what is beautiful through the iconic women of the Hebrew Bible by exploring the underlying relationship between their physical attributes and hidden inner qualities, interwoven with their individual spirituality. Weisberger shares her knowledge in the art of makeup and skin care, introducing a beauty routine based on healthy habits and mindful choices. With these secrets from your ancient forebears, you'll enjoy a modern celebration of beauty in your own life.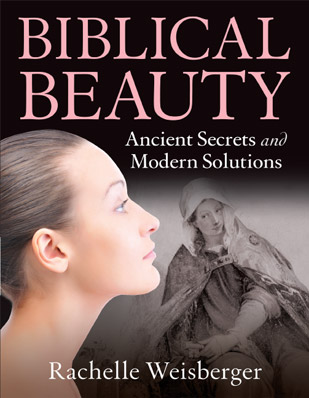 Biblical Beauty: Ancient Secrets and Modern Solutions isn't your run-of-the-mill beauty book. This book is one of the most insightful beauty books I've come across. It's intertwined with two things that I love reading and talking about: history and beauty. "History doesn't change, human nature hasn't changed and that is why the Bible is still relevant," says Rachelle. "These women were very active and involved in their communities well into their elder years and that is why they're inspirational role models for us." Boasting 18 chapters, Biblical Beauty covers everything from skincare to makeup and healthy aging to jewelry. I found this book to be well written, yet easy to read for the masses. It is also hard to put down. Although it speaks of women of the Bible, one doesn't have to be the least bit of religious to gain insight from this book.
Chapter 10 (Fragrance) is one of my top favorite chapters. It starts out mostly talking about synthetic fragrances, but then it ventures out by discussing aromatherapy (p. 91 – 94). My eyes instantly perked up at the mention since this is something I've been into since I was a teenager. It's becoming increasingly popular, thanks to essential oil brands such as Aura Cacia, Mountain Rose Herbs, Erbaviva, dōTERRA and Young Living that are steadily bringing the awareness of how beneficial aromatherapy can be. Although that part of the chapter is brief, beginners and seasoned essential oil users alike may find it useful since it has several interesting tidbits.
I also thoroughly enjoyed reading Chapter 14 (Healthy Aging), which mostly discusses healthy eating. Beauty starts inside out, after all! It talks about inflammation and the body; foods to avoid, Rachelle's go-to foods and beverages (Rainbow Salad, Go-To Garbanzo Beans, Green with Envy Drink, Wake Me Up Ginger Root Tea, and Happy, Healthy Berry Smoothie), which also includes the recipes; Rachelle's tips for healthy eating, and physical health. It also includes a 5-minute deep breathing exercise that will help increase mental and physical vitality, while balancing emotional health.
Part II of the book discusses inner beauty, an invaluable attribute that is rare to find, yet easy to achieve by simply changing your mindset. Rachelle says it best: "Looking beautiful is more than having a wrinkle-free complexion, perfect hair, and flawless makeup. True beauty is a reflection of one's physical, emotional, and spiritual well-being."
About the Author
Rachelle Weisberger is a skilled painter and a licensed cosmetologist, makeup artist and skin care specialist. Her career in the beauty industry spanned more than two decades and has included creating her own line of holistic cosmetics. She expanded her expertise to the medical field serving as staff cosmetologist for a major plastic surgery and dermatology center in northern New Jersey, specializing in camouflage makeup for problem skin, post-cosmetic surgery, and cancer patients. As the beauty director of a chain of women's fitness centers, Weisberger introduced an integrated beauty, health, and fitness program. She has traveled extensively throughout the United States giving seminars, consulting and sharing her expertise.

Since 1984, Weisberger has been a member of the New York Society of Women Artists and the Contemporary Artists Guild and has exhibited her paintings in the New York tri-state area. She is the mother of three daughters and the grandmother of four and lives with her husband in New Jersey.