It seems like it was yesterday when summer finally arrived after much anticipation, considering the long, harsh winter that we had in the Midwest. That's why it is hard for me to believe that it's already coming to an end, as most students are already preparing to start school next month. I normally shop at Walmart for everyday essentials, such as toilet paper, diapers, baby wipes, and laundry detergent. Lately, it has been a daunting experience to do so since the check-out lines have been a mile long, due to back-to-school shoppers.
Therefore, I have been saving myself the time, money spent on gas, and the frustration of weaving through the crowds by purchasing everyday household items on Walmart.com instead. Walmart also has an app for Android, iPhone, and iPad to shop from their entire online and in-store assortment. Not only does this save the frustration of weaving through the crowds, but you're able to save time, gas, and money anywhere, anytime. There's no need to interrupt your day of leisure, whether you're basking underneath the sun at the beach or lounging outside and enjoying the last days of summer. Just order your favorite essentials via online or their app and your items will be delivered at your doorstep within days. To save even more money, you can have some of the items shipped at your local Walmart for pick-up, thus there's no need for paying for shipping and handling!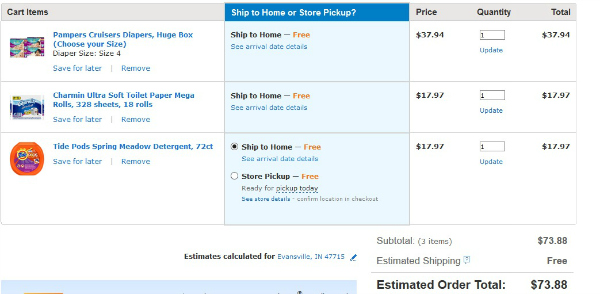 Some of the items that I recently purchased on Walmart's online store included the Pampers Diapers Cruisers, Charmin Ultra Soft Toilet Paper Mega Rolls, Tide Pods Spring Meadow Detergent. I'll admit that even though I order every now and then online, that I much rather shop at a store's retail location. However, ordering from Walmart's online store was effortlessly easy. The only downsides were that a couple of items couldn't be shipped to the store for pick-up. Also, my order wasn't shipped until 10 days after I placed my order (the same day I left for my vacation to New Orleans). Not a terrifically major deal, but I have known people to order from them online and their order(s) came through in a matter of a few days! However, it was a delightful surprise to see a big package that included my favorite products waiting for me after I arrived back home from my trip.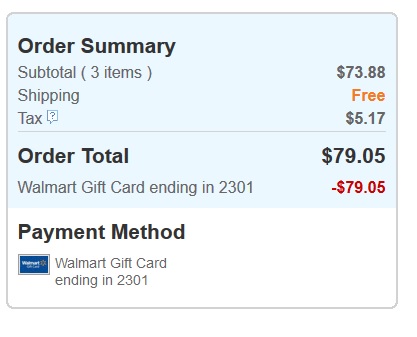 To the Motherhood Giveaay
One winner will receive a $25 Walmart Gift Card.