Disclosure: Princess Cruises covered my airfare, gratuities, and stateroom cabin. I was given credit allowance.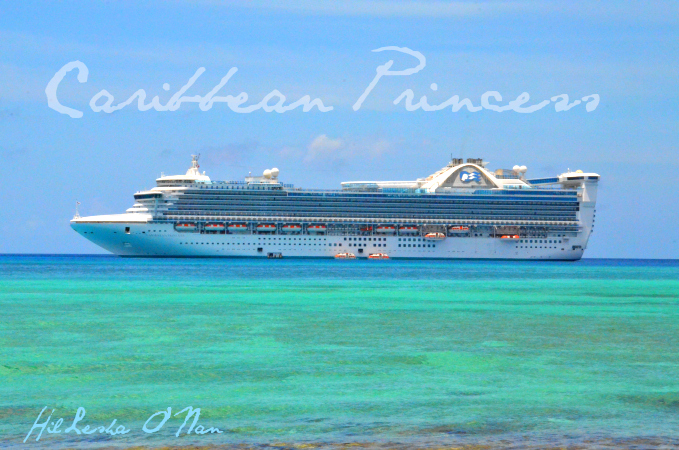 There's no better way to temporarily escape life's hustle and bustle than going on a cruise as it whisks you away to exotic destinations. That is just the starting point of going on a cruise. I was always petrified of the idea of being on the water, yet always wanted to go to a tropical destination such as Athens, Greece; Bahamas, Turks and Caicos, or Barbados. Over the weekend, I conquered my fear of being on the water, while my dream vacation became a reality, thanks to Princess Cruises.
My husband and I set sail on the Caribbean Princess on May 23rd – May 26th for our weekend Eastern Caribbean cruise getaway out of Port Everglades Cruiseport in Fort Lauderdale, Florida. On Sunday, we were in Princess Cays, Bahamas. It is located on the island of Eleuthera, yet it is privately owned by Princess Cruises. The hours on the beach were short-lived, yet enjoyed to the hilt as we both felt the warm rays of the Bahamian sun, while enjoying the view of the turquoise water and getting sand between our toes. I even stopped by a couple of vendors to buy a beautiful turquoise bracelet ($10) for myself and sea glass in the shape of a fish ($0.75) for my son, which I knew he would enjoy! However, I'll cover more about our experience in the Bahamas in a separate post.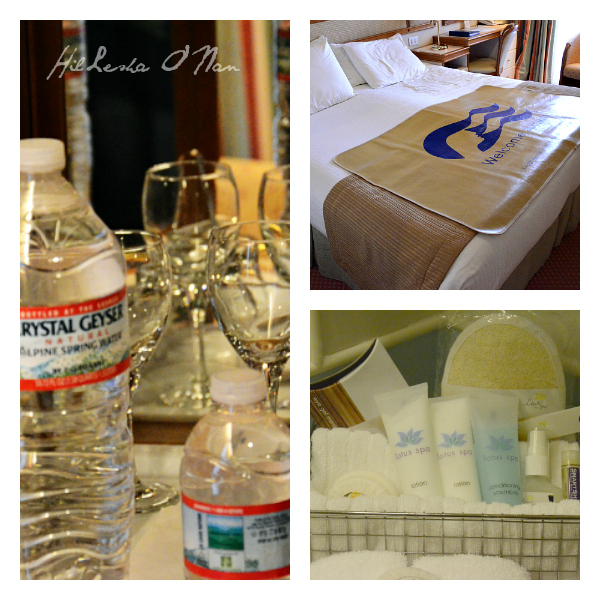 As for the cruise, it was a wonderment to behold, itself. They had the friendliest crew members, a comfortable bed that I could sleep in for days, complimentary toiletries from Lotus Spa, a full view of the ocean on the balcony, while sipping on champagne, spacious pool area, being able to watch movies on theater quality screens at the pool (i.e. Movies Under the Stars) or Princess Theater, dancing underneath a blanket of stars on the balcony, or dancing the night away at the Skywalkers Nightclub; listening to the multi-talented vocalist entertainer Dwight Blake, who was crooning the night away with everything from Kiss by Prince to What's Going On by Marvin Gaye; gentle waves of the ocean lulling me to sleep, and then waking up to sunrise, sampling different food from their buffets at The Horizon and Café Caribe, and nibbling on freshly baked pastries, eating the Roasted Tomato Soup and Greek Salad, while sipping on Mighty Leaf's Organic Marrakesh Mint Tea from the International Café.
There is truly never a dull moment on this cruise since there is always something going on every hour. Some of my other notable highlights included Krazy Karaoke at Club Fusion (I didn't participate, though!) and getting my laugh on at the Princess Theater, thanks to comedian Ross Bennett. Much as I love music and dancing, nightclubs have never been my thing. In fact, the first and last one I went to was back in 2006. However, I decided to venture outside my norm by going to the Wild Bunch Party at Skywalkers Nightclub. It was one of the best fun moments I had for awhile, while dancing to an eclectic mixture of reggaeton, dancehall, and R&B of today (some old school R&B from the 90s was even thrown in at times). Nightclubs are still not my thing, but I definitely wouldn't mind going to one again someday. Just not anytime soon! 😉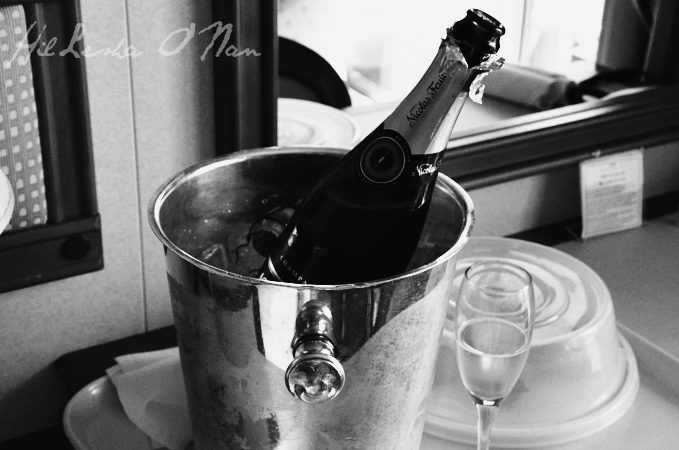 To welcome my husband and I on-board, the cruise line sent us a bottle of complimentary Nicolas Feuillatte Champagne, chocolate dipped strawberries, and a fruit basket.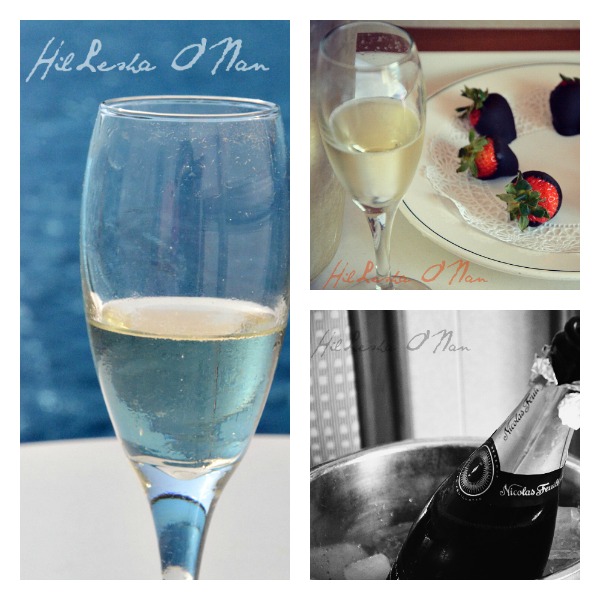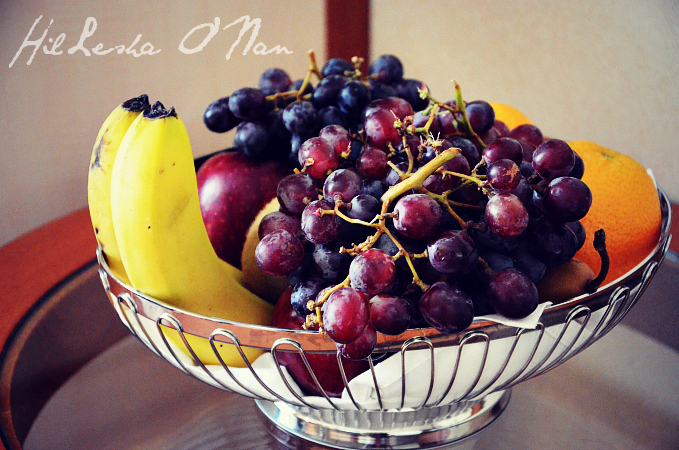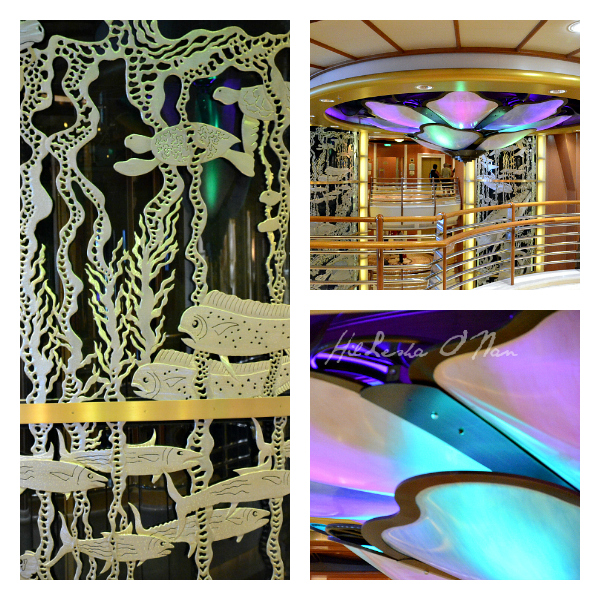 The mid-ship's interior is breathtakingly beautiful!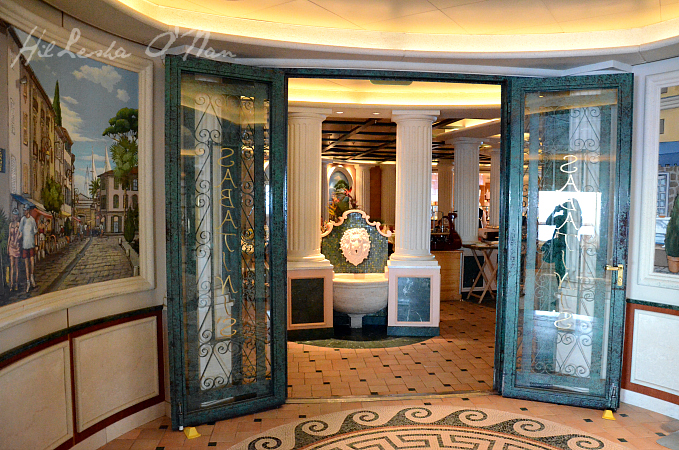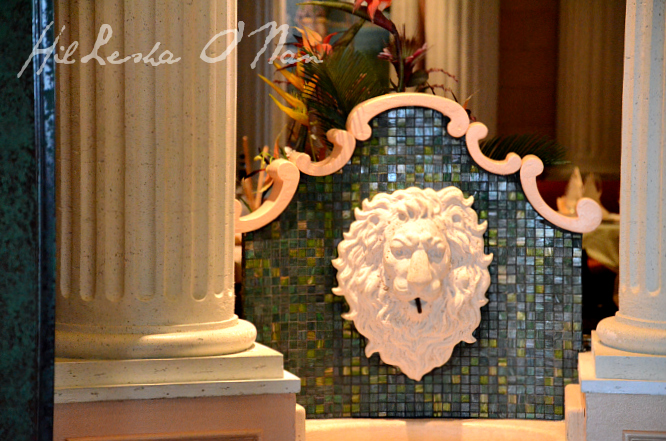 Although most of the food on-board is complimentary, specialty restaurants such as Sabatini's is well worth the expense. Their friendly and attentive staff goes above and beyond to please their customers! Also, the food is top notch.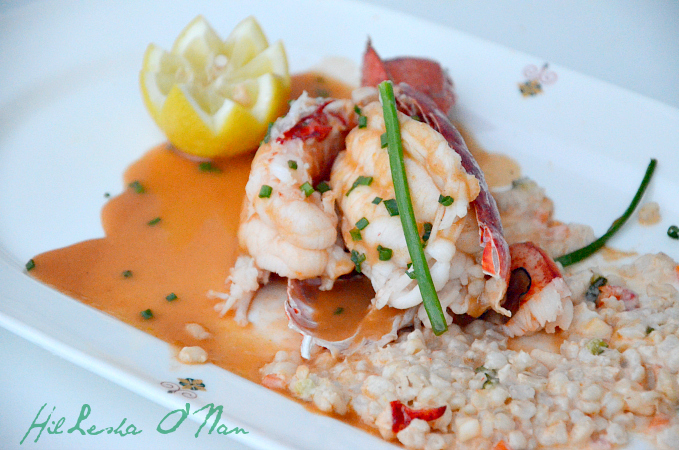 I don't exactly recall what my meal was, but it was delicious! My husband isn't much of a seafood person, but he thoroughly enjoyed the Tris d'Aragosta; a lobster trio that includes lobster tail, lobster orzotto, and lobster bisque sauce. After we both finished our meals, we could barely hold room for more. Somehow, we managed to polish off our meals with the dessert: the Sinfonia di Sapori.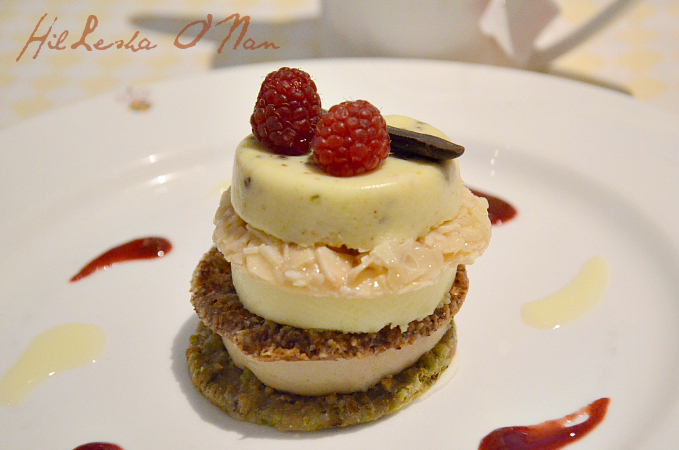 The Sinfonia di Sapori is made with almond, hazelnut, pecan florentine napolean blanmange, praline mousse, and caramel pecan brittle.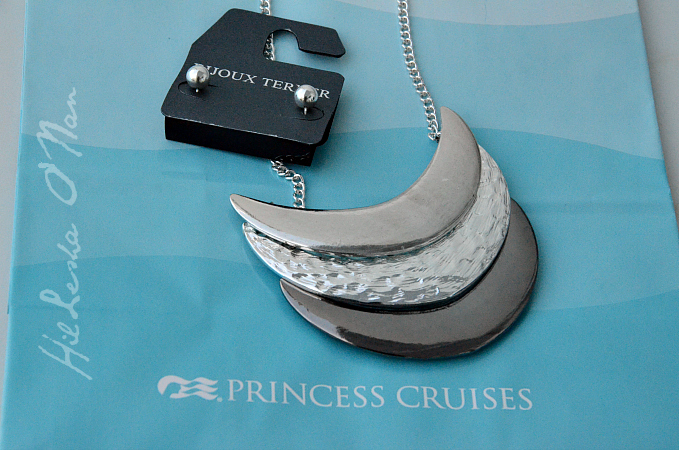 I bought a gorgeous necklace and earring set for just $10 (and my husband bought himself a pair of sunglasses since he had forgotten his at home – oops!) at Limelight, which quickly became one of my favorite shops. They had a wide of array of watches, jewelry, scarves, and clutches for just $10!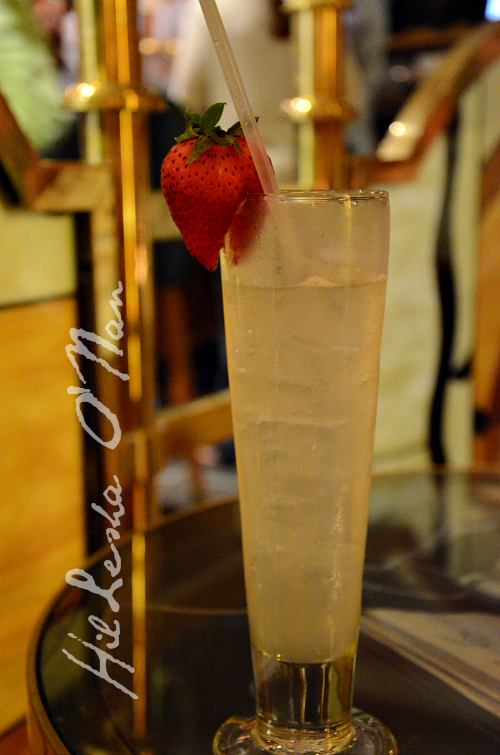 I usually don't steer from occasional, yet familiar favorites, such as Tom Collins. However, a bartender recommended a popular favorite of the cruisers: the Beverly Hills Long Island Iced Tea. After the first sip, I could easily understand why it is such a favorite!
Stay tuned for my upcoming post about my experience in Princess Cays, Bahamas!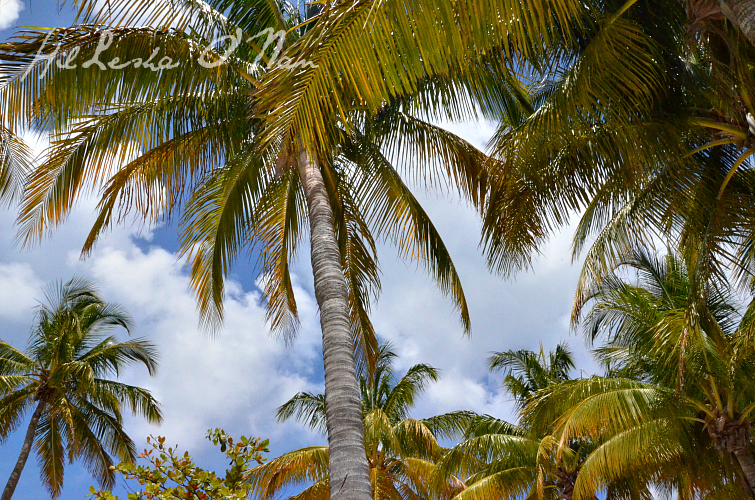 About Caribbean Princess Cruise
The Caribbean Princess boasts 669 balcony cabins, 445 inside cabins, 230 ocean view cabins, 178 mini-suites with private balconies, 7 window suites, and 2 family suites.
Passenger Services: Lotus Spa, Fitness Center, Medical, The Sanctuary, Movies Under the Stars poolside screen, Sports Deck, Piazza Atrium, Casino, Wedding Chapel, Kid's and Teen's Centers, Art Gallery, Library, Internet Café, Boutiques, Photo/Video Gallery, Passenger Services Desk, and Shore Excursions Desk.
Showrooms/Lounges: Crooners Bar, Princess Theater, Explorers Lounge, Club Fusion, Wheelhouse Bar, Skywalkers Nightclub, and Churchill Lounge
Dining and Snacks: Their three main restaurants include Sabatini's (Italian), Crown Grill (Steak and Seafood), and Vines (Wine and Seafood). Their other eateries include Horizon, a 24-hour buffet; International Cafe, Café Caribe, Caribbean/Mediterranean buffet; Prego, poolsize pizza; Trident Grill, hamburger and hot dog grill; and Scoops, an ice cream sundae bar. Also, they offer 24 hour room service and ultimate balcony dining.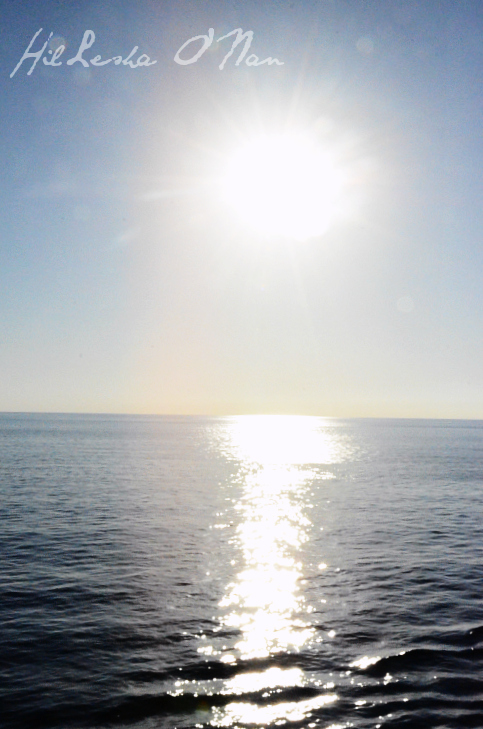 Plan a Cruise
Voted "Best Cruise Line Itineraries" for nine years by Recommend Magazine, a Caribbean cruise with Princess Cruises creates memories that last long after the tan fades. Call 1-800-774-6237 to book a cruise today!
Connect with Princess