Anne Friedman Glauber's mother sent her clippings before she relied on Google to find information and guidance. Her mother regularly cut out newspaper, magazine, and newsletter articles, and quotes that punctuated her point of view. When Anne first got married, her mother would mail her two or three clips together in an envelope at least once a month. Those carefully cut clippings would drop into her lap once Anne would tear open the envelope. She proceeded to scoop up bits and pieces of advice and wisdom, placed them in a desk drawer, and ignored them as time went on.
It wasn't until years later when Anne was grieving the loss of her mother that she decided to look in her mother's desk. Anne discovered envelopes that were stuffed with clippings of articles and phrases collected over a lifetime. Spreading the clippings out before her like a jigsaw puzzle, Anne arranged them and realized they are not just some random clippings that have been saved. Seen together, all in one place, all at one time, these pieces of paper outline the blueprint for her mother's irrepressible happiness and her powerful, positive approach to living.
Advice for a Happy Life,/h1>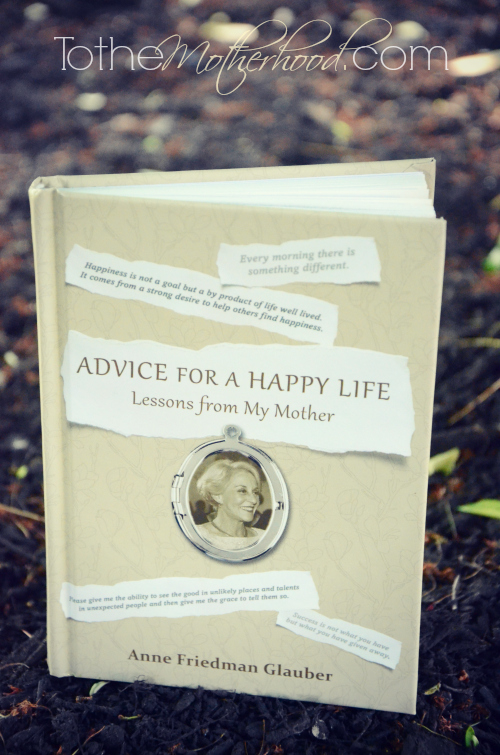 Anne Friedman Glauber's Advice for A Happy Life: Lessons from my Mother is a beautiful and inspiring tribute to her mother, whom she describes that "radiated a fierce happiness" that was contagious. So many of us can't help but focus on the negative with life's endless hurdles and obstacles, yet the author's mother embraced a positive outlook on life rather than focus on the dim side of things. Therefore, it's not the least bit of surprise that she drew people in. Positivity is infectious! Positive affirmations such as "Be in charge of your attitude and you're in charge of yourself", "Taking risks gives me energy", or "Our lives improve only when we take chances" are a sampling of her secrets to a happy life.
When life throws us a curveball, the Advice for a Happy Life: Lessons from my Mother is the perfect antidote for a happier life!
About the Author
Anne Friedman Glauber is an award-winning public relations executive. She is a Managing Partner of Finn Partners and the director of the Global Issues group where she focuses on fostering social change through meaningful corporate social responsibility programs, advocacy initiatives, and creative partnerships. She co-founded the Business Council for Peace in 2002, served as its chair for 2 years and was named a 21 Leader for the 21st Century by Women's eNews. She also is the co-founder of NO MORE, the first national branding initiative to galvanize greater attention and action to end domestic violence and sexual assault. Her writing has appeared in USA Today, The New York Times and The Wall Street Journal among other outlets. Anne is a mother of two children.