Many thanks to Propeller Consulting, LLC for providing this prize for the giveaway. Choice of winners and opinions are 100% my own and NOT influenced by monetary compensation. I did receive a sample of the product in exchange for this review and post.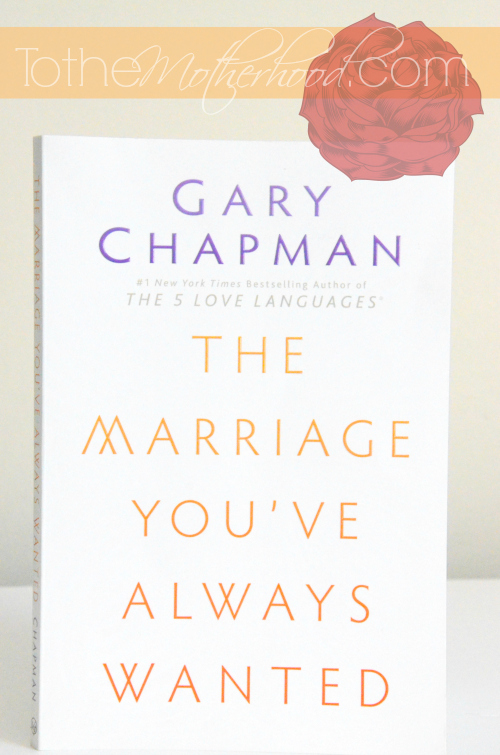 No matter how good your marriage is or how long you have been married, marriage is never-ending work in progress. Even though it will never be perfect, there is always room for improvement. We'll always be faced with new challenges, circumstances, and celebrations with each passing year. It's like a roller coaster – amusing, sometimes scary, with its fair share of ups and downs. The ride can be enjoyable as long as the one you love is right by your side through the good and bad times, making your marriage stronger.
The Marriage You've Always Wanted is easy to read, yet an insightful book that will help you enrich your marriage. There are nine chapters that cover everything from listening and decision-making to the true meaning of love and financials. Some of the marriages' many common mistakes are covered in this book, such as letting our emotions get the best of us.
Gary Chapman speaks of a person that he had met and said to him "You can't let raw sewage run through a marriage and expect to grow a garden." This word of wisdom came to conclusion after the person realized what had ruined his marriage. The best way we can teach our spouse is with loving words, not words of hatred. Love edifies (1 Corinthians 8:1). Edify means "to build up." Hate doesn't build anyone up, but love does.
The Marriage You've Always Wanted is a practical book that is beneficial and a positive reinforcement for one's marriage. Click here to order or read more about the book. Also, you can connect with Gary Chapman via Facebook and Twitter.
Win It: One winner will receive The Marriage You've Always Wanted by Dr. Gary Chapman.
Note: Only one entrant per mailing address, per giveaway. If you have won the same prize on another blog, you are not eligible to win it again. The winner is subject to eligibility verification.
The giveaway will conclude on February 27th.
About the Author:
As anyone who has attended one of his marriage conferences knows, Dr. Gary Chapman's expertise in marriage begins with the success and failures he and his wife Karolyn have experienced in their marriage for more than 45 years. He is just the man to turn to for help on improving or healing our most important relationships. His own life experiences, plus over thirty-five years of pastoring and marriage counseling, led him to publish his first book in the Love Language series, The Five Love Languages: How to Express Heartfelt Commitment to Your Mate. Many of the millions of readers credit this continual New York Times bestseller with saving their marriages by showing them simple and practical ways to communicate love.

Since the success of his first book, Dr. Chapman has expanded his Five Love Languages series with special editions that reach out specifically to singles, men, and parents of teens and young children.

He is the author of numerous other books published by Moody Publishers/Northfield Publishing, including Anger, The Family You've Always Wanted, The Marriage You've Always Wanted, Desperate Marriages, God Speaks Your Love Language, How to Really Love Your Adult Child, and Hope for the Separated. With Dr. Jennifer Thomas, he co-authored The Five Languages of Apology.

Dr. Chapman speaks to thousands of couples nationwide through his weekend marriage conferences. He hosts a nationally syndicated radio program, A Love Language Minute, and a Saturday morning program, Building Relationships with Dr. Gary Chapman, both airing on more than 400 stations. Dr. Chapman and his wife have two grown children and currently live in Winston-Salem, North Carolina, where he serves as senior associate pastor at Calvary Baptist Church.

Dr. Chapman holds BA and MA degrees in anthropology from Wheaton College and Wake Forest University, respectively, MRE and PhD degrees from Southwestern Baptist Theological Seminary, and has completed postgraduate work at the University of North Carolina and Duke University.